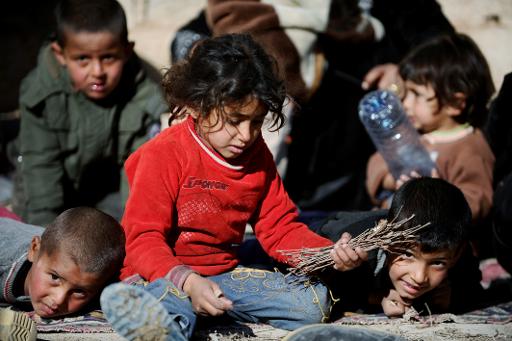 Last updated: 11 January, 2014
Weary Syrians flee new front in war without end
He paces back and forth outside the Syrian border crossing, growing more tense with every echoing artillery thud and machinegun blast — his 14-year-old daughter is still inside.
When clashes erupted between two Islamist rebel groups in Tal Abyad she was across town at her aunt's house, he says. "I told her to stay there, that I will come tomorrow, or after tomorrow."
That was a week ago.
Now northern Syria is on fire, with powerful rebel groups fighting to dislodge the Islamic State of Iraq and the Levant (ISIL), an extremist group accused of horrific abuses rivalling those of the regime it is ostensibly trying to overthrow.
Activists have hailed the latest battles as a second uprising mirroring the 2011 revolt against President Bashar al-Assad, but for the residents of Tal Abyad able to flee across the nearby border with Turkey, it is simply the latest bloody chapter in a war without end.
"We are so tired," says the fearful father, who refused to give even his first name out of fear of retribution.
"We don't want any of these armed groups… They come in and fight and they leave us with nothing."
He described how ISIL fighters imposed a severe version of Islamic law on his rural town, banning smoking and the shaving of beards.
"They would stop me in the streets and tell me it's forbidden to be seen in public with a young woman, even though she wears the full face veil," he says.
"I'm her father!"
ISIL has been accused of kidnapping, torturing and killing scores of activists and rival rebels, leading less extreme Islamist groups to band together to try to drive it out of the country.
'Land of the walking dead'
A young man at the border post who claims to have been a fighter for the Western-backed Free Syrian Army says Tal Abyad is now a ghost town.
"There are no civilians left, just fighters," he says.
The civilians have taken what they hope is temporary refuge in Akcakale, a dusty Turkish border town, where many shelter in the concrete shells of unfinished buildings.
"I came to Turkey because I was scared for my children," says Abu Mohammed, 34, who came with his wife and four children, including a newborn.
They are invited into people's homes at night, when temperatures drop below freezing, and camp out on a sidewalk during the day.
He longs for the days before the 2011 uprising, which began as a peaceful movement for democratic change but escalated into a civil war after a brutal regime crackdown.
"It's the poor who lose in this war. They don't have money for food," he says.
For Ahmad Abdelrahim, the Turkish border town is only the latest stop in a fearful odyssey with no end in sight.
The 45-year-old once worked as a guard on tourist buses, travelling the circuit of Syria's famed historical sites.
In November he hit the road again after regime warplanes dropped a barrel filled with explosives on his apartment block in Aleppo, flattening the five-storey building.
From there he went to Tal Abyad, where he and his wife and five children slept in an abandoned school until the latest fighting sent them fleeing across the border.
"There is nothing in Syria… No food, no electricity, nothing," he says.
"Our country is the land of the walking dead."