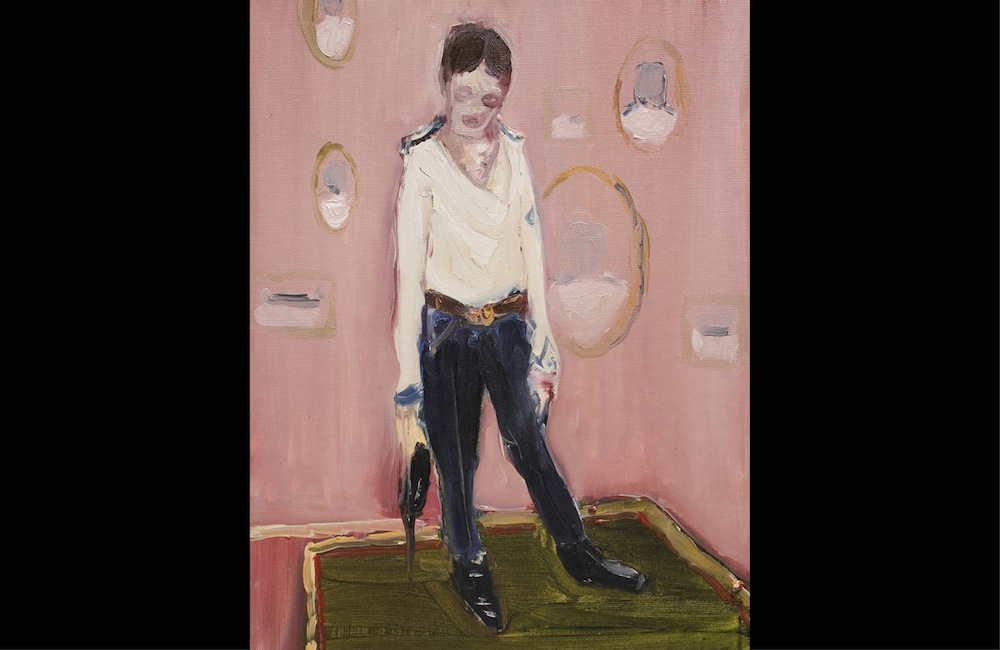 Last updated: 12 January, 2014
Tel Aviv's best winter art
Blogger Eva Kirilof guides us through the artsy hotspots in the Tel Avivian January calendar.
Planning to visit Tel Aviv in January? Then don't miss the opportunity to discover the vibrant and inspiring art scene. The city counts an impressive amount of contemporary art galleries, all featuring la crème de la crème of Israeli art. Tel Aviv is a perfect niche for new talents, and a stimulating environment for established artists. Here are a few exhibitions you don't want to miss:
Yuri Kats – Straw Man
Kats was born and raised in Ukraine, before moving to Israel where he is still living. A graduate of Haifa University, he brings the observer into a world of anonymous figures all facing us in a moment that seems suspended in time. His brushstrokes give texture to the canvas, and make a haze appearing around the figures. There is a strange feeling emanating from his paintings, something disturbing and a bit grotesque.
The Gordon Gallery 2 ispresenting artworks produced during the last two years. Note that an artist talk will be held on January 17. The Gordon Gallery 2 is already a reference in the Tel Aviv art scene despite its young age. Offering a cutting edge selection of art, all their exhibitions are fresh and innovative.
When | Until January 25
Where | 4 Natan Hachacham St., Tel Aviv
Shay Arick – Forge
Shay Arick was born in Kfar Saba, and currently lives and works in San Francisco. Arick will present his first solo exhibition at the cool ZIZ Art Space in downtown Tel Aviv. Owned by Yaniv Yehuda Eiger, the gallery is an amazing niche for upcoming artists. The installation presented at Forge is described by Eiger as;
"an animation of the Pieta scene in which the marble figures of Maria and Jesus are moving towards each other meeting only for a soft kiss; a pile of black shirts that turn snow-white under a constant slow drip of bleach; and a fish condemned to a confinement of an internal swim in a transparent circular plastic tube. In between a forge that melts renaissance masterpieces with Israeli made chemical cleaning supplies and the Catholic Purgatory, where sinners are cleansed before entering Heaven's Gate, Arick creates a macabre mechanism of video and sculpture that synthesizes circularity and linearity, heavenly and quotidian, sisyphean and redemption, purity and perversion".
When | Until February 1st
Where | Shvil Ha-Merets 6, Tel Aviv
David Adika – As in Water Face Reflects Face
The Braverman Gallery is without a doubt one of the most interesting art galleries in Tel Aviv. Located in the south of the city, they mainly focus on video and installation art. They don't only offer an exhibition space, but also get involved as producer in artists projects, becoming part of the creation process. I'm never disappointed by their curatorial choices, and always blown away by the quality of the artworks presented there.
David Adika is an Israeli photographer who lives and works in Tel Aviv. This exhibition will present 46 photographs of the same size that Adika took over the past year. The title and the exhibition itself play on the idea of reflection and perspectives. The artist only captured "still life", decorative objects to be more precise. The work is static, there is no pulse. It could be a metaphor of our daily lives. The objects are used here as the medium reflecting human emotions.
When | Until January 23
Where | 12b Hasharon St. Tel Aviv
Eitan Ben-Moshe – The White Light
Eitan Ben-Moshe is a contemporary Israeli artist who was born in Haifa. We can qualify his art as experimental, critical and in constant dialogue with its political and cultural surroundings. His artworks can be disturbing; he is not trying to please aesthetically the viewers, which makes him very interesting. He likes creating an environment. This time at the Alon Segev Gallery, he will take us in a deconstructed world of transparency; his sculptural installation will be made of plastic, glass and crystal. There is something from the field of science fiction, a futuristic touch coming from the installation. A must-see.
When | Until February 7
Where | 6 Rothschild Blvd.,Tel Aviv
Yossi Breger – Time is not Money // Sarah Ortmeyer – Kish Kush // Miroslaw Balka, Pierre Bismuth, Shilpa Gupta, Nedko Solakov – Works on paper
The impressive new space of the Dvir Gallery is about to host another exhibition trio. It can be a perfect opportunity to discover this renowned gallery that managed over the years to present a perfect mix of local and international artists. We are obviously looking forward to discover the photographs of the French/Israeli artist Yossi Breger, and the artworks of "Works on paper", but we are very excited to see Sarah Ortmeyer's work. The German artist's aesthetic is very contemporary, she is always intelligently using the space of the galleries, displaying her installations and sculpture in order to create a narration, and a sensorial experience.
When | Until February 8
Where | Reshit Chochma 14, Tel Aviv
To get your inside look at Tel Aviv's Art Scene, check out Eva's blog The Bubblist.