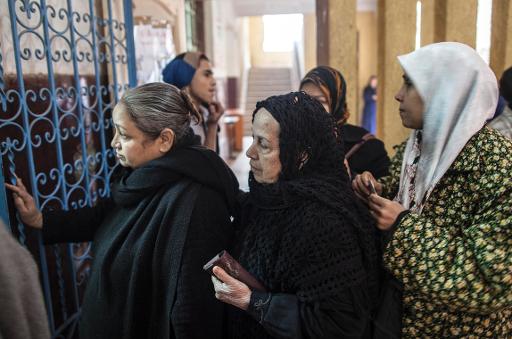 Last updated: 14 January, 2014
Egyptians vote yes on constitution as Islamists boycott
Egyptians queued outside polling stations on Tuesday to vote on a new constitution many said they had not read but would approve anyway in support of the army's ouster of Islamist president Mohamed Morsi.
The referendum has been billed by authorities as the first in a series of polls that will restore elected government by the end of the year.
For many, it has also become a vote of confidence for army chief Abdel Fattah al-Sisi, the man who overthrew Morsi in July and is now mulling a presidential bid.
"I am voting because it is not only my civic duty, but also to prove that what happened was not a coup," said Omar, 24, referring to the July 3 ouster of Morsi by the army.
Morsi, Egypt's first democratically elected and civilian president, was pushed aside by Sisi following massive street protests against his one year rule that was marred by allegations of power grabs and mismanagement of the economy.
His ouster and the subsequent deadly government crackdown on his Islamist supporters from the Muslim Brotherhood has left the most populous Arab country deeply polarised.
The Brotherhood, now designated as a terrorist organisation by the military-installed authorities, called for a boycott of the referendum.
The call found little favour among those waiting to vote.
"The referendum is the end of the Muslim Brotherhood. We say yes to the future and no to the Muslim Brotherhood," said Galal Zaky, a bread vendor owner.
Wafaa Louis Tawadros, a Coptic Christian, said: "The (Muslim) Brotherhood wanted to divide us."
"So, I approve this constitution because it clearly states that Christians and Muslims are equal, and so are men and women," she said.
Egypt's Christian community has been particularly targeted by Islamists for supporting the ouster of Morsi. They have faced dozens of attacks since July, with many Christian properties and churches torched by Islamist mobs.
Egyptian television footage showed children flashing the victory sign as they accompanied their relatives to polling stations.
Shortly before voting began, a small bomb exploded outside a Cairo court, causing little damage and no injuries.
"We must be with our police and army so that no one can terrorise us. Even if a bomb exploded in my polling station, I would vote," said Salwa Abdel Fattah, a 50-year-old gynaecologist, as she waited for her turn outside a polling station in a Cairo school guarded by dozens of soldiers.
She hailed Sisi as the new Gamal Abdel Nasser, the military colonel who was president between 1954 and 1970. "During Nasser's time, everything was fine. It will be the same under Sisi," she said.
Cairo has been festooned with banners urging a "yes" vote, often featuring military motifs such as a general's hat, an allusion to army chief Sisi.
Egypt was ruled by successive presidents drawn from military ranks until Hosni Mubarak's overthrow in early 2011, setting off three years of unrest.
"We are tired after three years of violence, bloodshed and instability. I hope this constitution ends this nightmare," said Ahmed Othman, a 75-year-old man who leaned on his walking stick as waited for his turn outside a polling station.
In downtown Cairo's working class district of Sayyida Zeinab, dozens of voters were seen carrying posters of Sisi as songs praising the army and the general blared from loudspeakers.
Nisreen Ahmed, a voter, said the "constitution was the foundation of a state".
"We need it quickly and after that Sisi can become the president. The ideal thing would be to have a government and a parliament made up of men like him," she said, her hair covered by a beige veil.