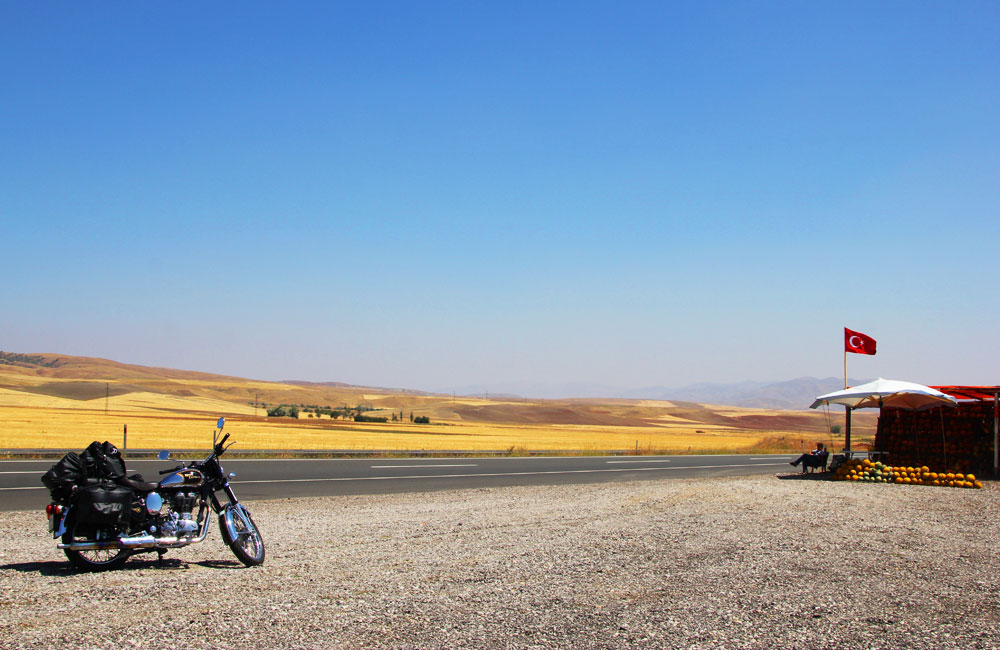 Last updated: 15 January, 2014
On a motorbike through Turkey
Fabienne Dupuis tells the story of her journey on a Royal Enfield motorbike through Turkey and how she was refused to enter Iran on her way to India.
"Where are you from?" asked a man with a strong Turkish accent. "I'm from France…", I reply. "And you have come all this way on your motorbike?" the man continues with disbelief. "Absolutely; and I am not done yet as I am planning to go all the way to India."
The man's eyes show a glimpse of incredulity toppled with a dash of admiration. "Come with me, let's have a cup of tea together, so that you can tell me all about it," he says, pointing towards a small coffee shop.
Nuri is in his late forties, he's been working in the travel industry for "a long, long time." With so many years in the trade, he can feel tourists before seeing them; it's usually not more than a few seconds before he can actually spot them wandering around, a map in their hands and a camera around their neck. I had a camera but no map when I walked the streets of Erzurum. But with my western European features he could tell I wasn't from here. And now he wanted to know what that bike story was all about.
After ordering a couple of teas, I started telling him more about my long journey on my Royal Enfield bike. The plan had been to cover on a bike what the brand's story had done over the years. Royal Enfield was born in the UK in the late nineteenth century. But the bike was also made in India and provided to British and Indian officers. When they stopped manufacturing them in England, Indians had enough stock to carry on building them. The brand was bought by Indian Eicher Motors and in 1995 the old English brand turned 100% Indian.
I came across the story one day in Paris when I was having a look at old style motorbikes. It didn't take me more than an hour to understand that the bike's and my fate were somehow sealed… So I set up my case for a motorbike driving licence and started contacting different companies. I eventually started my journey in early July 2013. The itinerary was as simple as can be: straight on.
"Fate and lack of official document – namely a Carnet de Passage for my motorbike – stopped my trip at the border city of Bazargan on the Iranian side"
When I left Europe and crossed the Slovenian border, I remember having the strong feeling of moving onto a different world, I was leaving my comfort zone and Slovenia was the last call before Turkey.
I hadn't crossed the country since 1991. And yet, I entered Kemal's land through Edirne; a tiny border town with a smashing architectural past (and history) and friendly people who spontaneously came to help or enquire about Gertie, my Classic Chrome Royal Enfield. The crossing had gone smoothly, with Turkish officials making it as swift as one can possibly imagine. Making the most of a lovely warm evening in Turkey, I started working on what would be my itinerary from here to the Iranian border. Once again I chose the simplest, the D100, a straight road that would effortlessly take me to Iran. Or so I thought.
A couple of days later, I was back on my saddle, riding along the beautiful coastline heading to Istanbul where I was booked at the trendy Sumahan on the water. This was a nice way to discover the Uskudar district, nested on the eastern side of the city.
After a couple of refreshing nights, I jumped onto my bike and started another long journey to Bolu and its magical Alpine-like landscape. Then a quick stop in the unimaginative Ankara (for a mechanic check!), the tiny and quiet city of Erzincan, followed by the city of Erzurum. A place I'd visited 23 years before and which I now simply couldn't recognise.
Nuri was listening while watching some photos, astounded he managed a 'what's next then?" There was Dogubayazit, which again I'd been to in 1991, which by now had developed so much that I found it unrecognisable.
Fate and lack of official document – namely a Carnet de Passage for my motorbike – stopped my trip at the border city of Bazargan on the Iranian side. After four days of administrative talk and drivel, I headed back to Turkey, failing to hit my mission target. Or so I felt even though I knew the last word wasn't said.
After a few days of recovery in Dogubayazit, I entered the small alley of Nuri's carpet shop in Erzurum, tooting the horn, to hail my friend. He instantly got out and here we were again, drinking tea a young and diligent man had instantly brought in.
"What are you going to do now then?" enquired the blue-eyed man. I'd spent a few days in Dogubayazit going through all sorts of plans and I had decided to head back to Istanbul. The journey back was yet to be drawn up.
On my way to Istanbul I stopped in Giresun, a sleepy and beautiful seaside town. The ride along the stunning Black Sea coastline offered breath-taking views over the sea from bended lanes on daring cliffs.
The journey was sometimes hard and physical with tempestuous weather and loads of road works – a first in a country where roads and general standards had so far been excellent. Once or twice got off the roads, badly negotiating some tortuous bends, but luckily always ending both on my tires and feet.
ALSO READ: The spicy heaven of Istanbul
I reached busy Istanbul on a sunny day. I felt drained and dusty and yet was ready to put in action what had been decided to be my next plan to keep up with my trip and reach India. I filled out a few forms to leave my bike on Turkish soil for a week, and with bags and plane ticket in my hand I boarded a Turkish airline plane to Mumbai. There was another Royal Enfield waiting for me, as were the approximate 1,500 km we were going to make, from Mumbai to Delhi. The happy chaos of my journey could gently continue.