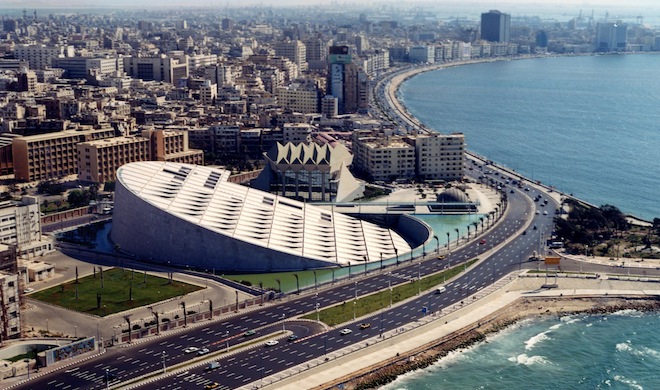 Last updated: 25 January, 2014
Top 5 strangest buildings in the Middle East
In light of the current building-boom taking place throughout the Middle East, both historic and modern architecture within the region has brought some of the most audacious, breathtaking and often confusing structures known to man.
Here are the top five strangest buildings, old and new, to be found in the region today.
5. Bibliotheca Alexandrina (Alexandria, Egypt)
This captivating creation in the Egyptian city of Alexandria is a reincarnation of the city´s famed ancient library that held the largest collection of manuscripts in the world until it met it´s demise during a fire in the 3rd century.
The architect behind the eye-catching library is the Norwegian firm Snøhetta, who were also given the contract to draw up the 9/11 memorial in New York City.
4. Capital Gate (Abu Dhabi, UAE)

At 160m and 35 stories, with an 18° incline to the West, this building from 2011 is one of the tallest in Abu Dhabi. It is designed to absorb and channel the forces of wind and seismic loading for stability and was dubbed the "World's furthest leaning man-made tower" by Guinness Book of Records in June 2010. The skyscraper stands firm with a little help from 490 poles, drilled 30m underground to support the weight of the leaning tower.
3. Museum of Islamic Art (Doha, Qatar)
Built with a specific Cairo mosque in mind, this unusual piece of architecture stands on its own isle off the coast of Qatar. With only 10 percent of the museum used for actual galleries, the rest of the spaces are left open, with glorious atriums decorated with detailed pitchers, sextants and silk carpets to create an ancient vibe, and to stand out in a city that in recent years has been the epicenter of a modernistic real estate revolution.
2. Bahrain World Trade Center (Manama, Bahrain)
This dazzling 240m beast of a twin tower is located in the kingdom of Bahrain and cost over 150 million dollars to complete in 2008.
It is the first skyscraper in history to have integrated wind turbines in its design that take advantage of the vast amounts of energy flowing through it at all times. The turbines produce 10-15 percent of the buildings' combined energy consumption.


1. Ramot Polin (East Jerusalem, Palestine)
Ramot Polin is part of the Ramot neighborhood in Eastern Jerusalem. It was constructed by the polish immigrant community in 1972 in the wake of the Six Day War and is predominantly inhabited by Haredi Jewish families. The funny-looking structure contains around 720 units and was designed by Israeli architect Zvi Hecker, who was renowned for his unusual geometrics and angles.
Ramot Polin has been dubbed one of the "Worlds strangest buildings" and a "Housing Project for Honeybees". It is said to resemble a sort of chemical structure. Whether it does or not, we leave for you to decide.