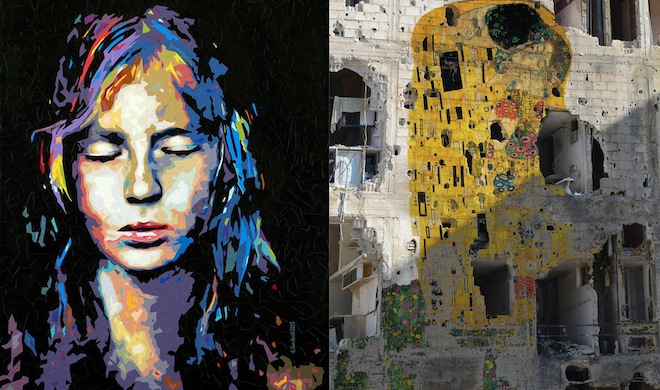 Last updated: 26 January, 2014
The Syrian artists of the Ayyam Gallery
Love and war are never very far apart.
Miles from the high-level politics that formally send men and women to war, in the end humans fight for what we love: for the sweaty helmeted soldier beside us, for the survival of our family, for ideals—like freedom—without which life is more like death.
Just before Valentine's Day, 2013, Syrian artist Tammam Azzam's piece, "Freedom Graffiti" went viral on Facebook. It struck a chord across the globe as a depiction of the intricate yet ironic connection between love and war, digitally super-imposing Gustav Klimt's famous painting, "The Kiss" on a pock-marked, crumbling building in Damascus. Azzam said he wanted to show "a parallel between "the greatest achievements of humanity (and) the destruction it is also capable of inflicting."

Tammam Azzam, "Freedom Graffiti," 2013, Archival Print on Cotton Paper
The title and style of Azzam's piece probably alluded to the Syrian revolutionary graffiti movement, an effort by opposition artists and activists to protest peacefully, albeit forcefully, against Bashar al-Assad's regime. The regime's response was brutal. Activist 23-year-old Nour Hatem Zahra, known as "the spray man" for his prolific use of graffiti as a tool of resistance, was arrested and locked up for 56 days. Later, he was shot with spray-paints in hand when he sped through a security checkpoint, fearful of being discovered.
With the violent conflict in Syria entering its fourth year, Syrian artists have confronted in diverse ways the devastation of their homeland, from direct socio-political commentary as in the symbolically laden work of Abdul Karim Majdal Al-Beik, Tammam Azzam, and Othman Moussa to the optimistically-titled abstract forms of Mouteea Murad and the provocative portraits of Elias Izoli and Mohannad Orabi. The conflict has affected all Syrian artists associated with the Ayyam Gallery, 25 of whom the Gallery has helped relocate to safer locations outside Syria, along with their families.
The Ayyam Gallery in Damascus was born in 2006 of a vision to cultivate and promote the flourishing contemporary art scene while reviving interest in Syria's art history. After the violence in Syria began escalating in 2011, the gallery became a creative haven for artists who remained in the war-torn city. Meanwhile, the opening of galleries in Beirut and Dubai expanded Ayyam's vision to highlight the work of Middle Eastern artists more broadly, as well as providing a place for exiled Syrian artists to continue to create and showcase their work.
The satire-soaked still-life paintings of Othman Moussa relentlessly critique those driving the conflict in his nation, especially the regime. In one series, he paints draped "thrones" on which he depicts the "powers that be:" a boot, a baby, a headless chicken. In "The Terror Group," garden-grown vegetables normally associated with life and health are instead wired for death.

Othman Moussa, "The Terror Group," 2013, Oil on Canvas
Even more direct are the weapon-riddled canvases of Abdul Karim Majdal Al-Beik, like this one entitled "Pain."

Abdul-Karim Majdal Al-Beik, "Pain," 2012, Mixed Media on Canvas
For Al-Beik, walls have long been "vessels for memories," marking the passage of time and connections between people—etched affections, names carved for posterity, for-rent signs. The memories now repeatedly ingrained on his canvas-walls are weapons like knives and guns, these symbols too marking the passage of time from children's scrawled marks to walls marred with red-soaked splotches.
Symmetric, graceful, and balanced, the work of Mouteea Murad feels far more disconnected from the conflict in his homeland than that of many of his contemporaries. Behind the ordered patterns, however, is some degree of disorder. His mosaic-like canvases are hopeful, charged, and full of colliding colors and shapes that suggest the presence of beauty in the ordinary, perhaps even the presence of the divine in the midst of war and chaos.

Mouteea Murad, "Trial No. 65," 2012, Acrylic and Chrome on Canvas
Also vivid, contemplative, and intense is the "Untitled" mixed media portrait by Elias Izoli.

Elias Izoli, "Untitled," 2013, Mixed Media on Canvas
Here, a heat-map of color and emotion bursts from a black background that in places merges with or intrudes on the face's broad color-strokes. Mohannad Orabi, another artist working with portrait forms, produces pieces poignant in their playfulness that stops short of joy. The innocence of a childlike face or action is contrasted with an insistent sadness or darkness, as in this "Profile Portrait," where the subject swings, yet without abandon, vacant black eyes pouring their perplexities into white nothingness.

Mohannad Orabi, "Profile Portrait," 2012, Mixed Media on Canvas
Nihad al-Turk's profoundly layered paintings also defy the clean lines and sometimes deceptively straightforward images that appear in them. Even as his process involves oil paint scratched with pencil lines, deep incisions of meaning cut through the colors and patterns. In his painting, "The Olive," a tree (which, al-Turk might say, could also be an upside-down vase) is shown in various seasons or moments, each with a different pattern but darkened by unknown shadows. Birds, often a symbol of the soul, fly up from the red tree, perhaps forced to flee injustice and violence. The colors and images in his paintings, however, often hint at hope, at reaching and searching, at finding a way.

Nihad Al-Turk, "The Olive," 2013, Mixed Media on Canvas
As Mother Courage exclaims sardonically in Bertold Brecht's play by the same name, "War's like love. It finds a way. Why should it ever end?"
Her words reveal, like Tammam Azzam's "Freedom Graffiti," that human beings both inflict unthinkable suffering and perform acts of logic-defying love for their fellow man. Even in days of death, life goes on, humor goes on. And if war and love both find a way, the human spirit also finds a way to make art in spite of it all.
A version of this article was originally published by SISMEC.