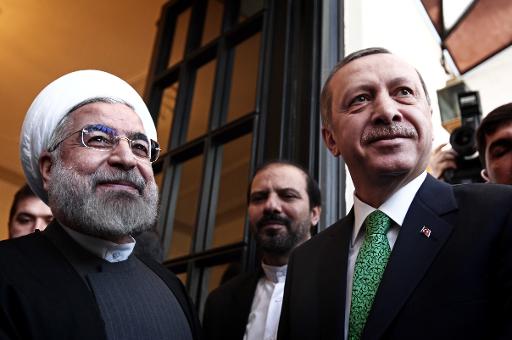 Last updated: 29 January, 2014
Turkey and Iran eye big trade boost despite strained ties
Turkey and Iran aim to more than double trade to $30 billion (21.9 billion euros) next year from $13.5 billion in 2013 despite strained relations, Turkish Prime Minister Recep Tayyip Erdogan said Wednesday.
Erdogan arrived in Tehran Tuesday on a visit expected to be dominated not only by trade but also by the Syrian civil war.
The neighbouring countries are trying to rebuild relations strained over Syria, with Iran supporting President Bashar al-Assad and Turkey backing the rebels seeking to oust him.
Erdogan said "2012 was exceptional for trade, which reached $21.8 billion. Unfortunately, that declined to $13.5 billion in 2013, but the two countries want to bring that to $30 billion in 2015."
He said Turkey, which has traditionally relied on neighbouring Iran and Russia for its energy needs, could "increase its imports" from Iran.
Erdogan spoke during a ceremony to sign three cooperation agreements that include reductions in tariffs on 220 Turkish industrial products and on Iranian food products.
Oil and gas imports have declined in recent years due to sanctions imposed on Iran by the European Union and the United States over its controversial nuclear programme.
But that could change following a landmark November deal between Iran and the major powers that went into effect last week.
Western governments agreed to gradually ease some of their sanctions and release billions of dollars in frozen assets in return for Iran rolling back parts of its nuclear programme and halting further advances.
Before leaving Ankara, Erdogan said he welcomed the agreement and hoped it would lead to a definitive deal on removing sanctions.
"We wish the process will be finalised with an agreement that will ensure the removal of all sanctions on Iran. Turkey has so far done its best in that regard and will continue to do so," he said.
During his visit, Erdogan met supreme leader Ayatollah Ali Khamenei and President Hasan Rouhani, but there were no details on the substance of their talks.
"The friendship and brotherhood between the two countries has been unprecedented for centuries," IRNA quoted Khamenei was saying, while calling for ties to be strengthened further.
Erdogan had said in Ankara that he would raise the Syrian crisis during his visit to Tehran, but there was no public comment from either side on the two countries' differences.
The Turkish premier is under the shadow of a massive graft scandal at home that includes allegations of illegal gold sales to Iran.
Iran has arrested a tycoon said to have been involved in the Turkish scandal.