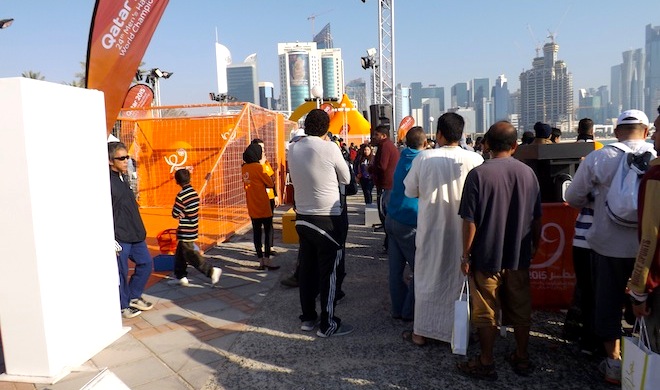 Last updated: 11 February, 2014
Qatar's Sports Day: The only of its kinds in the Middle East
In an effort to highlight healthy living, Sheikh Al Thani has initiated the first and only public sports day in the Middle East. Muhammad Zulfikar Rakhmat went to check it out.
On Tuesday, tens of thousands of people in Qatar were out to celebrate the country's National Sports Day.
From 8am to 10pm, an unprecedented schedule of sporting activities and events is set to kick start a future of healthy living for the entire population.
Leading the festivities was the yearly Corniche Walk which begins at 9 in the morning at Doha's Corniche beach. After reaching the finish line, walkers moved on to join the rest of the crowds at the Qatar Olympic Committee Sport Village. There, people got a chance to try basketball, tennis, football, archery, handball and equestrian.
Other sports events and activities were also held in Aspire Park, Museum of Islamic Arts, and Katara.
Together with the extensive sporting events across the country, the National Sports Day was concentrating on Qatari culture with a traditional Al Shawahef rowing championship taking place. This competition was held as a reminder of Qatari sporting heritage.
Through all events, activities, and competitions, Qatar National Sport Day aims to promote healthy living for the entire population. Brochures and pamphlets were also distributed to educate the society concerning general wellness, good nutrition, as well as the importance of healthy living.
Alongside the major events organized by the Qatar Olympic Committee, there were several activities held by private companies, banks, schools, as well as smaller communities in many parts of the country.
National Sports Day is an annual public holiday initiated by HH Sheikh Tamim bin Hamad Al Thani in 2012. Qatar is one of the few countries in the world and the only country in the Middle East to dedicate a day for sports.