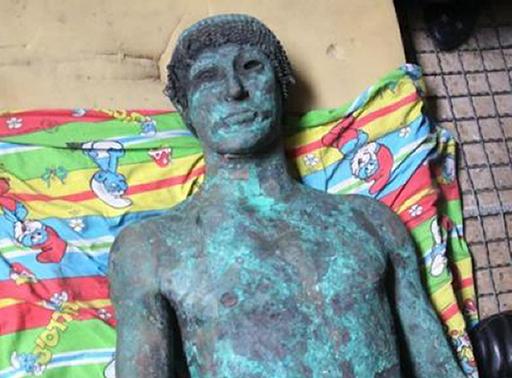 Last updated: 12 February, 2014
What is Apollo doing in Gaza?
A life-size bronze statue of the Greek god Apollo, which recently surfaced in Gaza, has prompted the territory's Hamas rulers to seek international archaeological help to unravel the mystery behind it.
According to Gaza's antiquities authority, the rare statue, which weighs 450 kilograms(1,000 pounds) and is 1.7 metres (5.8 feet) tall, could be worth as much as 250 million euros ($340 million.)
And now the Hamas government is seeking expertise, notably from France, to uncover the mystery of this 2,500-year-old naked sculpture which was reportedly discovered by a handful of fishermen in August.
"We have started an investigation into the background of the statue and its origins," deputy prime minister Ziad al-Zaza told AFP.
"At the end of the investigation, the statue will be returned to the ministry of tourism and antiquities which will initiate contact, through the government, with interested international parties, especially in France which is particularly interested in such matters," he added.
Mohammed Khalla, deputy minister for tourism and antiquities, said the find could open up channels of diplomatic communication for Hamas, which has been isolated since it took over the Gaza Strip in 2007.
"The statue might be loaned out to a well-known French or British museum, which could lead to contacts between Gaza's government and other governments overseas," he told AFP.
Since Hamas forcibly took over the Gaza Strip, ousting forces loyal to the Western-backed Palestinian Authority, it has been almost completely boycotted by the international community, including by France.
At the moment, as the investigation proceeds, the statue is being held at the interior ministry, Zaza said.
"We are looking into all aspects of where it came from, that's to say whether it was discovered in the sea or brought here from somewhere else," he said, acknowledging the possibility it could have been smuggled in.
"We want to know the truth before getting in touch with the relevant (archaeological) authorities here and overseas," he said.