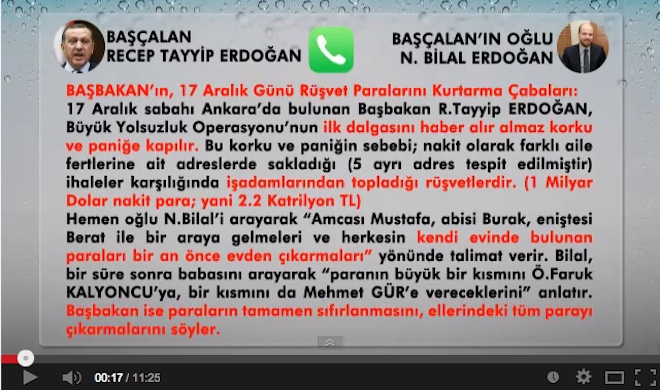 Last updated: 25 February, 2014
Sound recordings expose Erdogan's corruption (although he claims they are false) – here's a translation of what was said
The heat has turned up on Turkish Prime minister Tayyip Erdogan. With about one month left to local elections, five phone recordings have been leaked on YouTube.
In just a couple of hours, the video with the recordings – which the Prime Minster claims is a montage had over one million views. Why? It exposes that Tayyip Erdogan and his family are bathing in enormous amounts of unaccounted cash.
Most of the conversations on the leaked recordings allegedly took place between Tayyip Erdogan and his son Bilal Erdogan on the 17th of December, the same day as a graft probe was unexpectedly initiated against ministers and sons in Tayyip Erdogan's own government.
Tayyip Erdogan, who is in Ankara, calls his son, who seems to be sleeping and unaware of the turmoil created by the corruption investigation. Its 08.00 in the morning:
R. TAYYİP ERDOĞAN: Are you at home?
N. BİLAL ERDOĞAN: I am, father.
RTE: This morning they did an operation, this Ali Agaoglu, Reza Zerrab, our Erdogans son (another Erdogan), Zafers son, Muammers son, their homes are being searched.
NBE: Tell me again, father.
RTE: I am saying Muammers son, Zafers son, Erdogans son, Ali Agaoglu, Reza Zerrab, 18 people right now, they are doing a big corruption operation and their homes are being searched.
NBE: Yes
RTE: Ok? Now I say, whatever you have at home, take it out! Ok?
NBE: What would I have, father, there is your money in the safe.
RTE: That's what I am saying! I am sending your sister now. Ok?
NBE: Who are you sending?
RTE: I am saying that I am sending your sister!
NBE: Eh, ok!
RTE: Then the same way, she has that information, ok? Talk to your brother!
NBE: Yes!
RTE: Lets do that things, talk to your uncle too, he should also take it out the same way, talk to your brother in law, he should also…
NBE: What should we do to it, father, where should we put it?
RTE: To specific places, do it!
In the other, following recordings, Bilal Erdogan calls back to his father and report how the work is proceeding. After a day of collecting enormous amounts of cash, allegedly about USD 1 billion from 5 different houses and making it disappear by buying flats and paying in advance for projects to businessmen they work together with, he still haven't been able to hide it all.
At 23.15 the same day this call takes place:
NBE: Hi daddy, I am calling to… we almost did it. Eh, did you call me father?
RTE: No I did not, you called me.
NBE: I was called from a secret number
RTE: By saying mostly, did you fully dissolve it?
NBE: We did not zeroized it yet father. Let me explain. We still have 30 million Euros that we could not yet dissolve. Berat thought of something. There was an additional 25 million dollars that Ahmet Calik should receive. They say let's give this to him there. When the money comes, we do something, they say. And with the remaining money we can buy a flat from Sehrizar, he says. What do you say, father?
Tayyip Erdogan accepts his son's ideas about how the last 30 million Euros should be hidden. The next day, on the 18th of December, Bilal Erdogan calls his father and says that all the money has been "zeroized".
How the leaked recordings are going to influence the upcoming local elections March 30 is hard to say at this point. The opposition parties, naturally, immediately called for Erdogan to resign, while the prime minister himself claimed that the over 11 minutes long file of conversation was a montage, adding that he was going to sue the ones behind the "dirty plot" against him and his family.
However, it is certain that the voter's reaction to the recordings is going to be crucial for Turkeys near future. If these recordings can't harm Erdogan considerably in the upcoming elections, it's clear that nothing can.
DON'T MISS OLA'S BLOG WHAT'S UP TURKEY