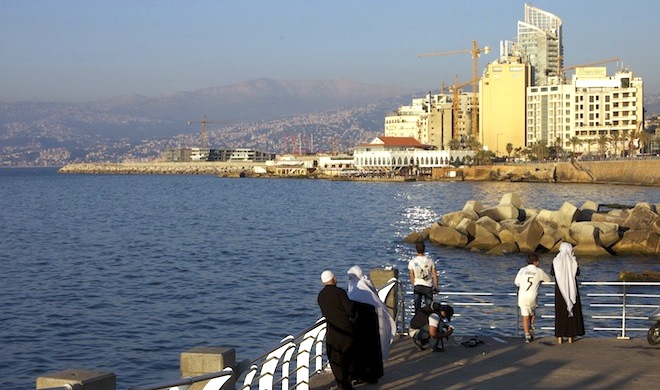 Last updated: 1 March, 2014
The big picture you need to understand what's happening in Lebanon
Will the chaos give birth to a dancing star? Lebanon certainly has a lot going for it, always did, but many observers remain skeptical that it will ever move forward in peace. Here's the big picture you want.
Lebanon is a land of contrasts. The shimmering Mediterranean coastline is frowned upon by snow-capped mountains just a few minutes to the east. Stilettos and short skirts mingle freely with hijabs and burkas on the streets of Beirut. And nowhere in the world – let alone in the Middle East – does such a diverse range of religious faiths co-exist and co-govern within such a small nation.
Recent weeks have been packed with more mixed messages.
After a spate of car bombings in December and January, the Lebanese army defused several explosives-laden vehicles – one in the centre of Beirut – on Wednesday 12 February. On Saturday 15, a power-sharing government was formed in Beirut, finally bringing to an end 10 months of a dangerous executive vacuum. The next evening, Hezbollah leader Hassan Nasrallah addressed the nation and vowed that his forces would continue to wage war in neighbouring Syria. And two days after, twin suicide bombers attacked an Iranian cultural centre in south Beirut, killing 4 and wounding scores.
There is cause for optimism. The formation of a government is an essential stepping-stone in fomenting stability and normality in a temperamental country. Yet outside pressures, internal contradictions and a security crisis continue to weigh. The question is whether Tammam Salam's new cabinet will be capable of keeping the balance tipped towards the right side of the scales.
Out with the old, in with the new
In its mere presence, the new government of 24 ministers is positive news. The breakthrough brings to an end the horse-trading and bickering that left Lebanon without a properly-functioning government for over 10 months. Such confusion added to the already tense security situation in the country, which has been exacerbated by the influx both of Syrian refugees and takfiri suicide bombers.
"There is cause for optimism"It is thus hoped that the formation will boost confidence levels on the Lebanese street, as well as provide a somewhat steady interlocutor for an international community making substantial efforts to stabilise the country. The United Nations, European Union, and major Western donors were duly quick to express their support of the new government, while local media reports have suggested that the population is indeed welcoming of the cabinet – despite its imperfections. No doubt, beyond the symbolism of its presence, imperfections and contradictions abound.
Although the cabinet is one of national consensus based on the "8-8-8" formula (eight ministerial posts for the Hezbollah-led March 8 coalition, eight for the Hariri-led March 14 bloc, and eight for the centrists), a spirit of national consensus is far from evident. Hariri can claim the moral high ground by agreeing to enter government with Hezbollah, whose connection to the car bomb which killed his father in 2005 is currently being investigated in The Hague. Hezbollah and its March 8 allies retort that it was they who made the vital concessions by foregoing a cabinet seat as well as the veto power it brandished in the previous, elected, government. This back-and-forth is likely to continue. This means at best a situation in which the centrists – themselves not averse to political intransigence – become kingmakers in a polarised cabinet, and at worst persistent stalemate à la US Congress.
RELATED "Who will go all-in first in Lebanon's casino?"
Further, with Presidential elections scheduled for May, the new government has a shelf-life of about three months. The first task of the new President will be to designate yet another new Prime Minister, who will in turn come up with another new cabinet and take steps to reform the creaking electoral law. This means that the current bunch finds itself in the curious position of having as its main task the successful organisation of an election which will ultimately sound its own death-knell. Whether this means that the May election will go the same way as the Parliamentary elections these past 10 months – wrangling and postponements – remains to be seen. For the sake of civic confidence and the credibility of Lebanon's democracy, a sizable turnout and safe vote remains the top priority.
Bombs, Beirut and Baabda
The security situation also remains fraught with paradoxes. Under the fog of tension which several suicide bombs have thrown over Beirut, efforts are being made to combat the scourge of radical terrorism. Lebanese security forces have made various high-profile arrests and have defused car-bombs both near the Syrian border and in the heart of Beirut in recent weeks. Most promisingly, these efforts have been all-inclusive. They have involved the active collaboration of the Lebanese Army, international intelligence sources, and Hezbollah members. Regardless of the pragmatic and self-interested motivations of the latter, its participation is important, especially with a view to any longer-term objectives of integrating its militias within a national framework.
"The security situation remains fraught with paradoxes"Yet Hezbollah fights on in Syria. As it endorses the new government of national consensus, it thumbs its nose at the Baabda declaration, Lebanon's official policy of disassociation from the Syrian conflict. As one hand works with national Lebanese institutions in combatting the spread of terrorism at home, the other continues to bolster Bashar al-Assad and stir-up the very regional tensions which many say have attracted the takfiri to Lebanon in the first place. All but one of the recent attacks in Beirut have targeted Hezbollah areas.
In his recent address, Nasrallah denied this last charge, and he justifiably argued that certain foreign forces are intent on the destabilisation of Lebanon regardless of Hezbollah's participation in Syria. His party is also, as it has done in the past, acting to protect the very real feelings of marginalisation of its Shi'i population. But in sending thousands of its forces to the battlefield in Syria – often to towns close to the border – there is no question that it has involved Lebanon in the conflict and brought about increased tension, militarisation and securitisation within the country. Although it does not like this – it is happier in a stable Lebanon – in hedging its bets with regional allies it continues down a path starkly contrasting to that of national sovereignty desired by the Lebanese state.
A road to somewhere?
Nietzsche said that "one must still have chaos in oneself to be able to give birth to a dancing star". Hegel popularised the progressive potential of dialectical oppositions. The European Union has demonstrated that unity in diversity can lead to peace and prosperity. But in Lebanon's case, its contradictions have more often than not been its downfall. It is difficult to see how the current contradictions which engulf the state are any different.
The new government, reinforced security cooperation and international support are promising measures for a struggling country. But they are a sticking-plaster rather than a sustainable solution. Of course the new government, in particular, will provide some short-term relief. But more underlying problems related to the electoral system, Hezbollah's militia, and Lebanon's propensity towards foreign meddling all need addressing. The immediate goal is thus to protect Lebanon until this can become possible. With any luck, the current sticking plaster will hold long enough.
ALSO READ Hezbollah in the words of two South Lebanese women