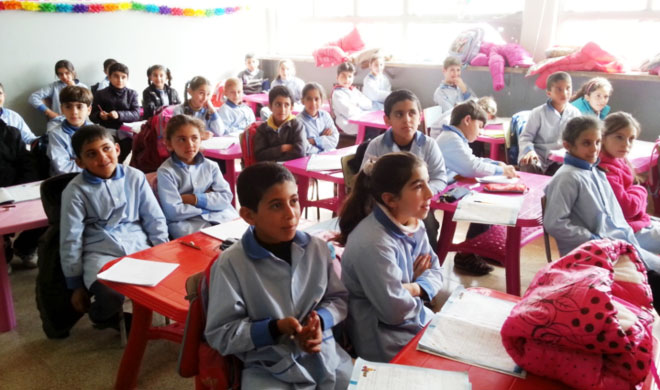 Last updated: 17 March, 2014
The bell of an abandoned Lebanese public school rings again for Syrian students
He grabbed his backpack, which his mother filled with a shabby pile of papers and a pen bleeding his family's agony, and headed to school. He arrived after an hour and a half walk with cold gusts slapping his face red and howling trees mourning the innocence of childhood.
But it seemed that the trees' shrieks were not louder than the past voices of his family members. He described how the sounds of the family's weeping because of the father's death were still resonating in his head and in his heart.
Ali Al Awad, a 12 year old Syrian refugee, marched on the path of education down a valley in Chanay Mount Lebanon to reach his new school. "I arrived to Lebanon 7 months ago. This is the first school I attend in Lebanon", he said.
Although the school doesn't charge the students any fees, they are responsible for their transportation. According to the 2014 United Nations High Commissioner for Refugees Syria Regional Response Plan, common obstacles which are preventing Syrian refugees from attending schools include costs of travel and tuition fees.
After noticing Ali's mode of commute, the school's administration decided to register him in the school bus and cover the expenses. The 6thgrader expressed his delight of going to a school which teaches the Syrian curriculum, "I like my teachers and friends here. They are all Syrian."
"The school was completely empty of chairs and tables. Depending on the availability of funds, we gradually ran classes starting with grade 9 and grade 12
The project manager of the school, Nahed Khattab, a Lebanese who used to spend her summer vacation in Chanay, was touched by the enthusiasm of the Syrian pediatrician Dr. Alaa (family name removed for privacy concerns) to initiate a school for Syrian children living in Chanay.
Nearly 80% of the 270,000 school age Syrians in Lebanon are not receiving education and only 13% of Syrian children in Lebanon are attending public schools.
"The idea started with a word. Dr. Alaa, who is living in the same building as the son of Chanay municipality's head, told him about her eagerness to establish a school for Syrians in the vicinity," Nahed Khattab recalled.
The reaction of the municipality's head, Amin Abi Al Mona, was positive and he set up a meeting for Dr. Alaa with a minister, Akram Chehayeb.
"Within just 4 days, Nora Jumblatt, the wife of the politician Walid Jumblatt, surprised us by granting us the only public school in Chanay."
Both Dr. Alaa and Khattab collaborated to raise money and were able to turn it to a free of charge Syrian-accommodating school within 3 months.
"The school was completely empty of chairs and tables. Depending on the availability of funds, we gradually ran classes starting with grade 9 and grade 12, which students have to sit for official exams", Khattab said.
Chanay's bumpy road to official acceptance
The most significant challenge according to Khattab was when the education ministry wanted to replace the Syrian staff with Lebanese employees to teach the Lebanese curriculum.
"The ministry's representative notified us that if we want the teachers to continue teaching here they should obtain equivalency diplomas from Lebanese universities. It is so hard for our staff to fulfill that especially because of the differences in the subject materials and the language of studies," Inas Farawati, the school's principal, stated.
Farawati also feared that the decision of teaching the Lebanese curriculum directly would force some students to quit school because they won't be able to adapt instantly to the new curriculum, especially since most of them have been out of school for a long time.
ALSO READ: This used to be Syria's greatest tourism treasure. Now, it's only visitors are violence and looting.
Another issue was that around 179 students would be out of school. "The education ministry declared that it will be able to cover the expenses of 300 students while the school currently hosts 479 students. We reached out for the municipality to help us resolve the issue," Farawati explained.
Towards the end of January, the education ministry sent the school's administration an official acceptance allowing the school to resume teaching the Syrian curriculum. Farawati stated that the education ministry asked the municipality to send an official document declaring the municipality's request to borrow the school this academic year on the condition that the Syrian staff teaches the Syrian curriculum.
"We proposed that this year we continue giving the Syrian curriculum along with UN accelerated English learning courses so that students would adjust to the schooling environment and after one year they will be prepared to thrive academically with studying the Lebanese curriculum."
Dropping out of school due to difficulties in adapting
Most students enrolled at Chanay School have previously tried the Lebanese curriculum and couldn't continue studying it.
"Those who failed their classes at Lebanese schools or couldn't cope with the new curriculum came here," Farawati elaborated.
Rahaf Jamaleddine, a 14-year-old student, said, "I spent few days at a Lebanese school, but I didn't like it. The lessons were different from what I used to take in Syria."
According to UNHCR, differences between the Syrian and Lebanese curriculums have caused some Syrian students to drop out. The organization estimated that 20% of Syrian refugee students have dropped out of schools in Lebanon.
"Language has also constituted a daunting challenge for Syrian students who receive their education in Arabic in their home country
The refugees' reasons for quitting school vary including their urge to work particularly among older students in order to support their parents. A recent vulnerability assessment of Syrian refugees, carried out by UN agencies, revealed that 46% of the surveyed households declared that at least one child is not attending school and 57% of these cited financial reasons.
Mohamad (family removed because of privacy concerns), a 17 year old 9thgrader, said that he used to work before enrolling at Chanay School.
"I had to get up early in the morning to arrive at the car garage in Khaldeh (some 36 Km away from Chanay). It was very tiring. I had to work for 9 hours a day. I received humble amount of money in return so I left work." Mohamad hopes he can sit for official exams in Syria.
Language has also constituted a daunting challenge for Syrian students who receive their education in Arabic in their home country. In Lebanon, however, subject materials are taught in English or French, depending on the school. Picking up a new language has posed serious issues for Syrian students, especially the older ones.
Absence of certificates: a hurdle for older students
Rahaf Jamaleddine, the 7thgrader who arrived to Lebanon a year ago, was discontented about missing an academic year. She added that when she was in Syria she was planning to become a gynecologist, but now "I'm not sure about it because I won't be able to get a certificate for grade 9 unless I enroll in a Lebanese school."
The school is not currently issuing degrees and is awaiting help from the education ministry to find a solution. Among UNICEF's recommendations for hosting governments to govern Syrian children's right to education includes exploring transferrable certification of schooling for Syrian refugee students. The school administration considered gradually introducing the Lebanese curriculum to students as one of the options to be eligible for providing certificates.
Samar Radwan, a retired Lebanese school principal who volunteered to work as an educational supervisor for Chanay School, mentioned that after two months of schooling they decided to teach the Lebanese curriculum for the 300 students of the 1st, 2nd, and 3rd grades to prepare them for next year.
"They would be ready to enroll in Lebanese schools or to continue studying the Lebanese curriculum in this school as per the plan of the education ministry for next year."
ALSO READ: Feminists on Syria's battlefield (VIDEO)
The Syrian teachers have received extensive training and have taken 6 hours of English courses per week to cope with teaching the Lebanese curriculum. In addition, Samar Radwan stated that the staff participated in workshops to be qualified to provide psychological help to students.
Asma Masri, 1st grade teacher, considered that even if students are not receiving certificates, attending school is still intellectually, psychologically, and socially beneficial for them.
"We were able to tend to their sorrows…When we started classes; students were psychologically distressed. They used to cry all the time and were very scared. We offered them a caring environment," she said.
"They now have more confidence in themselves. They like school and prefer to stay here rather than go back home."