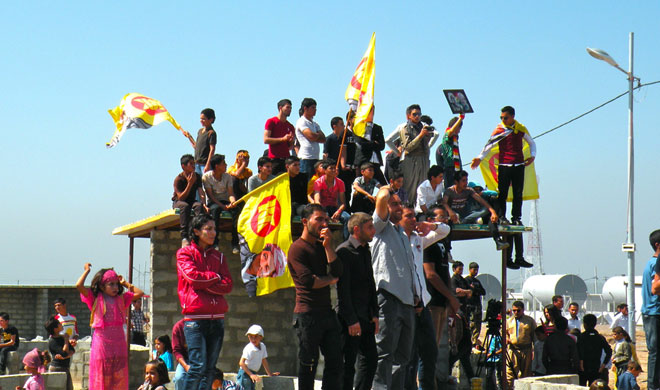 Last updated: 24 March, 2014
Refugees celebrate Newroz with mixed feelings – and some barbeque
"We like these ceremonies, even in times of war they are important to us," said a Syrian Kurdish NGO worker who found safety in Kurdistan. The Newroz celebrations also offer a chance to bridge the divide between refugees and their hosts.
While the capital of Iraqi Kurdistan celebrated the coming of the New Year with aerobatic shows and fireworks, a smaller community on the outskirts of Erbil also welcomed the start of spring with as much enthusiasm.
The approximately 13,000 Kurdish Syrian refugees at Kawergosk Camp, a 20-minute drive from the Kurdish capital, gathered on Friday to celebrate Newroz, or "the new day".
Newroz marks the anniversary of the killing of Zahhak, the ruler who ordered the daily killing of two men to feed the snakes growing out of his shoulders. After a tyrannical rule that lasted 1,000 years Zahhak was defeated by a blacksmith named Kawa.
In what felt like the first day of spring, Iraqi and Syrian Kurds congregated around the makeshift stage to watch traditional Kurdish dancing (Halparke) and theatrical performances amidst a wave of Kurdish suns, portraits of President Barzani and Kurdistan Democratic Party flags.
Seven months after the mass influx of approximately 10,000 Syrian Kurds and a current total of over 250,000 refugees in Iraqi Kurdistan, the displaced families have yet to receive good news from home as the civil war shows no sign of ending.
Iraqi and Syrian Kurds congregated around the makeshift stage"The situation in Syria is getting worse, ask anyone here and they will tell you that they will have to stay here for at least five years," said Nawaf, a Syrian Kurd working for Italian NGO Un Ponte Per.
Soft-spoken and gentle-mannered, Nawaf explained that he quit his job as an English teacher and left Syria in August with his wife and two children. He left for two reasons, he said: a better pay because his salary was steadily decreasing and more security following rumors that he would be jailed due to his active stance against Bashar Al-Assad.
"The most important thing here (the Kurdistan region) is safety, you feel safe," he said.
While Nawaf's work experience meant it was easier for him to find a job, most refugees have not been as lucky. Many are not given permission to leave the camp and suffer from the widespread boredom that plagues the daily routines of the unemployed refugee. Newroz took on an even greater role this year for Syrian Kurds scattered throughout the Kurdish region; it became a day of celebrations as well as a break from the everyday troubles. "We like these ceremonies, even in times of war they are important to us," said Nawaf.
In a camp that has seen the worst side of the winter rain in tent-floods and interminable mud, the situation on Friday was still far from ideal as stagnant water sat only yards away from the celebrations and an open sewage pipe served as an improvised playground for a group of children.
Despite the dire conditions, the celebratory mood was contagious as barbeques were lit, flags blew in the breeze and women donned impossibly colorful dresses in a day that served not only to give the refugees a moment of respite but also bridged the divide between them and their hosts. In a greater Kurdistan that is often divided, Newroz is a reminder of the common thread that binds them together, highlighting an often-overlooked collective identity.
The theatrical commemoration of the 1988 chemical attacks on Halabja in which 5,000 Iraqi Kurds were killed, was an example of the refugee community's show of compassion towards their hosts' tragic past.
As patriotic speeches ignited the clamorous crowd with calls of "biji Kurdistan" (long live Kurdistan) and "Newroztan piroz bet" (happy Newroz), stage recreations of the Syrian war and its destruction were a stark reminder of what the men, women and children dancing in the crowd had been forced to flee. The performers balanced themes of life and death, as the scenes of dying fighters gave way to energetic group dances in which men and women locked hands and moved to the music in perfect synchrony.
In a day that symbolizes the end of hardship and the beginning of life, Nawaf was hopeful that the coming months will be easier for the refugees as winter gives way to spring, the constant rain dies down and the fields encircling the camp become carpeted with bright green grass, a characteristic of Kurdistan that has been immortalized on their flag.
Even is some of us die, said Nawaf, the Kurdish people will never end: "some die and others are born. It's a resurrection," he said.
EDITOR'S PICK All that's wrong with Egypt today. But it can be fixed.