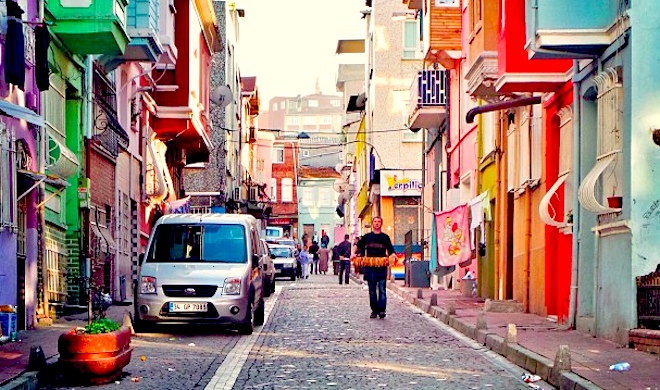 Last updated: 3 April, 2014
You've gotta follow these Instagrammers in the Middle East
We've compiled a little list of Instagram users in the region you simply must follow. And share your suggestions in the comment field!
@zamaaan is an Instagram collection of vintage photographs from around the Middle East, crowd-sourced from people sending in old family snapshots. The photos sometimes date back a century, together creating a fascinating "passport to the past". Pictured, we see Lebanese women in the 1920s pose dressed as men.
Çiler Geçici or @audiosoup labels herself a "music, photography & Istanbul lover", and her magically colourful shots of Turkey's largest city have amassed hundreds of thousands of followers in Turkey and around the world.
@magicalarabia is another good example of the power of crowdsourcing on Instagram. Every day the account's admins choose one photo from submissions from around the Arab world via Instagram's #magicalarabia tag — the result is not only a magical but also a diverse view of Arabia. Pictured, we see travellers in the Sahara in Morocco.
@basharalaeddin is an Amman-based commercial photographer, posting amazing images of Jordan, Lebanon and beyond. Pictured, a photo from 31 January: "Late night by the Dead Sea"
@shimonperes. The president of Israel Shimon Peres has adopted online tools such as Instagram, Facebook and YouTube. In 2012 he invited ten Instagram photographers to his home and said "Photography is not just art."
"It's also education. When a person looks at himself it makes him improve himself. Israel is a very photogenic country filled with history, following an exile of 2,000 years. Feel at home here. Your photos reflect the beautiful side of the State of Israel and its peace-seeking citizens," he continued.
Holly Dagres, @hdagres, is an Iranian-American Middle East analyst (and occasional Your Middle East contributor) based in Cairo, posting photos from her travels through the region. Watch out for her fantastic photos of her travels in Iran, where Instagram is one of the few social networks not blocked by the government's Internet filters. Pictured, the Naghshe Jahan Baazar in Esfahan, Iran.
@matthewcassel is the personal Instagram account of Matthew Cassel, a photographer with Al Jazeera English. His work frequently takes him to interesting places around the Middle East, as his Instagram snapshots showcase.