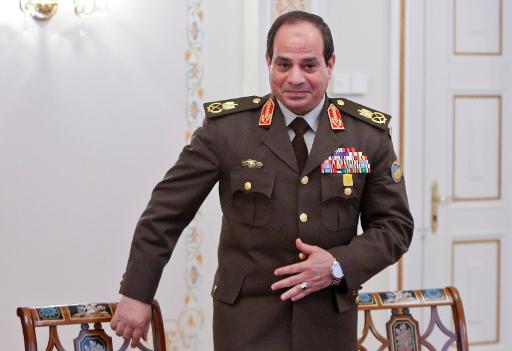 Last updated: 27 April, 2014
Egypt's Sisi urges "unprecedented" turnout in May poll
Egypt's former army chief Abdel Fattah al-Sisi on Sunday urged an "unprecedented" turnout in a May presidential election he is expected to win almost 11 months after ousting the elected leader.
Sisi is expected to easily defeat his only rival, leftist Hamdeen Sabbahi, in the May 26-27 election, riding on a wave of support for overthrowing the freely elected but divisive Islamist president Mohamed Morsi on July 3.
Morsi's Muslim Brotherhood movement and many other Islamists say they will boycott the vote, which will take place amid a massive crackdown on Morsi's supporters that has killed more than 1,400 people in clashes.
Sisi's comments, made during a meeting with investors in the tourism industry, were distributed by his campaign team.
He urged an "unprecedented turnout in the next presidential election, regardless of who wins".
Sisi, who promised to revive the country's foundering economy and restore stability, blamed religious extremism for damaging the country's vital tourism industry.
"The tourism sector has been continuously harmed over the past 50 years because of a religious discourse unrelated to the developments and understanding of the age," he said.
Islamist militants killed dozens of tourists in attacks in the 1980s and 1990s.
Three South Koreans were recently killed in a suicide bombing in February.
The attack was claimed by a jihadist group which said it would target economic interests in response to the crackdown on Islamists.
Although popular among the millions who protested for days demanding Morsi's removal, Sisi faces persistent opposition from Brotherhood supporters who hold near weekly protests.
A militant campaign has killed almost 500 policemen and soldiers since July.
Sisi said restoring security was related to tackling the country's dire economy, which has seen a drop in investment and tourism because of the unrest.
It is heavily burdened by an increasingly expensive subsidy system that officials say will have to be cut, a move that could spark wider unrest if fuel prices rise.
"The (state of the) economy is one of the most important obstacles before society, and all other problems are related to it ," said the retired field marshal.
"Improving the security system needs major economic resources."
Since Morsi's ouster, neither the government nor the Islamists have seriously broached reconciliation talks to end the crisis.
Thousands of Islamists have been placed on trial, including Morsi himself and most of the Brotherhood's leaders.
Sisi is also likely to face strident demands from labour leaders who organised nationwide strikes over the past several years.