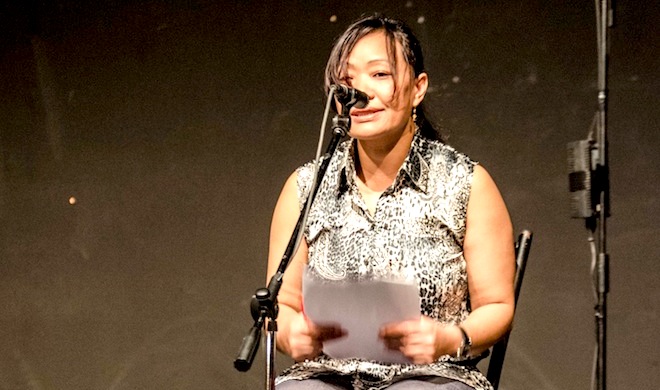 Last updated: 4 May, 2014
Lebanon's invisible working class became visible. For a moment.
Suzana wasn't used to having her story heard by a large audience. She stood up among her peers, sat on the chair, waited for a moment, and started reading, her hands shivering. While most of the others were telling stories of friends, Suzana read her own.
She is a Nepali domestic worker in Lebanon and attended the book launch of "If not for the system: migrant domestic workers in Lebanon tell their stories" by KAFA, the Lebanese anti-exploitation NGO. It was the first day of a three-day anti-Kafala festival celebrating labor rights. As part of the event, domestic workers were invited to present their testimonies of what they went through.
Suzana has been a domestic worker since July 2007 when she landed at Beirut Rafiki International Airport. From the very start, the would-be domestic workers felt that something was wrong. She was asked by airport police to wait in a small room.
Her employer arrived at the airport three hours later. They didn't say much to each other, she was just asked to follow the 'Madame'. Arriving at the house, Suzana was shown to her room. It was a storage room, the kind that would remind you of that little wizard living under the stairs, only without a door. She had no privacy and her 'bed' – a mattress – was just another object among the various utilities that were kept in there.
"Not much to eat, no days off, poor sleep, no family phone calls, passport confiscated, no salary."
What followed was the retelling of a routine that has become all too familiar for myself and those involved in the fight against the so called Kafala system; not much to eat, no days off, poor sleep, no family phone calls, passport confiscated, no salary. She was asked, or rather forced, to act as though she didn't really exist, as though her presence must be kept to the bare minimum.
Suzana ended her testimony with a call for action, her hands still shivering.
This is how countless domestic workers live in Lebanon. How many exactly, we do not know. But sit down with any of the luckier ones and you seldom end your conversation without a few such stories. Most of those present were no longer domestic workers, and the few who still were, had been lucky enough to get kind sponsors. And luck is what it comes down to in the end, Rahel Zegeye, an Ethiopian filmmaker based in Lebanon, tells us.
Rahel made a name for herself as director of the movie "Beirut" and the play "Shouting without a listener" both revolving around the plight of domestic workers. Before coming to Lebanon, she was an activist using drama to fight the spread of HIV in Ethiopia. But her family's financial struggle led her to Lebanon, her country of almost 13 years today.
Rahel didn't want to tell us her story. She had repeated it too many times already. She decided instead to tell us about her friend who couldn't come because she didn't have legal papers. Here's how the story went.
DON'T MISS The luxury is all gone, but Beirut's most (in)famous hotel could soon be the new thing
She was locked in her Madame's house for 10 months. When her mother tried to contact her, she wasn't allowed to respond. When her mother asked the embassy to investigate, the Madame claimed that no one by that name lived there. Despite the threat of becoming an illegal person in Lebanon ('sponsors' legally have the right to confiscate passports and sometimes threaten domestic workers who try to flee) she escaped to her embassy. After some investigation, the embassy demanded that her employer pay her salary. She refused.
The stories went on for 90 minutes. One after the other, they stood up and recounted their experiences. They were then followed by an intervention by anti-Kafala lawyer Roland Tawk and South African activist Myrtle Witbooi, each attempting to provide legal and practical solutions to a system which has already left its victims powerless and hopeless.
The first step, they tell us, is to understand how the Kafala system actually works, which is quite simple. For foreign workers to work in Lebanon, they must be sponsored by a local citizen or company, the "kafeel". This effectively means that a foreign worker's legal status is dependent upon that kafeel. In practice, this complete dependence has been translated into countless abuses which have only recently been documented by NGOs such as KAFA.
The struggle against the Kafala system is still far from over. But by giving the opportunity for victims to voice their experiences and that of their friends and loved ones, KAFA has allowed a whole invisible working class to become visible, if only for a few moments.
EDITOR'S PICK Egypt's richest man on the country's outlook