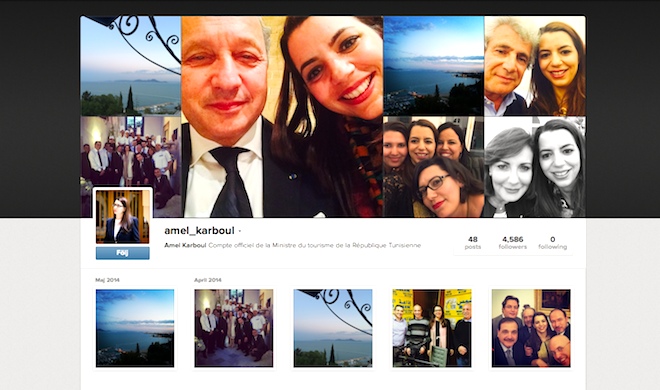 Last updated: 9 May, 2014
Tunisian minister's social media buzz – hit or flop?
Tunisian Tourism Minister Amel Karboul's social media style, including her obsession with selfies, has become a national hype. A Facebook group is now dedicated to Karboul's selfies and the Twitter hashtag #KarboulMania was quickly born. However, the minister's social media usage has divided Tunisians.
Karboul has filled her Instagram account with photos of herself, so called selfies, with a wide variety of people, from Tunisian politicians and international ambassadors, to rappers, journalists and comedians. The Minister is seen with British Ambassador Hamish Cowell, French politician Christiane Taubira and rapper Abd Al Malik.
But Karboul's selfie mania has divided Tunisians. Critics have given her the nickname "Star Academy Minister," and mock the minister's selfie obsession by using Photoshop to add figures like Uncle Fester from the Addams family to a selfie of a delegation of ministers in Paris. She even added Abou Iyadh, the leader of Tunisian Ansar al-Sharia, a terrorist group, in another photo.
Karboul's selfie mania has divided Tunisians
Her supporters, on the other hand, welcome the progressive style of Karboul, who was sworn in as Minister of Tourism on January 29, 2014, as part of the caretaker government led by Prime Minister Mehdi Jomaa. The young Karboul was born in 1973, is the co-founder of "Change, Leadership & Partners" and due to finish a PhD in coaching and mentoring from University of Oxford Brooke.
But not to be mistaken! She is not just using 14,000 Facebook fans and more than 18,000 Twitter followers to promote selfies, but rather as soft diplomacy to showcase Tunisia abroad and at home. Somewhat unconventionally, the minister has highlighted Star Wars events in the capital Tunis, the local version of American hip-hop magnate Pharrell Williams's hit Happy (We are from Tatooine), which was commissioned by the ministry, as well as her own speech at TEDx Carthage.
So, in your view, is the Tunisian minister's social media engagement a hit or a flop?