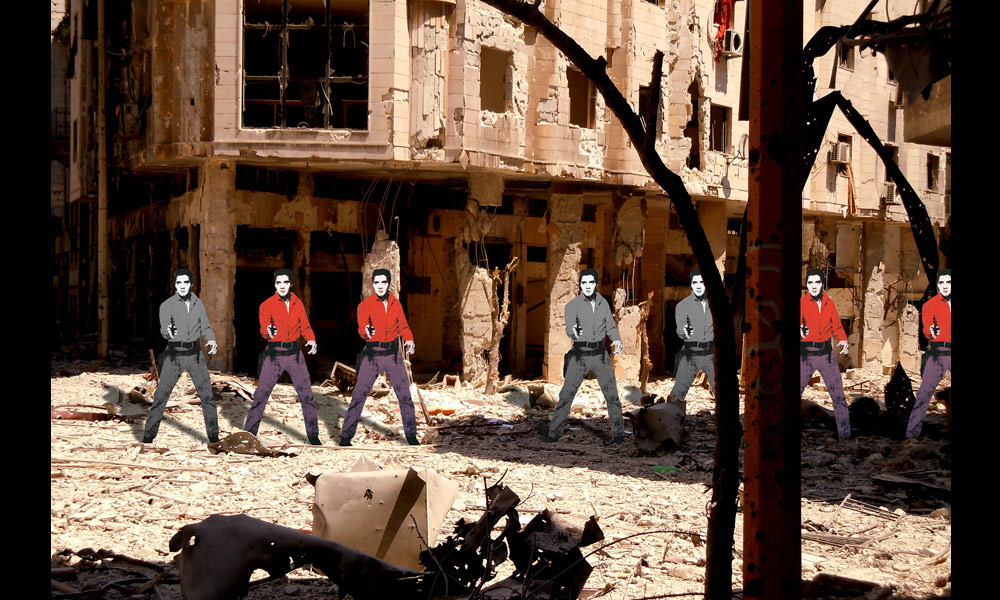 Last updated: 28 May, 2014
This is what happens when you put Andy Warhol in Syria (PHOTOS)
"I am not a political artist," Tammam Azzam tells us. In these extraordinary artworks, he wants to portray the truth as he has lived it. It's a Syria that hits every chord in your body.
I walk along the seafront of Beirut's Corniche towards the Ayyam Gallery in Beirut tower. The soaring battle-ruined shell of the Holiday Inn looks down on me as I make my way along St Georges Bay. The signs of Beirut's own turbulent past are plain to see. Curtains of the St George Hotel blow in the wind through shattered windows on my left; an empty remnant of Beirut's civil war and bearing more recent blast marks from the explosion of Prime Minister Rafik Hariri's assassination in 2005.
Crossing into Beirut Tower, the Ayyam Gallery shows the fresh scars of Syria's war through the eyes of Syrian artist Tammam Azzam. His artworks have already gone global with his Syrian Museum compositions depicting classic art merged with images of today's violent dismantling of Syria.
Klimt's famous The Kiss shares its timeless textures with a bullet ridden building in Syria's Douma. Louay Kayali's classic work depicting the pain of refugee life while Andy Warhol's Elvis with a gun stands among chewed up metal and the bombed out concrete of a Syrian street.
"Ayyam Gallery shows the fresh scars of Syria's war through the eyes of Tammam Azzam"
Tammam's I, Syrian collection spread across the walls of the Ayyam Gallery show Syrian life punctuated with glimpses of hardship. It addresses the pain of being a Syrian, watching the crumbling of your homeland from the outside. Tammam has lifted this pain onto the canvas, creating works damning the world's apathy and the spectre Syria has become for most.
His works shove loss in your face with meticulous detail and striking focus. One work in the exhibit Syria Next Spring shows a hand grenade with flowers in vivid colour blooming from its casing. It gives a sense of hope and life. Another work shows a destroyed Syrian building floating over the United Nations in Geneva. Balloons fly in the air as the ground opens up in front of the supposed home of international peace and humanitarian relief.
Months later Tammam Azzam's work continues to educate and alarm me, as much as the sheer longevity of Syria's war. I wanted to know more about this artist; now one of the most celebrated in the Arab world and beyond. I contacted him in Dubai where he now lives after the Syrian authorities accused him of working against the regime through his artwork.
"I was born in Damascus in 1980. But I grew up in a far off village way down the south of Syria. Surrounded with just black volcanic rock everywhere, between thousands of books – my father is a novelist – we had no cities that time to visit or to learn from, just village life. So I was drawing all the time since I was 6 years old. I dreamed about how to be an artist in the future and I still have the same dream about art. My strongest memory of back then was joining a course during the summer in the city closest to us when I was 13 years old. I went there alone, travelling 22 kilometres three times a week; it was my first challenge in art.
"In 1998, when I was 18, I moved to Damascus. I graduated from the Faculty of Fine Arts where I concentrated on oil painting, obtaining a Fine Arts Certificate in 2001 from Darat Al Funun's Al Kharif Academy; an esteemed artist workshop series led by the Syrian master, Marwan Kassab Bashi. I am the Syrian who knows the country like all Syrians; just a great place with a brave people, but with very poor living conditions. There is nothing to do but look after life itself and learn how to get the basics needed to live and eat. There is no ability to travel and discover; just a closed place with bad laws that torment and bother people all the time."
Your Middle East: What is your mission as an artist? What are the stories and messages embedded in your artwork?
"I actually don't know if an artist has to make art a mission!? It's my own feelings I share with the public in the shape of art. So the story in this case is part of the public, about the conditions that people live under but not just as a Syrian. It's me. Among all these complicated events happening around me, it's the daily question about what to do, how to survive, how to make art for itself, without making explanations for it. It's not my 'mission'."
YME: Who is the audience you are trying to reach? How are people actually reacting to your art?
"Difficult question. I am not looking for a certain audience, but yes I would like to reach the best of everyone, I produce art not topics. In the end it's the combination between artist, art and audience. Each artwork is its own, so I don't know of an exact reaction; I just hear back through opinions and direct discussions.
"There is no ability to travel and discover"
YME: Do you think that your responsibility as an artist from Syria is to shed light on the truth, even if it means being provocative? Or is it actually possible to step away from the politics?
"I am not a political artist. I have done artwork about the life I live and I try to talk about the truth, as many Syrians see it. But unfortunately it's so difficult nowadays to spread that truth around this kind of world of politics and media. The truth about Syria is there in Syria, on Syrian soil, not in Western or American media. There is a revolution in Syria, not a civil war, something totally different.
YME: Where does Syrian art stand at the moment? Are there any boundaries between underground art and the so-called aesthetic art serving different purposes?
"Syria is now at the frozen stage as I see it. I can't talk about NOW but about the past and the future for sure. But unfortunately Syrian blood gets the world's attention about Syrian art and their society. I am now the 'Syrian artist' not just the artist. History will tell where Syrian art stands nowadays.
YME: How does contemporary Syrian art differ from art in other Middle Eastern countries?
"I think the Arab scene in general doesn't have its own identity yet outside of some personal efforts, due to the hardship of the last 50 years in Arab history. So every artist has his own different influences! But there is a huge talent in all artistic careers born in Syria now that differs from all the countries surrounding it; especially in photography."
YME: Your work is also exhibited in London, how did that happen?
"Works are exhibited in London through the Ayyam Gallery, which is the gallery I am working with since 2008."
YME: Which of your pieces do you consider to be the most influential? Why?
"I would say the most influential piece is 'We will stay here', because of its name."