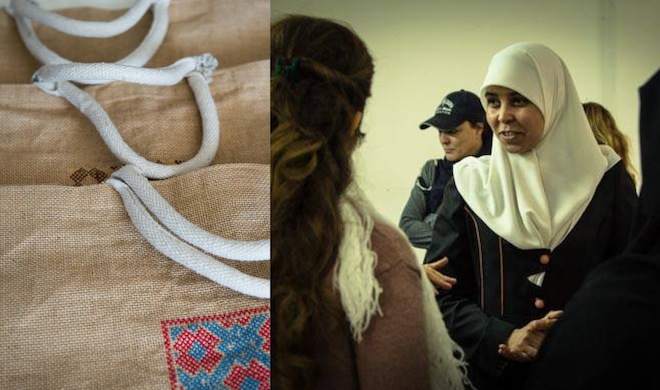 Last updated: 31 May, 2014
These Gaza refugees say no to NGO handouts and yes to making their own money
In the impoverished Jerash Camp in Jordan, things have taken a new turn for some of its female refugees. What started with a tiny workshop now has global ambitions.
The idea was simple, to come up with a way to represent my Palestinian heritage and culture at my wedding, which if given the opportunity, I would rather have held in Palestine than in exile in the UK. After doing a bit of research, I came across The Social Enterprise Project – SEP.
It is an initiative that started its operations with a workshop offering employment to the "Jerash" Palestinian refugee camp in Jordan in 2013. They produce hand-embroidered items such as hats and bags, and also offer a bespoke service. What interested me the most was the quality of their work, and their modern take on traditional Palestinian embroidery. I had found what I was looking for.
"What interested me the most was the quality of their work"
I contacted them to ask if I could make a bespoke order, a set of Palestinian embroidered coasters for each of our wedding guests, and runners for the tables. They asked me to choose the fabrics, thread colours, and patterns, and I was updated every step of the way. This project was not only my baby, but theirs as well. It was the first large order they had received, and the women were excited that it was for a wedding. I loved the fact that my little-big project provided paid employment for 80 ladies at the refugee camp. The ladies added some of their creative ideas and delivered my items ahead of schedule.
The beauty of SEP is that it provides pride, employment, and hope to one of the most impoverished refugee camps in Jordan. Jerash Camp, or "Gaza Camp" as it is more famously known, is inhabited by refugees who arrived there from Gaza after the 1967 war. These Gazan refugees and their descendants in Jordan bear the brunt of the misery of being refugees in exile. With no right to obtain a Jordanian ID, this means that they are denied basic human rights such as healthcare, education, and employment.
Originally established to host around ten thousand inhabitants, UNRWA statistics currently put this number at twenty four thousand registered refugees. However, the number of people inhabiting Jerash camp is more likely closer to forty thousand people based on unofficial estimates.
According to the SEP Website, the average income for families in the camp is $217 US dollars a month, which works out to $7 a day; this includes support and aid from various agencies. However, 64% of the refugees live on $2 a day and 14% of the camp population live on $1 a day, as per information gathered by informal estimates made by non-governmental agencies that are active in the camp.
ALSO READ Think again. In these cities, Islamic rule gave women more power.
The unemployment rate is estimated at 43%, and along with poverty, unsuitable infrastructure, and overcrowding, it is no surprise that one of the most common clinical conditions is depression. Most women in the camp have never earned an income.
Initiatives like SEP Jordan offer a welcome change. Instead of falling into the same pattern of enabling dependency on NGOs, Roberta Ventura, the founder and CEO of SEP Jordan created a 'for profit' initiative, providing employment, incentive, and shared profit and accountability, as opposed to being another NGO to count on for handouts.
Ever since her visit to the Ein el Hilweh Camp in Lebanon in 1997, Roberta has helped Palestinian refugees in many ways. Working in both finance and as part of an NGO, she eventually visited Jerash camp to launch an after-school program. This is where she came up with the idea of setting up SEP Jordan, after a lengthy due-diligence on the camp.
14% of the camp population live on $1 a day
The initiative uses embroidery, a traditional skill that is passed on from generation to generation, and which Palestinian women take pride in. It elevates the quality of their products by using quality fabric and appealing colours, patterns, and styles to attract a wider market.
It is a brilliant concept in its simplicity, essentially helping people help themselves, where profits are redistributed to the women who work at SEP as well as the community (theatre plays, language classes, homework support, vocational training, etc). Producers can aspire to increase their earnings as more projects come in: they are very ambitious and they all believe they will turn SEP into a large company. SEP started its operations last year with 20 experienced embroiderers, and currently count over 180 ladies on their 'books'.
"Capacity is not a concern, we can produce large number of carefully crafted items and really grow the business," said Roberta.
Since my custom order, several orders have come in from around the world for items such as embroidered tote bags and other bespoke items.
With a steady influx of demand for their work, a series of initiatives in the pipeline and a brilliant local team including General Manager May Al-Ghoti, as well as project managers based in the camp, like Nawal Aradeh and Asma Saleh, they really have all the ingredients for a success story.
Roberta and her team are currently busy working on several projects that will enable them to share SEP Jordan's story and beautiful work with an international market and audience.
Watch this place; I am definite that we will be hearing more about them very soon.
For more information visit SEP Jordan's website: http://sepjordan.com/
…or their Facebook page.