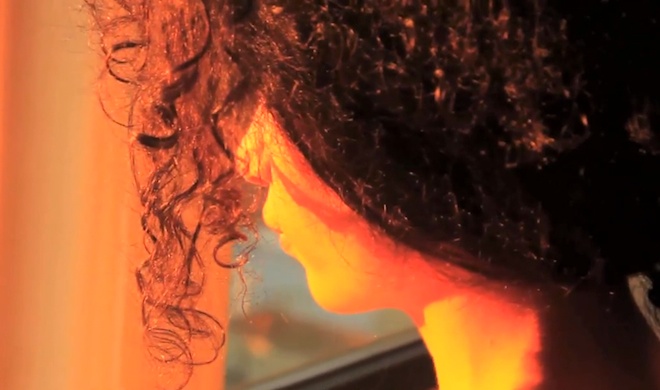 Last updated: 3 June, 2014
Is this what Beirut will be like in 2050? (VIDEO)
"The film is too human to talk about the faux art of politics that Lebanon endures," says filmmaker Darine Hotait in this interview about her latest project.
"My Beirut in 2050 is a place that gathers two kinds of human beings: the perfected ones and the brain dead ones. There is no place for a third kind. And if there is a third kind they are immediately killed."
That Beirut is 'Orb'. Darine Hotait's 'Orb'. With her new project, Lebanese-American film director and screenwriter Darine Hotait proposes a vision for Beirut in the year 2050 through a genre that is almost non-existent in the Middle East: the science fiction movie.
"My Beirut in 2050 is a place that gathers two kinds of human beings"
Darine Hotait was born in Beirut and settled in the United States at an early age. Her short films such as 'Beirut Hide and Seek', 'The Far Side of Laughter' and 'Command or Truth' have been officially selected and awarded at international film festivals. For directing the animated video of 'Ashur', promoting the musical work of her husband, jazz pianist Tarek Yamani, Darine Hotait was a finalist for an Emmy award in 2012.
Darine is also the founder of Cinephilia Productions, an independent film production house in New York. Cinephilia is in particular producing movies for a Middle Eastern audience, with an emphasis on high visual standards.
And now 'Orb'. "What is happening in 'Orb'?" I asked Darine Hotait when I interviewed her a few days ago. "In 'Orb'" Darine told me, "a mother loses her child in an accident. However she is given the chance to bring him back to life. The only downside is that he will become immortal. The mother has a chance: she can choose to have him for her lifetime with his real body and a robotized brain, or she can let him go."
"How significant is it that your movie is set in Beirut, in Lebanon?"
Darine's answer made much sense to me. "In Lebanon", she replied, "there is the militant, the martyr and the innocent civilian. The culture of death is strongly stressed in the experience of this society. In 'Orb', death is treated as immortality."
ALSO WATCH "OMG this is SO Beirut!" (VIDEO)
"Is there a political message that you want to convey with 'Orb'?" I continued my interview. "Can you do something non-political at all when talking about Lebanon? Or do I, who hasn't grown up in the Middle East, over-analyze the setting of your film?"
"Well, kind of", Darine said, "and then again, no. The social and the political are not separable in Lebanon." But she went on by explaining to me that the political message in 'Orb' is not really political: "The film is too human to talk about the faux art of politics that Lebanon endures."
Darine Hotait is a very interesting, very educated person who has a clear opinion about filmmaking. "If you have a well-written story conceived within a great concept to get a novel message across, you got it", she told the Buro 24/7 magazine. "However, there is no specific recipe that makes a short film good."
"The social and the political are not separable in Lebanon"
But let's go back to 'Orb'. "How is the Beirut of your sci-fi movie different than the Beirut of today?" For her answer, Darine reached deep into the field of technology: "in 2050, immortality is accessible through the technologies that enhance the humans' life span. In 2014, we sort of have reached a point where we can stop the appearance of aging but we cannot stop the body from dying."
"In 2050", she went on, "artificial intelligence will have gotten to a point where humans' minds can be uploaded to systems providing them an immortal life."
This strongly reminded me of the American science fiction author Philip K. Dick who identified the question "what constitutes the authentic human being?" as one of the major themes of his work.
"The interesting thing is", and with that Darine Hotait concluded our conversation, "that Beirut 2050 is not very different from Beirut 2014. More people are looking for perfection through continuous services that are being offered. More people are becoming brain dead due to the lack of freedom of thought. Consciousness is buried under the dramatized empire of capitalism."
Darine, and more precisely her movie-to-be 'Orb', needs your donation to have the film produced. Click here if you wanna support the campaign.
A version of this article was originally published by Voix Magazine.