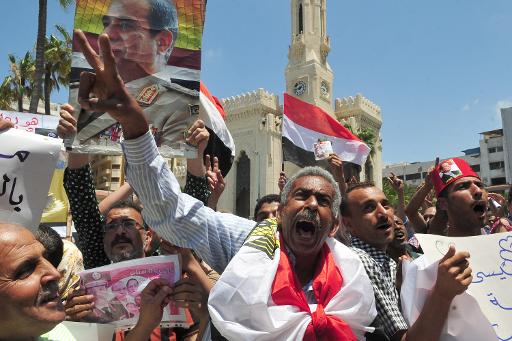 Last updated: 7 June, 2014
Wary US unlikely to restore full aid to Egypt soon
As Egypt prepares to swear in its fourth leader since 2011, a huge slice of $1.5 billion in US aid remains in deep-freeze amid fears the nation is sliding back into authoritarianism.
Former general Abdel Fattah al-Sisi will be crowned as the next president on Sunday after three years of political turmoil since the ousting of long-time iron-fisted leader Hosni Mubarak.
But far from welcoming Sisi as a step toward stability, some analysts are urging Washington to re-think its decades-old, military-based aid program amid concerns over human rights abuses and a crackdown on civil liberties.
In a sign of Washington's unease, no senior US cabinet members will be attending the inauguration, with State Department Counselor Thomas Shannon asked to lead the delegation.
US officials announced in April they planned to resume some military aid to Cairo, suspended late last year, including 10 Apache helicopters for counterterrorism efforts in the Sinai peninsula.
But the aircraft remain in storage in the US, and a request to release some $650 million of the frozen aid has been put on hold in Congress by Democratic Senator Patrick Leahy, chairman of an appropriations subcommittee.
Leahy said he was "extremely disturbed" by Egypt's "flouting of human rights" and would not sign off on delivering the aid "until we have a better understanding of how the aid would be used."
But there are also no current plans to unblock the rest of the suspended 2014 funding, which includes some military hardware such as Harpoon missiles and parts for Abram tanks.
Under legislation penned by Leahy, Kerry has to certify Egypt is on the path to democracy before all the aid can be released.
"There's no timeline for when we have to make additional decisions about the assistance we haven't yet certified for Egypt," State Department deputy spokeswoman Marie Harf said, stressing there was "more work to do" and the administration was not "satisfied" about the pace of democratic progress.
While the US was ready to work with Egypt on badly-needed economic reforms, Harf was also non-committal on whether Washington would join a donors' conference proposed this week by Saudi Arabia.
The Gulf kingdom, together with the United Arab Emirates, has vowed to pump some $10 billion into the Egyptian economy.
– West 'freaking out' –
Expert Michele Dunne argued the US should now "refocus its diplomacy on supporting the Egyptian people, while limiting relations with Sisi and his government to essential security interests."
The bulk of US aid should be transferred to a couple of major programs providing direct assistance to the Egyptian people instead of supporting contracts for US-made weapons for the already heavily-equipped army.
"A focus solely on cooperating with the state no longer makes sense in an era when the lifespan of Egyptian governments, at least the last three, has been measured more in months than in decades," said the expert with the Carnegie Endowment for International Peace.
Using aid to try to force democratic reforms would also have little effect, with most Egyptians now deeply distrustful of America thanks to its muddled policies which have swung between support for Mubarak to tepid backing for Morsi and confusion over his ouster.
US moves to try to force a reconciliation the new leaders to reconcile with Morsi's Muslim Brotherhood will be seen "as us asking them to commit suicide," Eric Trager told a conference hosted by the Washington Institute for Near East Policy.
A high-level Egyptian official defended his government against charges of pervasive abuses as well as suspicions over the polling.
The official, who asked not to be named, denounced what he called "this freaking out in the Western media" about the low turnout when the elections were extended unexpectedly for a third day.
"If anybody has this illusion of having superiority of teaching us which way we should go according to their own criteria, they are totally mistaken," he told a handful of reporters, speaking in English.
"We will do what we think is right, what the Egyptian people think is right," he said angrily.