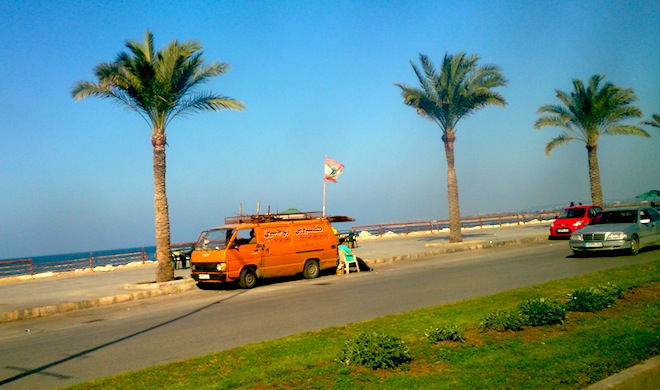 Last updated: 9 June, 2014
Meet Tyre – the forgotten city of Lebanon's south (PHOTOS)
While Beirut and Tripoli rack up points on the news headlines, the city of Tyre 80 km south of Beirut near the Israeli border, carries on at a slower pace. We take a look at life in the south.
Southern Lebanon's Shia region has long been neglected by Beirut's Sunni leaders and has largely fallen under the flagship of Hezbollah administration and support. Life here has been unpredictable and far from easy. It has in the past been occupied by Israel, whose border lies not too far south of Tyre itself. It was also bombed by Israel and in turn rebuilt by Iranian donations; the south's Shia brethren. The region has always struggled economically and still remains one of Lebanon's poorer areas.
Underdeveloped infrastructure, overgrown vegetation and the sea overlooked by palm trees. Banana grooves run for miles along the coast, acting as a thick green barrier between the blue Mediterranean and the pot holed roadway running from Sidon to Tyre.
ALSO READ A story of Beirut's golden days. And a story of Beirut when they were gone.
Tyre itself, a conservative and quiet town, is welcoming to minds looking for calm and release from the rat race of Lebanon's busier urban centres. Life moves slow here. The ancient ruins of Al Mina at the southern seafront makes one realise how steeped in history this place is. Remains of a Roman settlement; buildings, a town square, an ancient road, archways and mega sized pillars. The sermons from two local mosques resound loudly as if in stern competition. The ruins make for an atmospheric midday setting.
"It was bombed by Israel and in turn rebuilt by Iranian donations
Without interruption you can sit and look out at the port in the old town, breathing in the sea air. It's a thinker's paradise. The elderly man who runs the restaurant sits quietly by the door of his establishment. I eat freshly caught fish at a table outside. Before ordering, I asked him if the flesh of the fish was white. "Of course it is!" he replied with a smile. What a bizarre question to ask, I thought to myself after. He lives in the lighthouse that juts out from the old town of Tyre's Christian quarter. The lighthouse doesn't work anymore. Now he runs the restaurant which I returned to again and again.
Lebanese food had me in its grasp before I knew how to say 'Taouk'. While filling my mind with the concepts of how Lebanon 'works' or hearing perspectives of all different colours and sizes; I was coming to terms with fresh tastes and flavours very fast. Chicken Taouk I adopted as a favourite within a few hours of arriving in Tripoli, way up in Lebanon's north. Fast food joints, I found, were a sure-fire way to connect with locals and Tyre proved no different. The Taouk was better here and it had me again on repeat evening visits. Essentially a kebab type dish, with fries added to the mix, I watched the cooks rustle up the ingredients, while they also dealt with a varied mix of loyal locals.
Everyone swarms down to the southern beach promenade as the evening comes in. The walkway running from the Islamic University of Tyre all along the southern seafront is busy with people. Some groups sit and smoke Argila from large pipes while chatting. Children run along with their parents and others sit watching the tide come in as the sun goes down on a burning red horizon.
A version of this article was originally published on Sheehy's blog, Migrate to the fringe.
EDITOR'S PICK Lebanon's history retold in comic bubbles