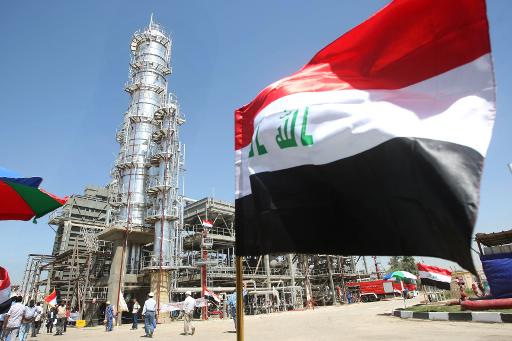 Last updated: 18 June, 2014
How jihadist advance is affecting Iraq's oil production
Oil industry analysts said Wednesday the attack by jihadist militants on Iraq's main Baiji refinery shows the growing impact they are having on the country's stability, energy supplies and government revenues.
The pre-dawn assault on the Baiji refinery north of Baghdad by fighters from the Islamic State of Iraq and the Levant (ISIL) poses new questions about the security of the oil industry in Iraq, OPEC's second biggest crude producer.
Question: How are oil prices affected by the violence in Iraq?
Even though the fighting has not yet reached the southern oilfields, which account for 90 percent of Iraq's oil production, oil prices rose last week to their highest level for nine weeks ($114.69 per barrel for Brent crude) and investors are worried about the long-term prospects for Iraqi oil.
Price rises have calmed since then as Iraq's oil production has not been significantly disrupted, but climbed back towards $114 on Wednesday following the refinery attack.
Analysts agree that if Iraq's oil exports were suspended — it exports 2.5 million barrels a day — they would be hard to replace on international markets.
If "all of Iraq's production is lost for a sustained period, the impact on oil prices would be significant," Morgan Stanley said in an analysts' note.
"OPEC's effective spare capacity… may be able to replace some of this volume, but at a substantial cost."
The Paris-based International Energy Agency estimates OPEC has 3.3 million barrels of day in spare capacity, with 80 percent of that in Saudi Arabia.
Crude oil sales account for 75 percent of Iraq's GDP, according to the International Monetary Fund (IMF).
Question: What is the impact of the attack by jihadists on Iraq's main refinery?
By attacking Baiji, the militants have not only disrupted supplies, but also gained valuable resources for their armed push, said Rebecca O'Keeffe, head of investment at stockbroker Interactive Investor.
She said the attack "risks cutting off the supply of gasoline and diesel to northern Iraq and also provides a source of fuel for ISIS and its supporters".
However, she added, as Baiji does not supply outside Iraq, "the impact of this attack is possibly less severe than feared".
Abhishek Deshpande of Natixis said the attack cements ISIS's influence in Iraq by threatening both Iraq's political stability and its oil supplies and facilities.
"By targeting Iraq's oil facilities, as it did with the Kirkuk-Ceyhan pipeline in the past and Baiji refinery now, it is slowly taking away government revenue and essential energy supplies," he said.
"If it continues with this strategy, by proceeding further in (Kurdish areas) or even south Iraq, it could cripple Baghdad's finances."
Question: What is happening to oil facilities in Iraq's autonomous Kurdish region?
"The business there is running as usual, we are drilling, we are executing major construction work in the area," Leo Koot, president of Taqa Iraq, which operates in the area, told a conference on Iraq's oil industry in London on Wednesday.
Taha Zanghana, deputy minister for natural resources in the Kurdistan regional government, said the troubles in Iraq had actually improved security in areas to the north.
Last week Kurdish forces seized control of the northern city and oil hub of Kirkuk, which is claimed by both the Baghdad government and the Kurdish authorities.
"In fact our region is more secure than before," Zanghana said. "Our forces are more trained. Logistics and transportation are normal. Tools, equipment and facilities are coming from Turkey, as before."
Question: What long-term impact could the violence in Iraq have on the global energy market?
In the longer term — even if the southern oilfields remain unaffected — the security situation could scare off investors who are needed to pump sorely-needed capital into the Iraqi energy sector.
The world needs oil from Iraq, which is expected to contribute 60 percent of the increase in global production foreseen in the next five years, according to the International Energy Agency.
Iraq has more than 11 percent of the world's proven resources. It currently produces 3.4 million barrels a day.
It is aiming for daily production of 8.4 million barrels a day, oil minister Abdelkarim al-Luaybi told an OPEC meeting in Vienna last week.