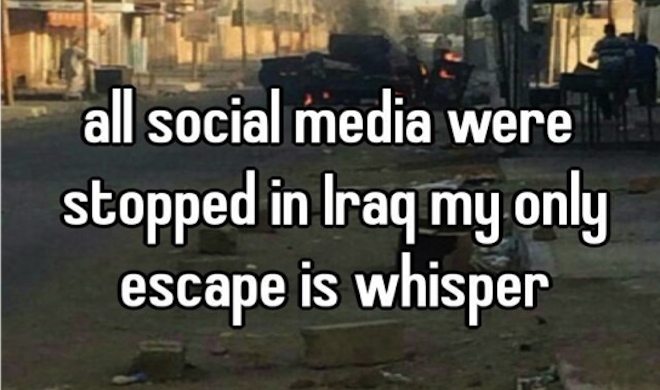 Last updated: 18 June, 2014
Iraqis share their fears – and jokes – on Whisper after the government blocks social media (VIDEO)
Iraqis have turned to Whisper for help. Some are using the platform to vent anger and panic, while others take the opportunity to pull jokes about weed and Twilight figures.
In light of the growing crisis in Iraq the government has reportedly blocked almost all social media websites including facebook, twitter and youtube. When Iraqi citizens attempt to log in they are faced with this image:
However, one social media website seems to have escaped the crackdown. Whisper is an app commonly used by teens to anonymously express their darkest secrets and fears. In Iraq it has become the only tool for Iraqi citizens to express themselves to the outside world.
The Whispers range from factual to heartbreaking:
Other posts are surprisingly funny and mundane.
One user wishes for weed:
While another calls on the vampires from Twilight:
Whisper's founder Neetzan Zimmerman has stated that Whisper's usage has more than doubled in Iraq between June 12th and June 15th as other forms of communication in Iraq were blocked. Zimmerman has gathered many of the posts coming out of Iraq on Storify.