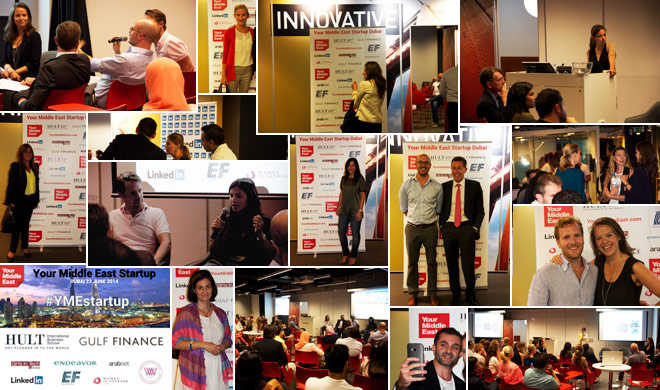 Last updated: 27 June, 2014
Find your passion biggest lesson at #YMEStartup in Dubai
The Your Middle East Startup roadshow arrived in Dubai on June 23. Gathering at the colorful Hult International Business School, the event attracted investors, bankers, business leaders, an ambassador, and – of course – the entrepreneurial bunch.
Just like the successful premiere of #YMEstartup in Istanbul two months earlier, the Dubai event was a big hit that received great feedback on social media and from the audience in Dubai's Internet City. In addition to a distinguished list of speakers and panelists, notable attendees included Ben King, Regional Director iTunes Pan-EMEIA at Apple, and His Excellency Max Bjuhr, Sweden's Ambassador to Qatar, Bahrain and the UAE.
Sticking to the no-nonsense, informal format of the event series, the evening kicked off with a chat with Mona Ataya, co-founder of Bayt.com and founding CEO of Mumzworld.com. Drawing from years of experience and an impressive track record, Ataya offered some serious advise on what it takes to be an entrepreneur. Expect hard work around the clock, she said, and also pointed out funding and the core team as essentials for success.
She was joined by Dany El Eid, long-time entrepreneur currently active as founder of Pixelbug.com. "Dubai is Silicon Valley in the 1970s," he said with a sense of optimism. But El Eid knows very well the hardships that come out of entrepreneurship. Having launched and failed in several of his earlier ventures, he talked about an entrepreneurial heaven filled with ups and downs.
PHOTOS: from the event on our Flickr channel
Magnus Olsson, CEO and founder of Careem, the Dubai-based online taxi service, stuck to the same theme. "I now call myself Magnus 2.0," the Swede joked. Olsson referred to a dramatic episode in his life when he survived brain surgery. The end result, however, was a more inspired version of himself.
"I wanted to do something more than being in the corporate. I wanted to give back a little bit," he said. "So I did some meditations, met some munks, and came back and said 'I have to do something more important than PowerPoint'. And I'm really good at PowerPoint! So I walked in and said, 'I'm leaving. I don't really know what I'm doing, but I am leaving'."
The Careem founder stirred up laughter among the audience at Hult International Business School as well as reactions on Twitter:
As in Ataya's case, Olsson found the spark in the team spirit. Without actually having a business idea, he went out to search for a partner. "My first step was to find someone to do this adventure with. So before I even had a venture, it was about finding someone to do something with. Because that really makes a difference."
A core team with a shared vision. That appears to be advice of the month for all budding entrepreneurs out there.
In terms of compiling a strong team, Dany El Eid made a somewhat surprising point; "I don't rely on CVs." His company hosts hackathons in which coders are given a desk and a task to complete in a certain time frame. That allows El Eid to follow the programmer's thought process live. "Someone present a CV to me, I'm like, it doesn't matter – what can you do now?"
Perhaps the biggest lesson shared by speakers at the event was the need for social impact. "Define your DNA," said Mona Ataya. Adding value to your environment is primary, and if that happens, success will come. Magnus Olsson set a good example by offering all employees equity in the company.
As the host of this event series, Your Middle East would definitely like to see more entrepreneurs following that path; creating a sustainable business through a mutually beneficial platform for all agents involved. Talking about stirring that team spirit!
After informative chats with the speakers and a panel of investors, the evening culminated in two pitches; first out was Eveline Sleeboom of Marhababy.com, and then came Simone Berkins, one of the entrepreneurs behind startup Forth Rabbit.
Chris Thomas, CEO and co-founder of celebrated crowdfunding platform Eureeca had some firm tips for our presenters; "As soon as an entrepreneur enters a room, she/he can impress or depress me." No kindergarten here! He also pointed out that "in a pitch, you need to help the investor think with a great story," adding, "don't give all info in the pitch, keep the investor thinking and teased."
As for the two entrepreneurs, things progressed smoothly and stirred a great deal of questions and feedback from the expert panel, which also included David Hunt, CEO of Gulf Finance and Amir Farha, Partner at BECO Capital. The pitch for Marhababy led to discussions about the importance of the name, as in this case, Marhababy is a playful choice with the Arabic word Marhaba (meaning "welcome/hello").
Both entrepreneurs demonstrated the key lessons emphasised by the panel; package your idea, commitment and passion into a financial opportunity. The energy in Simone Berkins of Forth Rabbit as she grabbed the mic and took the stage in confidence was astounding.
The Your Middle East Startup series is all about connecting people and creating meeting spaces that allows the entrepreneurial scene to engage in new ways. A flourishing startup climate that includes both men and women is an absolute must for a long-term positive development in the MENA region. True to our mission of working for a better, more dynamic and integrated region, Your Middle East will continue to put focus on this important issue.
"We know we are on the right track as so many entrepreneurs thank us for the energy injection, that's what is sometimes needed to keep going!" says Aurore Belfrage, COO of Your Middle East and moderator at the roadshow. So don't miss our next stops – Amman, Tunis, Erbil, Tehran and Riyadh!
A special thanks to our sponsors EF, Gulf Finance and Hult International Business School who made the event possible. And a big hug to our partners Endeavor, Girls in Tech, ArabNet, Women Investing in Women, and Women in Network by FBC, and Linkedin, who gave away free premium memberships to three winners in the audience.