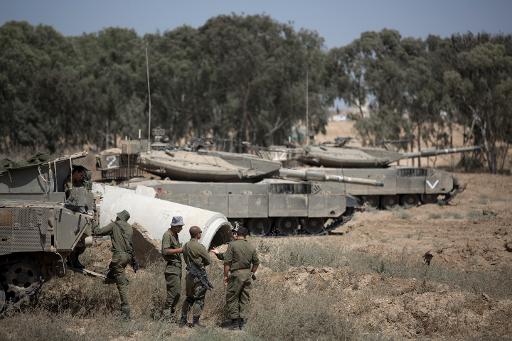 Last updated: 6 July, 2014
Two Palestinians killed by Israeli drone in Gaza
Two Palestinian fighters were killed and another wounded late Sunday by an Israeli drone strike in the Gaza Strip, emergency services said.
The victims were among a group of armed militants who were targeted by the Israeli drone east of Bureij refugee camp, near central Gaza's border with the Jewish state, witnesses said.
In a statement, Israel's army said it "has succeeded in stopping another attack against Israel by targetting terrorists who are implicated in launching rockets from central Gaza."
"The target was hit," said the statement.
Earlier, the Israeli army carried out a drone strike against a group of radical Gaza militans, but the targets managed to escape, witnesses said.
Since Sunday morning, Gaza militants have fired at least 25 rockets and mortar shells over the border, after a night of 10 air strikes.
The strikes come after the brutal murder of 16-year-old Mohammed Abu Khder on July 2 triggered four days of violent clashes that broke out in east Jerusalem and have spread to more than half a dozen Arab towns in Israel, with hordes of angry protesters hurling stones at riot police.