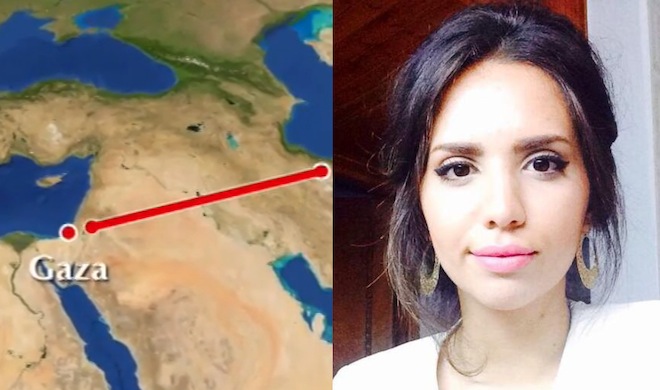 Last updated: 11 July, 2014
Video interview with Gaza blogger: "We are brave and united, but pray for us"
As air strikes hit the ground in Gaza, Iranian journalist Omid Habibinia managed to get an interview with one of the local media activists.
Nalan Al Sarraj is a 23-year-old media producer and blogger in Gaza. On Thursday, she told Your Middle East about how the situation in Gaza is getting worse. There are shortages of medical supplies in hospitals while hundreds of people have been injured in the last three days of Israeli attacks. There is also a shortage of electricity and water.
"The situation is terrible, we have more than six hundred injuries, more than 50% of them are kids, we have more than 75 martyrs, Khan Younes is hit randomly from last night till this morning," she said.
"All Gaza is under attack, we are freaking out, Israelis are freaking out as well, I can see from my place all neighborhood in my city is under attack and last night I could see explosions and smoke over it. We can't really expect anything good happening any time soon."
"All Gaza is under attack, we are freaking out, Israelis are freaking out as well"
Al Sarraj said that most of the places targeted by Israel are not related to Hamas or military bases.
"They just target the civilians, most of those killed are like me and you, just civilians and those who are injured are mostly…women and children, as usual they don't care about the people in Gaza, just killing innocent people."
She thinks that Israel just does it for politics, and says that at the other side they have shelters and don't lose anything compared to the Gazans.
Referring to the situation in West Bank, Al Sarraj does not believe that Israel's problem in Gaza is only Hamas.
"Building settlements, kicking people from their homes and burning teens alive, this is not about Hamas, Al Fatah or other parties, they just want to keep occupation, this is what they do in all these years, killing us and giving excuses to clear their images in the media."
The Gazan blogger says that she wants the world know this is not about politics, but about humans, civilians who lose their lives.
"Even my friends in Europe and abroad they don't know what is happening here, while the media don't cover it, they just say Israelis are going to shelters, they are scared and so on."
She follows Israelis in social media, and notes that there is a lot of heat, but also that there are some people saying we are so sorry you are suffering.
"But I don't think they really care what is happening over here, because at the end they go back to their normal life, parties, having fun at the beach.
"Palestinians are brave but we are scared and at the same time, we feel we have to overcome our fear and resist against fear and hopelessness."
"Palestinians are brave but we are scared"
Al Sarraj notes how they sometimes see Israelis freaking out from handmade missiles which usually don't land in Israel.
"Of course we don't want any harm to any human being including Israelis, but comparing our situation to that just is impossible.
"We believe in our cause, we Palestinians, believe one day we get our freedom, we have no way to resist under attack and stay hopeful."
While sad and tragic news are still coming from Gaza through tweets and Facebook pages such as Humans of Gaza, it is soon dusk over the city, and during the darkness of the night, fear and anxiety grows as more air strikes are expected.