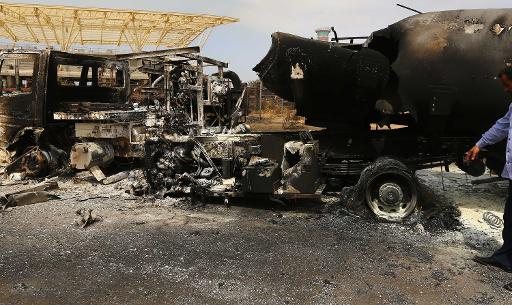 Last updated: 15 July, 2014
International forces might return to Libya as civil war looms closer
Libya's government said on Tuesday it was considering calling for international forces to help restore security, as fighting between rival militias around Tripoli airport pushed the country closer to civil war.
Libya's government said on Tuesday it was considering calling for international forces to help restore security, as fighting between rival militias around Tripoli airport pushed the country closer to civil war.
With liberal and Islamist militias locked in a brutal power struggle, the country's main international airport, which was shut down on Sunday for security reasons, came under renewed attack late Monday.
Shortly afterwards the government said it was "looking into the possibility of making an appeal for international forces on the ground to re-establish security and help the government impose its authority".
The statement from a spokesman added that the forces would help protect civilians, prevent anarchy and allow the government to build up the army and police.
NATO warplanes helped topple dictator Moamer Kadhafi in 2011, sparking a power struggle between rival armed groups that has wracked the country ever since.
Speaking in Vienna, US Secretary of State John Kerry said Washington was "deeply concerned" about the growing levels of unrest in the North African nation, and was "working very hard to find political cohesion".
"Every single day in the State Department we make assessments about the level of violence, about our personnel who are there, about our embassy."
– Civil disobedience –
Clashes first broke out at Tripoli airport on Sunday when the Zintan militia which controls it was attacked by rival Islamist fighters.
In a fresh attack launched late Monday, dozens of rockets — including one that hit a plane — were fired, killing a security guard and wounding six others, officials said.
At least 10 aircraft of Libya's main carriers Afriqiyah Airways and Libyan Airlines have been damaged, while the airport's closure has severed Libya's air links with the outside world.
On Monday the airport in the country's third city Misrata was also forced to shut down because it is linked to the control tower in Tripoli.
But late Tuesday Libyan authorities announced that flights have resumed at Misrata and also at the Miitiga military airport in the suburbs of Tripoli, which would allow Libyans stranded in airports around the world to get back home.
Earlier Tuesday, angry Libyans blocked several roads around Tripoli and burned tyres, in response to calls for civil disobedience in protest at the airport attacks, witnesses said. Some banks and shops also remained closed.
Analysts say the latest clashes are tied to the preliminary results of a June 25 general election to replace the Islamist-dominated parliament, which has been mired in controversy and accused of hogging power.
Commentators say liberals will fill most seats in the new parliament, following the election which has been dogged by allegations of fraud, some of which have been accepted by the electoral commission.
Libyan analyst Mohamed Eljarh said the Islamists were seeking to seize control of strategic sites in the capital.
"The Islamists are determined to maintain their position as a key player on the political scene, following their defeat in the recent elections and the rising threat from Haftar's military operation against the Islamists in eastern Libya," he said.
Renegade former general Khalifa Haftar launched an offensive against Islamist militias in Libya's second city Benghazi in May. The disciplined Zintan militia has sided with well-armed forces loyal to him.
– Fears of civil war –
Parts of eastern Libya, particularly Benghazi and the hill town of Derna, have become jihadist strongholds, and renewed clashes in Benghazi on Monday between troops and Islamist militia killed at least seven people and wounded 49, medics said.
Libya has been awash with weapons since the uprising three years ago that toppled and killed Kadhafi, and successive interim governments have struggled to establish a strong army and police force, giving former rebel groups a free hand to act.
Othman Ben Sassi, a former member of the political wing of the 2011 uprising, warned of the dangers facing Libya if its government fails to contain the spiralling unrest.
"They must swiftly put an end to this conflict, otherwise the country is heading for civil war."
France said it had "taken note" of the Libyan government's call for help from international forces, adding that it was primarily the responsibility of the United Nations to examine the proposal.
Tripoli's announcement came, ironically, as the United Nations said it was evacuating its remaining staff from Libya because of the deteriorating security.
Witnesses said a UN convoy left Tripoli by road on Sunday headed for the Tunisian border.
Despite the unrest, oil exports from the OPEC country have risen since the start of the month, when the authorities regained control of two terminals blockaded by rebels demanding autonomy for eastern Libya.