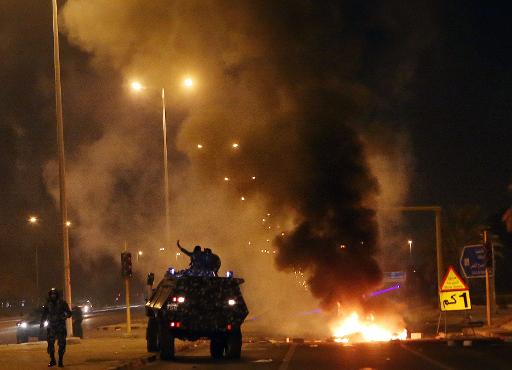 Last updated: 21 July, 2014
Kuwait revokes citizenship of pro-opposition TV owner
Kuwait on Monday revoked the citizenship of the owner of a pro-opposition television station and a newspaper, along with several other people, in an apparent crackdown on dissent.
In a statement issued after a cabinet meeting, the government said it was revoking the citizenship of Ahmad Jabr al-Shemmari, owner of Al-Youm satellite television and Alam Al-Youm newspaper, and all members of his family.
It took the same action against former Islamist opposition MP Abdullah al-Barghash, two of his brothers and his sister.
The measures come a week after the Kuwaiti government ordered a review of the citizenship of people who posed a threat to national security.
Monday's statement gave no specific reasons for the action against Shemmari, a naturalised citizen.
But it noted that it was based on a provision in the nationality law that allows the authorities to revoke the citizenship of people who threaten the state.
Al-Youm and Alam Al-Youm have covered the activities of the opposition which has staged mass protests in the past two years, demanding fundamental reforms including an elected government.
Alam Al-Youm reported on Monday that the police had questioned its non-Kuwaiti staff and seized their passports.
The cabinet said the citizenships of Barghash and his relatives were revoked because they had been granted on the basis of false information.
OPEC member Kuwait has a native population of 1.25 million, a large number of them through naturalisation, and hosts 2.8 million foreigners. Unlike other Gulf states, it has a democratically-elected parliament and has been tolerant to freedom of speech.
Former opposition MPs blasted the measure.
"Revoking citizenship from political opponents of the government is a grave mistake… that will plunge the country into a serious political phase," former Islamist MP Mohammad Hayef tweeted.
"It is a dangerous attitude through which the government is attempting to cover up corruption and fight reformists," said Bader al-Dahum, another Islamist former MP.
The cabinet was also informed that the social affairs and labour ministry had closed down "scores of offices and branches" of non-profit organisations, including Islamic charities.
The statement gave no details on the organisations affected.
Riot police this month clashed with demonstrators protesting over the arrest of prominent opposition leader Mussallam al-Barrak for allegedly insulting the judiciary.
Several people were hurt and about 50 arrested, most of whom have since been bailed.
Since mid-2006, the oil-rich Gulf state has been rocked by a series of political crises, leading to parliament being dissolved six times.
Most opposition groups are not represented in Kuwait's parliament after having boycotted July 2013 polls in protest at an amended electoral law.