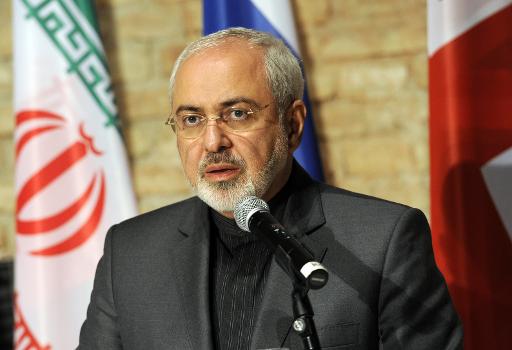 Last updated: 27 July, 2014
Iran's Zarif steps up Gaza diplomacy and offers aid
Iran's Foreign Minister Mohammad Javad Zarif conducted a hefty round of telephone diplomacy late Sunday to rally support and humanitarian aid for Palestinians in the besieged Gaza Strip.
He spoke with UN Secretary General Ban Ki-moon, EU foreign policy chief Catherine Ashton and regional leaders, stressing that the priority was to get food and medical aid into areas worst hit by Israel's military offensive, Iran's official IRNA news agency said.
In his conversation with Ban the top Iranian diplomat criticised the United Nations for "not taking serious action to bring an end to crimes committed by the Zionist regime" during the deadly conflict.
The UN chief responded by saying that the best efforts were being made "to initiate and maintain a sustainable ceasefire and put an end to the siege", IRNA reported.
Zarif also spoke to Egyptian Foreign Minister Sameh Shoukry, Iyad Ameen Madani, secretary general of the Organisation of Islamic Cooperation (OIC), Kuwaiti Foreign Minister Sheikh Sabah Khalid Al-Hamad Al-Sabah, and Qatar and Turkey's foreign ministers.
e also spoke with Hassan Nasrallah, the chief of Lebanese political and militant outfit Hezbollah.
"Islamic states have huge resources and are capable enough to render invaluable services and assistance to people in Gaza," Zarif said in his conversation with Madani, according to IRNA, urging the OIC to cooperate with the Arab League and Egypt in getting aid into Gaza.
He urged all countries to increase pressure on Israel and its allies to "immediately halt their aggression" and said "any truce should go in parallel with removal of a blockade on the Gaza Strip".
Zarif said Iranian hospitals were ready to receive wounded Palestinians and that the Islamic republic would send doctors and nurses to Gaza.
On Sunday, the Islamist Hamas movement fired more rockets at Israel, despite claims it had accepted a UN request for a 24-hour extension of a humanitarian truce in war-torn Gaza.
The Palestinian toll on day 20 of Israel's devastating military campaign in the coastal enclave rose to to 1,031, Gaza's emergency services said.
The renewed violence came after a rare 12-hour cessation in hostilities on Saturday, which was respected by both sides, with world powers urging both Israel and Hamas to extend the temporary truce by another 24 hours.