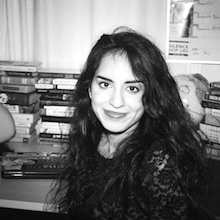 Last updated: 14 August, 2014
"The lives of possibly hundreds of more Iranians are in the hands of western politicians"
In light of the recent crash that left 39 dead, Dina Yazdani has written a personal commentary on the damage caused by sanctions targeting Iranian airlines.
There are not many things in life I dread more than getting on an Iranian Airline flight. The anxiety of getting on one of these flights is second only to the excruciatingly long delays you must suffer before actually boarding. I have never been on a domestic flight in Iran that was not delayed.
However, many Iranians consider these delays a good sign. It is a signal that they are repairing the plane, and there will not be any problem when it is time to fly. There is actually more to fear if the plane arrives on time. You not only get used to delays, but you begin to expect them.
"I have never been on a domestic flight in Iran that was not delayed"
Delayed or not, most of you already know that Iran's fleet is one of the oldest in the world. No LED lights lighting the aisles. The seating is tiny and cramped, designed before obesity became a problem. Then there is the actual flight. Once while descending into Meshad from Tehran, the decrepit Iran Airline succumbed to the air pressure and began dropping rapidly. Having travelled a lot, I have only encountered this sort of turbulence in the most extreme of weather — not a typical sunny, dry day in Iran. I grasped the handles of my seat tightly and exclaimed "I miss America!" in Farsi. The passengers around me laughed, and tried to assure me this was normal. It is, for Iran, but it should not be.
Last Sunday morning, just 3 minutes after taking off from Mehrabad Airport in Tehran, one of the engines of an Iran-140 plane went out. Shortly afterward, the twin-engine turboprop crashed on a road below. The pilots tried to direct the plane back toward the airport but to no avail. The passenger jet plane that was headed toward the eastern city of Tabas went down in a residential area, killing 39 of the 48 people on board. The plane was built with Ukrainian technology based off an old Soviet design, and assembled in Iran.
West-imposed sanctions on Iranian airlines has forced Iran to either refurbish plane parts for its mostly western-built planes, or use inferior technology and rely on Russian aircraft — many from the Soviet-era, which means parts are harder to get since the collapse of the USSR. As a result, many Iranian planes are flying with unofficial spare parts. Iran has been unable to purchase new planes because of the sanctions. Iran's four largest air carriers have an average fleet age above 22 years, far above the average international fleet age for commercial planes.
Iran has suffered 200 plane accidents since the sanctions were first imposed in 1979, after the US Hostage Crisis causing over 2,000 deaths. The US Congress strengthened those sanctions in 2011, when it was learned that Iran Air provided material support and services to the Islamic Revolutionary Guards Corps, who are believed to be assisting Hezbollah in Lebanon, a US-designated terrorist organization. While intending to target the Iranian military and government, it is the Iranian civilians who are facing the consequences of the sanctions.
The United States and other Western powers must lift the sanctions on Iranian airlines if it hopes to put Iranian civilians out of unnecessary danger. The lives of possibly hundreds of more Iranians are in the hands of western politicians who are stubborn about conceding anything to the Islamic Republic.
The Obama administration has given the illusion that it cares about Iranians by amending Section 560.528 of the Iranian Transactions and Sanctions Regulations that allows export licensing on a case-by-case basis to guarantee the safety and safe operation of commercial passenger aircraft. However, even if a US company were to receive this exceptional export license (none has), financial sanctions makes it nearly impossible to receive payments from Iran. The amendment is absolutely obsolete in light of other sanctions on Iran.
"Iran has suffered 200 plane accidents since the sanctions were first imposed in 1979"
The most recent attempt of the international community to address Iran's aging fleet was a result of Iran's agreement with the P5+1 in November of last year to temporarily suspend nuclear activities. This led to a 6 month suspension of restricting sales of spare aircraft parts to Iran, which began in January. That 6 month period is now over, with no shipments taking place. As Farhad Parvaresh, the Iran Air CEO correctly stated, "to establish new contacts and contracts obviously takes time, and six months was not enough time to do everything".
Iran Air has said it will need about 400 passenger planes over the next decade, 100 of those immediately after a nuclear deal is reached. The lifting of sanctions could see 80% of Iran's grounded fleet return to operation. Approximately over 60% of commercial fleets are grounded because of "technical and logistical issues" due to inability to get appropriate spare parts. Iran is in desperate need of new aircraft, and the latest incident which left 39 dead, including 5 children, serves to remind us of that.
Lifting sanctions on Iranian airlines will not only assure the safety of flight for civilians, but also act as a confidence-building measure and simply a sign of good will from Washington to Tehran. In line with Iranian hospitality, the Islamic Republic will surely return the favor.