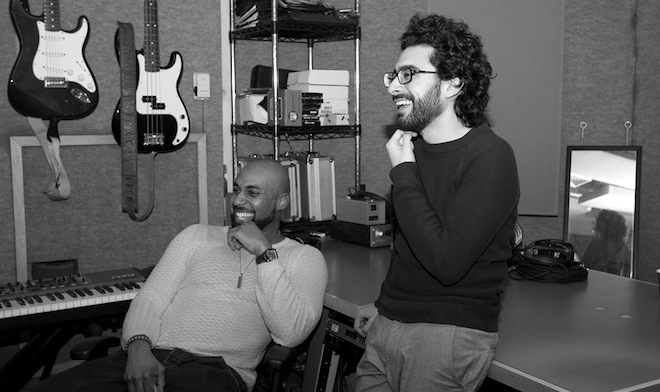 Last updated: 22 August, 2014
"It was in New York where it all merged: the Afro American Jazz and the Arabic music," writes 'Victor Argo' in a fascinating tale about Tarek Yamani and his latest album.
I like to listen to Jazz music while I do household chores. Like ironing my shirts. And that is precisely what I did on August 6, 2014, when I first listened to Lisan al Tarab, pianist Tarek Yamani's new album.
The conflicts in the Middle East had occupied my mind and my writing for quite some time. Not that I could have done anything to solve them. But now, I finally took an hour to iron. I finally had time to enjoy music.
Last June I met Tarek Yamani in Beirut. We sat down for two hours, eating Lebanese mezze and talking about music. Tarek is a very interesting person to chat with. He knows a great deal about music and he can most entertainingly speak about it.
How do we react to ancient African rhythmical patterns, and why? What is the secret of groove? Why is black American music so unique? Being curious and an autodidact to the bone, Tarek has conceived his own theories about music and how it is happening.
"I finally took an hour to iron. I finally had time to enjoy music."
Tarek Yamani was born in Beirut and started to play the piano at the age of six. Soon afterwards, his teacher left Lebanon because of the civil war; little Tarek was on his own. He went to music school and studied classical piano, but later picked up an electric guitar to grind heavy metal tunes. Only when he discovered Jazz legends John Coltrane and Herbie Hancock, Tarek went back to the piano and plunged into Jazz. He has stuck with this music ever since.
However, Lebanon is a small country for ordinary Lebanese, and for a Jazz musician it is even smaller. Art that goes deep, that goes large, has a tough stand in Lebanon. In order to progress, Tarek had to leave Beirut, first for the Netherlands, then to New York. The Jazz apples are definitely bigger on the other side of the Atlantic.
With him, Tarek brought his Arabic musical heritage to the United States. Arabic rhythms like the Dabke or the Sama'i. Treasures from the Great Arabic Songbook called Muwashahat. And most importantly Tarab, a basic concept of the Arab musical world, meant to induce trance and ecstasy in the musicians and the audience alike, particularly in live performances.
It was in New York where it all merged: the Afro American Jazz and the Arabic music. It was in New York where Tarek refined his own brand of music, the Afro Tarab. It was in New York where Lisan al Tarab was recorded.
On his new album, Tarek is accompanied by Petros Klampanis on bass and John Davis on drums. Both are excellent musicians and both men are Tarek's alter egos, in a way.
Petros is originally from a tiny Greek island, a Mediterranean man just like Tarek who had moved to New York for the sake of his craft. He leads his own group called Contextual and is no stranger to Steve Reich's minimal music approach. John Davis, the drummer from Jacksonville Fla., is a self-taught rhythm genius. John started his musical career playing Nirvana covers in a rock band.
"The music on Lisan al Tarab is innovative and captivating from the beginning to the end"
The music on Lisan al Tarab is innovative and captivating from the beginning to the end. It is emotional and it is visual. Hibbi Zurni has a soft melody leading up to a powerful finish that has the listener rocking in his chair. Zahrani al Mahbub is a sort of Arab blues, jumping right out of an old Egyptian movie starring Hind Rostom. Fi Hulal Al Afrah has a driving rhythm courtesy of John Davis, remindful of a car chase through Beirut – absent the traffic jams – ending in a wedding scene straight from a Kusturica film.
Klampanis excels on Lahn Al Shayalin, a Sayed Darwish original. His fast paced bass lines run juxtaposed to Yamani's elaborate development of the theme. When Tarek plays the piano, playing the piano sounds easy. Even in energetic passages, the light touch that is Tarek's trademark is never lost.
New Dabke, finally, is Tarek Yamani's own composition. It features a pearling piano that culminates in the true essence of Tarab, the "let go". There is ecstasy, there is trance, and one would hope that this song goes on for hours, until a full transcendence of the mind is reached, until all self-control has vanished.
Lisan al Tarab is the perfect expression for what Tarek is doing. It is a play on words with Lisan al Arab, the most comprehensive dictionary of the Arabic language that Ibn Manzur had completed in 1290.
Tarek Yamani clearly acts in the tradition of Ibn Manzur. Where the elder explained and interpreted classical Arabic words, the younger has produced an audio book on reinterpreting Tarab. Differently said: this is Jazz with a Lebanese accent.