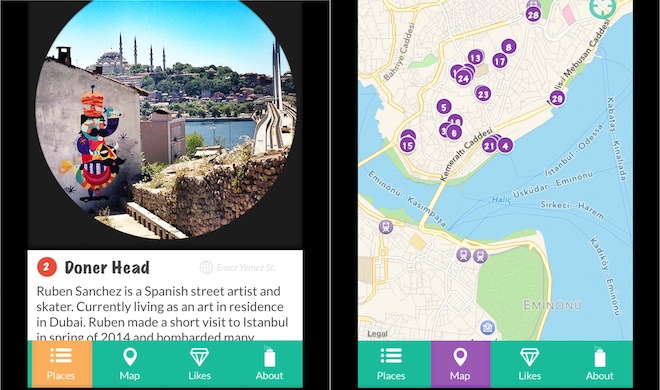 Last updated: 1 September, 2014
New app guides you to the best of Istanbul's street art
Art enthusiast in Istanbul? We've got the app for you: Street Art Istanbul. Entrepreneur and street artist Erbil Sivaslıoğlu is trying to put Istanbul's street art on the map, literally.
Sivaslıoğlu and his team strive to make Istanbul's art more accessible with a free app that brings the city's street art to the user in a click. The app provides customers with a map in addition to information about the artists and their works.
It was in 2012 that Sivaslıoğlu, together with Onur Erdemol, Gizem Oktay and Esra Pencereci released the app after realizing that compared to cities like London and Berlin, Istanbul's street art wasn't all that accessible.
"In London and Berlin, I saw excellent examples of street art, but I was thinking that Ä°stanbul lacks such examples. Yet, when you look at the issue with a critical eye and search the Internet you see there is street art in Ä°stanbul, but it's not in the limelight," explained Sivaslıoğlu to Sunday's Zaman.
Anyone can now submit art from the streets of Istanbul to the open platform and make sure that you, as its slogan goes: "Never miss the street art near you!"