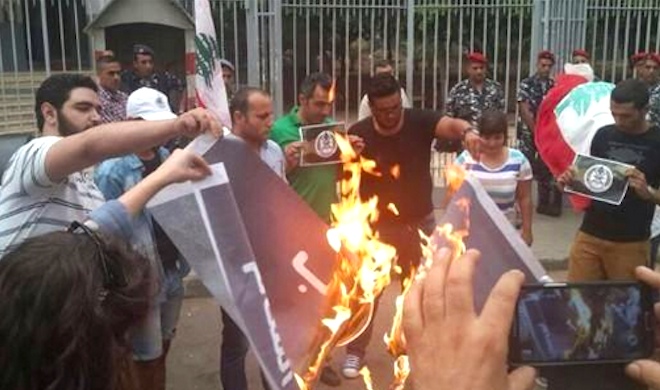 Last updated: 5 September, 2014
#BurnISISFlagChallenge trending, but controversial
The Middle East has its own version of the #IceBucketChallenge, but instead of ice it involves fire, and its target? ISIS.
On Saturday, three Lebanese guys posted a video on YouTube where they burn the infamous ISIS black-and-white flag as a way to protest against the radical Islamist movement in the Middle East. The video was posted with the comment: I nominate the whole world to #Burn_ISIS_Flag_Challenge. You have 24 hours. GO!!
The initiative is a play with the viral social media campaign the Ice Bucket Challenge that aims to raise awareness and money in the fight against the deadly disease ALS by throwing a bucket of ice over one's head.
But while many Lebanese have mobilised behind the stunt, the act has also stirred controversy. The Minister of Justice Ashraf Rifi has called for the "sternest punishments" of the people burning the ISIS flag, considering it an "insult" to Islam as the flag has the Muslim Shahada (the declaration of belief), "There is no god but God and Muhammad is his Prophet," printed on it, reports Asharq al-Aswat. Rifi also warned that the act could stir sectarian violence.
Other Lebanese MPs have slammed Rifi's statement. Some reactions on Twitter:
For those who complain about #BurnISISFlagChallenge, I understand. But u kno what's more insulting to Allah & Prophet? Killing in their name

— American مسلم ☪ (@Muslims_USA) 5 september 2014
Never support Arabs burning flags, usually, but shout out to the people of Lebanon for burning ISIS' flag. #BurnISISFlagChallenge

— Gavin Hufsey (@hufseyg) 5 september 2014