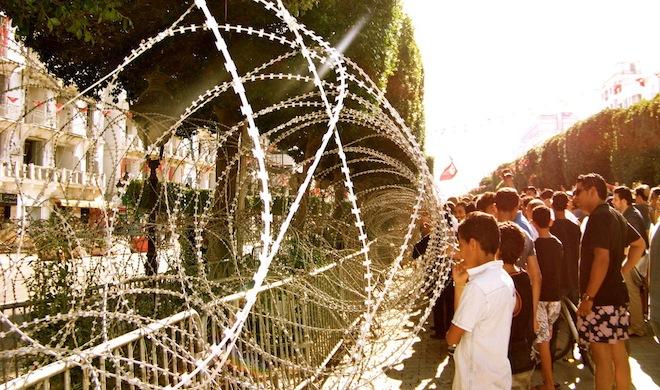 Last updated: 18 September, 2014
No Tunisia, barbed wire is NOT good for business
After his visit to "the birthplace of the Arab Spring", Abul-Hasanat Siddique feels optimistic about Tunisia's future. Yet, he recommends a new government to do two things in order to fulfill the promise of a functioning democracy.
In most Arab countries, photos of the dictator will appear just about everywhere. On billboards, street corners and in random shops — you name it. Yes, the vain dictator just loves seeing his face wherever he goes. Perhaps he should carry a mirror instead.
While Egypt has gone back to such a situation with President Abdel Fattah el-Sisi, in Tunisia, those days are long gone, and so is Zine el-Abidine Ben Ali. The former president, who was known for his secular policies, ironically ran away to the most theocratic country in the world: Saudi Arabia. And no one has heard so much as a whisper out of him since.
"Many people are tired of politics, I am told"
Today, in Tunisia, you no longer see the dictator's face down the street — the country has been on a political rollercoaster ride and is set for elections. But Tunisia, dubbed as the success story of the so-called "Arab Spring," has changed in the everyday person's mind. The fact that you can sit in a cafe on Avenue Habib Bourguiba — named after the country's first president who ruled with an iron fist — and talk about politics is a big step forward. Many people are tired of politics, I am told, but the fact that Tunisians can have an open debate over where their country is headed is a remarkable departure from the Ben Ali era.
Unfortunately, the same cannot be said for other places in the Arab and Muslim world. In countries such as Egypt, Algeria, Jordan, Bahrain, Saudi Arabia, Iran — you name it — the walls have ears, as the saying goes. In these nations, there is a fear of speaking about politics in public; a fear that spies for the regime are listening.
In Tunisia, however, it is indeed refreshing to see that people are no longer afraid of walls with ears. It is refreshing that Ben Ali's face no longer ruins the country's streets. But that's where we have to hold the phone. While the dictator has gone, Tunisian officials have gone into a security frenzy following terrorist attacks and violence that have marred the country's transition.
IN THE CAPITAL CITY, away from the tourist resorts in Hammamet and Sousse, barbed wire and barricades are common. These are not only found around government buildings, but they're also along busy streets in the city center. You could be walking down a populated street with plenty of people sitting in cafes and suddenly come up against barbed wire that stands in your way — yes, it does throw you off at first. Or you could turn around and see security forces pull up with sniffer dogs.
Of course, it is understandable as to why authorities have employed such tactics. Tunisia has been caught in the middle of yet another conflict in neighboring Libya, as well as violence on the Algeria border. Those countries' ills have trickled down on Tunisia and the outcome has seen terrorist attacks that were once unheard of in the country. When bombs explode and bullets fly, citizens will be scared — that much is clear. Added to that, En-Nahda, a moderate Islamist party that ruled the country in a coalition after Ben Ali's ouster, was heavily criticized for being lenient on extremist Salafist groups that had set out to impose their order in Tunisia. These issues combined have resulted in security hysteria.
However, while Tunisian authorities lay barbed wire around the capital before elections to boost security, the quality of the country's services have taken a toll. Simply put, Tunisia has a trash problem. Littered along many streets, you will see — and smell — rubbish that has simply been thrown away. As a Tunisian citizen tells me: "The government have gone mad about security, but why don't they pick up the trash?"
#Tunisia legacy of pollution confronts democratic politics. interesting examination of politics & environment http://t.co/8Gt4KJ1dHG

— Nadim Houry (@nadimhoury) May 27, 2014
While security concerns are understandable in a country that has undergone its highs and lows over the past three years, the next government must dig deep in its pockets and improve civil services. I am told by a Tunisian analyst that security is the first step to reform. Once a country is stable, other changes will follow, including those in the education system and civil services.
THIS MAY BE TRUE, but Tunisia is in dire need of reform and investment — so much that Prime Minister Mehdi Jomaa recently held an international conference to say the country is open for business. According to the same analyst, foreign investors from Europe want to enter the Tunisian market, but are concerned about security and stability. That said, barbed wire and barricades do not signify a stable country; if anything, it shows a country on edge.
Therefore, to attract investment, Tunisia needs to do two things. First, it must secure its borders to avoid blowback from Algeria and Libya, and clamp down on homegrown extremists who pose a threat to security. A country where bombs explode will not see euros being pumped into it any time soon. Second, as I have argued in a previous article, Tunisia must improve its education system to suit the modern day. If Tunisia's education meets the demands of 21st century industries in technology, science and so on, foreign investors will set their eyes on the country.
With elections around the corner, the future is far from certain, but investors should keep a close eye on Tunisia.