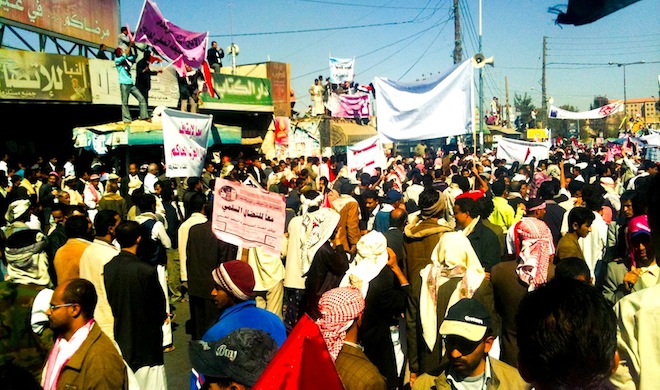 Last updated: 25 September, 2014
Yemen is not often in the news, but when it is, readers who are unfamiliar with Yemen (and even those familiar with the country) are sometimes overwhelmed by the amount of names, acronyms and confusing politics. Here's an attempt by renowned blogger @womanfromyemen to break it down.
Ansar Allah (Partisans of God) – known as the Houthis

Ansar Allah began in the early 90s, in the northern region of Sadaa, as a Zaydi revivalist movement, in reaction to "the growth of socially-divisive salafism." Then galvanized by the US invasion of Iraq, it "shifted from religious/cultural to political activism" with public statements against the Yemeni central government. Since then, they have been known in the media as the Houthis in reference to their leader Hussein al-Houthi, while Ansar Allah is the term they prefer. In 2004, Hussein al-Houthi was killed, leading to six rounds of wars between 2004 and 2010 with tens of thousands killed, and more than 340,000 people displaced. Hussein's brother, then 22-year old Abdulmalik al-Houthi, became the leader of the group and remains the central figure until today.
In 2011, they joined the revolution, and many of their members traveled to Sana'a for the first time since the conflict began, and set up tents in Change Square. During this time, they also took over Saada governorate. Since then, on and off clashes occurred between them and militia linked to al-Islah, even while both were engaged in the National Dialogue Conference (NDC). With time, they also militarily expanded their territorial control to the neighboring governorates. This has lead to the displacement of dozens of thousands. Last week, they consolidated their control in the capital, Sana'a, after days of clashes, which resulted in 200 deaths and 461 injuries. On 21 September 2014, they signed the Peace and National Partnership Agreement with various political parties and President Hadi. The agreement includes a number of economic, social, and political reforms, many of which were raised as demands during the 2011 revolution but has been ignored by the government since then.
al-Tajammuʿ al-Yamani l-il-ʾIṣlāḥ or simply al-Islah
The Yemeni Congregation for Reform, frequently called al-Islah, is chaired by Mohamed al-Yadoomy and consists of three components:
Muslim Brothers who had been active under the General People's Congress (GPC) in the North led by individuals such as Mohammed Qahtan. This component also includes Nobel Peace Prize winner Tawakkul Karman, a member of Islah's Shura.
Prominent Northern tribal leaders, such as Sadeq al-Ahmar, the head of the Hashid tribal confederation, and his brother Hamid al-Ahmar, a multimillionaire businessman.
A Salafi faction led by Abdulmajid al-Zindani, who was listed by US in 2004 as a "specially designated global terrorist" and known for demonizing the Yemeni Socialist Party (YSP). He decreed a fatwa during the North/South war calling them apostates. This faction also has linked to militias accused of fighting alongside the Yemeni army during the six rounds of wars in Saada governorate.
President Hadi
General Abd Rabbu Mansour Hadi became President on 27 February 2012, after the signing of the Gulf Cooperation Council's (GCC) transfer of power agreement in November 2011. Despite being Salih's Vice President for years, the public knew very little about this quiet President. President Hadi, a Southerner from Abyan, is the first united Yemen President from the South. Nevertheless, he is a controversial figure in the South due to his close relations with the Salih's northern regime.
During Yemen's North-South war, Hadi was appointed defense minister and was therefore directly involved in the war against the South. Many analysts believe that his support for Salih and the North was a form of revenge due to his exile from the South, when a faction of the ruling Socialist Party engaged in a short violent intra-regime battle in Aden in 1986 that led to the overthrow of President Ali Nasser Muhammad.
General Ali Mohsin
General Ali Mohsin al-Ahmar, Former Commander of the Northeastern region, was former President Salih's a very close ally and trusted companion. As the commanding officer of the largest military contingent in Yemen, the First Armored Division (FAD), he was considered the second most powerful man in the country. Gen Mohsin allegedly fell out of favor from Salih's inner circle when Salih chose to groom his son, Ahmed, as his successor instead.
In March 2011, Gen Mohsin announced his support for the popular uprising, and by doing so split the military. While some hailed him as a hero, others such as the Southern Movement and Ansar Allah remained skeptical due to past grievances. Due to President Hadi's military reshuffling, Gen Mohsin was removed from his post and assigned as a Military Advisor to the President. The headquarters of the (FAD) was to be turned into a park, however Gen Mohsin never gave up control over the headquarters until 21 September 2014 when Ansar Allah took over the military base in two days of clashes.
Al-Ḥirāk al-Silmi al-JanÅ«bi – The Southern Movement

The Southern Movement is a peaceful social/political umbrella for various Southern anti-government groups. It has no central leadership, but the groups share similar demands of equal citizenship, employment, greater local decision-making power, and control over South's economic resources.
Organized protests and demonstrations began after the end of the civil war, but gained momentum in 2006, when a group of retired southern army officers, began rallies laying the foundation of the "South Yemen Retired Army Officers Committee." Despite the repression against them, peaceful protests continued and culminated in thousands of members who began calling their actions the peaceful southern movement.
Today we can loosely divide the Southern Movement into three different camps:
The secessionist camp calling for a complete split from the north, led by former South Yemen President, Ali Salim al-Beidh.
Federalism camp: led by another former South Yemen President, Ali Nasir Mohamed. They push for a two-state federalist solution followed by a future referendum.
The Pro-Hadi camp: those who participated in the National Dialogue Conference (NDC) in Sana'a, promoting a federalism system.
Former President Ali Abdullah Salih
Former President Salih came to power in 1978 and ruled Yemen for 33 years. He is known to be a shrewd politician who knew how to divide and conquer. While violence, brutal force, and assassinations were used against those who posed a threat during his rule, patronage and co-optation was his most common tactic.
Salih was forced out of power in November 2011 during the revolution after the signing of the transfer of power agreement, the GCC initiative, in exchange for immunity. He remains head of his party, the General People's Congress (GPC), which is now divided between President Hadi's camp and his. His son Ahmed Ali, former head of the Republican Guards, who was thought to succeed his father, was assigned as ambassador to the United Arab Emirates (UAE).
The Joint Meeting Parties (JMP)

In an effort to coordinate opposition to Salih, ideologically diverse political parties formed al-Liqāʾ al-Mushtarak or the Joint Meeting Parties (JMP) in 2002. The JMP has since been an alliance of five opposition parties: Al-Iṣlāḥ; the Yemeni Socialist Part (YSP); the Nasserite Popular Unionist Party; al-Ḥaq party; and the Union of Popular Forces (UPF). Al-Islah has been the dominant group in this coalition, followed by the YSP. Despite the tensions and the diversity amongst the JMP, they nevertheless managed to stay united until today.
WE RECOMMEND Yemen's Banksy has 12 things on his mind (PHOTOS)
AND MORE BY THIS AUTHOR The flawed media narrative on Yemen