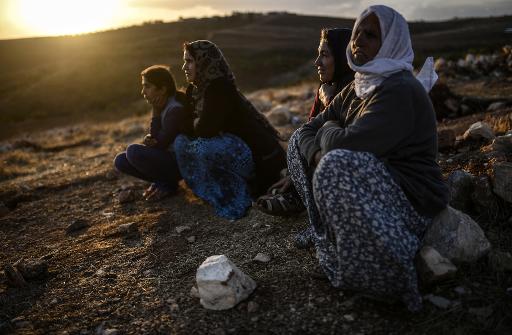 Last updated: 29 September, 2014
IS jihadists within 5 km of key Syria border town
Islamic State jihadists advanced Monday to within five kilometres (three miles) of the key Kurdish town of Ain al-Arab on Syria's border with Turkey, a monitor said.
"They are five kilometres to the south and southeast of Kobane," said Rami Abdel Rahman, director of the Syrian Observatory for Human Rights, using the Kurdish name for Ain al-Arab.
"It is the closest distance IS has come so far," he added.
As they advanced, the jihadists fired a volley of at least 15 rockets, hitting the centre of Ain al-Arab for the first time and killing at least one person, Abdel Rahman said.
"It's the most violent bombardment of the town," he said.
Additional rockets also slammed into the Syrian-Turkish border area, he added, an account confirmed by an AFP photographer on the Turkish side of the frontier.
The photographer said at least one mortar shell had landed on Turkish territory near the Mursitpinar border post, a day after fire from Syrian territory hit the Turkish border town of Suruc, injuring three.
IS militants launched a bid to capture Ain al-Arab nearly two weeks ago, and have since captured 67 villages surrounding the town.
The fighting has prompted at least 160,000 people to flee across the border into Turkey, and the group's advances have continued despite several strikes by a US-led coalition around the town.
Ain al-Arab is Syria's third-largest Kurdish town and would be a key prize for IS, allowing its fighters to complete their control over a long stretch of the Syrian border with Turkey.