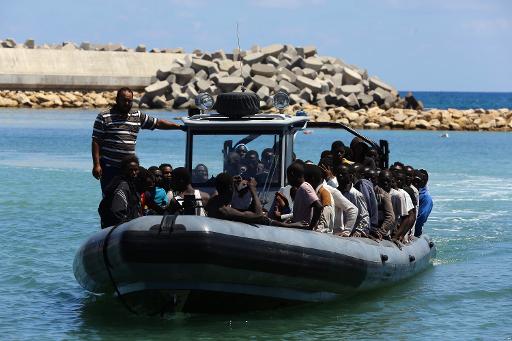 Last updated: 2 October, 2014
Ten migrants dead and dozens missing in shipwreck off Libya
At least 10 migrants from sub-Saharan Africa drowned Thursday and dozens more were missing after their boat sank in the Mediterranean offshore Libya, the coast guard said.
Between 80 and 90 people were rescued after the boat went down in waters east of Tripoli, a coast guard officer said, adding that survivors said there had been up to 180 people on board.
Among those saved were two women, according to the officer, who said the boat capsized three nautical miles off Guarabouli, which is 60 kilometres (36 miles) from the capital.
Thursday's tragedy was the second this week involving Africans trying to make their way to a new life in Europe and comes a year after 360 people perished in a sinking, burning ship off the Italian island of Lampedusa.
On Wednesday, Spanish coastguards pulled the bodies of two Africans from the sea off Morocco and six others were missing after a dinghy carrying them sank.
For years, Libya has been a major embarkation point for hundreds of thousands of refugees, mostly Africans, heading for Europe.
They risk their lives on often unseaworthy craft trying to make it to Malta or to Lampedusa, south of Sicily, and hundreds are lost each year.
By far the worst tragedy took place last month, when about 500 people drowned off Malta after traffickers rammed and sank their boat after they refused to transfer to a smaller vessel.
The implosion of Libya, civil war in Syria and renewed Israeli-Palestinian hostilities have helped push the flow of would-be refugees seeking sanctuary in Europe to unprecedented levels.
More than 3,000 migrants have died trying to cross the Mediterranean so far this year, more than double the previous peak in 2011, the International Organisation for Migration said Monday.