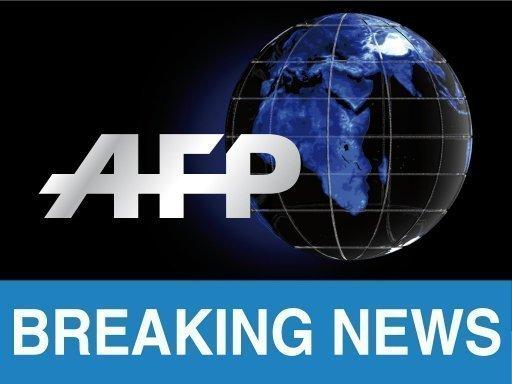 Last updated: 2 October, 2014
US-led strikes on IS outside Syria's Ain al-Arab
Islamic State fighters were at the gates Thursday of a key Kurdish town on the Syrian border with Turkey, whose parliament began debating military intervention against the jihadists.
In Iraq, the other major focus of the US-led anti-jihadist campaign, the Islamic State (IS) group launched attacks on two police and army bases that left dozens dead, mostly militants.
It came as Kurdish militiamen backed by US-led air strikes were locked in fierce fighting to prevent the besieged Syrian border town of Kobane from falling to the IS group.
Heavy mortar fire around the town was heard across the Turkish border, an AFP correspondent reported.
"There are real fears that the IS may be able to advance into the town of Kobane itself very soon," the Syrian Observatory for Human Rights warned.
The Britain-based watchdog reported fresh US-led air strikes on the advancing jihadists overnight after the heavily outgunned Kurdish fighters were forced to fall back west and southeast of the town, also known as Ain al-Arab.
The strikes in Syria by the United States and Arab allies, in their 10th day, come as European countries step up support for air raids launched by Washington against IS in Iraq in early August.
The US-led coalition had already carried out at least seven strikes on IS targets around Kobane over the five days to Wednesday, the Pentagon said.
A Kurdish official inside Kobane acknowledged that the better armed IS fighters had advanced during the night.
"They are closer, two to three kilometres (less than two miles) in some places," Idris Nahsen told AFP by telephone.
"Compared to IS, our weaponry is simple. They have cannons, long-range rockets and tanks."
– Kobane 'near empty' –
As the jihadists neared the outskirts of Kobane, there was a quickening of the exodus of civilians which had already seen tens of thousands take refuge across the border in Turkey.
"Kobane is practically empty of its residents now," Observatory director Rami Abdel Rahman told AFP.
The town would be a major prize for IS, giving it unbroken control of a long stretch of the Syrian-Turkish border.
After months of caution, the Turkish government has decided to toughen its stance on IS, with parliament due to vote later Thursday on a request for authorisation for military action against the jihadists in both Iraq and Syria.
The requested mandate — which would last for one year — is very broad in scope and in no way commits Turkey to sending armed troops into Syria and Iraq.
Turkish President Recep Tayyip Erdogan pressed the West on Wednesday to find a long-term solution to the crises in Syria and Iraq, saying dropping "tons of bombs" on IS would provide only temporary respite.
– 'Could take years' –
US officials kept up their warnings that such a solution would take time.
Retired US general John Allen, who is leading the international effort against IS, told CNN "it could take years" to train a Syrian rebel force to take on the jihadists.
Washington is counting on defeating IS fighters first in Iraq through a combination of Kurdish forces, Iraqi army troops, Shiite volunteers and a militia or "national guard" of Sunni Arab tribes — which does not yet exist.
In Syria, the US is pinning its hopes on training and arming a new rebel army composed of vetted "moderate" recruits, at a rate of about 5,000 fighters a year.
Even in Iraq, the fightback is proving slow, despite coalition air support.
Kurdish forces have recaptured the crossing town of Rabia on Iraq's border with Syria and made advances north of IS-held Mosul and south of key oil hub Kirkuk.
Iraqi troops have fought off IS forces southwest of the capital.
But there has been no let-up in the daily violence in either Iraq or Syria.
At least 17 members of the Iraqi security forces were killed along with 40 jihadists in the overnight attacks on two security force bases in the west of the country.
It came a day after bombings rocked both the Iraqi capital and Syria's third-largest city Homs, where 47 schoolchildren were among the dead — prompting hundreds of people to take to the streets in protest Thursday.
IS has seized control of large parts of Syria and Iraq, declaring an Islamic "caliphate" and committing widespread atrocities.
UN human rights chief Zeid Ra'ad Al Hussein said the array of violations and abuses by the jihadists was "staggering" and included attacks on civilians, executions of captured soldiers, abductions, rapes and the desecration of religious and cultural sites.