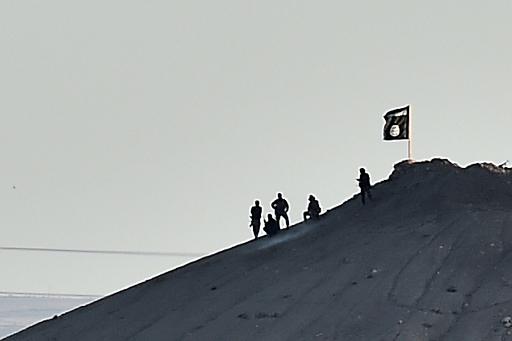 Last updated: 9 October, 2014
IS militants draw new allies amid US airstrikes
The lightning rise of the Islamic State group is turning it into a magnet for Muslim extremists, as US air strikes in Iraq and Syria help galvanize support for their cause.
Little known until its stunning capture of the Iraqi city of Mosul in June, the group once known as ISIL is today the word on everyone's lips after seizing a large area of territory.
Its new-found infamy, backed by a slick online social media campaign, is helping draw disillusioned youth from around the world to its ranks.
But its perceived importance has also grown as Washington forges a global coalition to defeat the Islamic State (IS), deeming it one of the biggest threats to US security.
"It was Afghanistan and the Taliban, then it was Al-Qaeda and then it was Iraq, and now it's ISIL. This is now seen as almost the most important of all the Islamic organizations," said Marina Ottaway, senior scholar with the Wilson Center.
"It has become the symbol of Muslim resistance against Western powers, against the United States."
Jihadist groups, with little in common with IS except an extreme ideology and hatred of the US, are beginning to pledge their support to its avowed goal of establishing an Islamic caliphate stretching through Iraq and Syria.
In an ominous move, the Pakistani Taliban vowed at the weekend to send fighters to help IS, even though its formal ally Al-Qaeda has snapped ties to the Islamic State group.
"We will keep on sending Mujahideen to help IS militants. We completely support them, because we think that this organization was made to serve Islam," said Shahidullah Shahid, spokesman for the Tehreek-e-Taliban Pakistan(TTP).
The Pakistani Taliban "are less popular than Daesh (ISIS) is in Pakistan, because there's a sense of success, of Sunni empowerment," explained Salman Shaikh, director of the Brookings Doha Center.
"There is an ideological symmetry there… and what galvanizes them is that they are both under attack from the United States."
– Assad a factor –
But he argued that America's "one-legged" policy — making the fight all about IS and not, for instance, about ousting Syrian President Bashar al-Assad — was also helping boost support for the militants.
"To attack the oil refineries, to attack the grain silos, is not working in the coalition's favor," Shaikh said.
"On the ground, it's difficult to get communities to turn against them when they don't see any other alternatives other than the Assad regime."
Yezid Sayigh, senior associate with the Carnegie Middle East Center in Beirut, warned the United States must be wary of fuelling anger in a region where anti-US sentiment always bubbles close to the surface.
"The critical impact of ISIL which we should all keep our eyes on is not Pakistan, it's what is going to start happening in Jordan and maybe in Lebanon where there are very large receptive audiences," Sayigh said.
"If this air campaign goes on for a long while without a clear political strategy, without clear results, it's not just in Iraq and Syria that we will see the consequences.
"But at the moment Western leaders don't seem to have their eyes on that ball."
The United States has made undermining IS's toxic ideology one of the pillars of its fight, praising moderate Muslim leaders who have denounced the group's barbarity as nothing to do with Islam.
"ISIL has had success in growing and building capacity, recruiting, growing and financing," acknowledged State Department spokeswoman Jen Psaki.
But "the alternative is not to do nothing," she added, defending the US-led air strikes against militant positions in both Iraq and Syria.
– Watch the hype –
Some argued that there is danger of over-hyping the dangers posed by IS, with Western intervention being "a great recruiting sergeant."
"Some perspective is needed, even while the dangers that IS presents are acknowledged," wrote Nick Witney, a senior policy fellow with the European Council on Foreign Relations.
"Neither Iraq nor Syria can be whole again until the group is defeated. But its main threat is ideological: the group's self-proclaimed role as champion of Islam is enormously attractive for psychopaths, extremists, opportunists, and those who harbor resentments against the West."