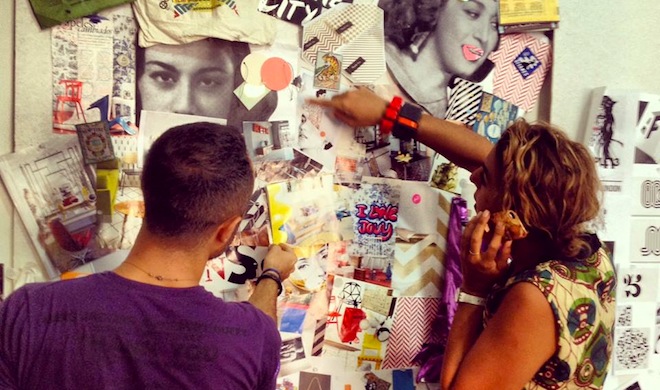 Last updated: 10 October, 2014
Funkytown Beirut – welcome to Rana's world
"I want to change the perception of the Middle East through the power of design," says Lebanese designer Rana Salam in this interview with 'Victor Argo'. But Rana is not just political – she is also as funky as it gets.
When I leave my Lebanese apartment to attend Rana Salam's pop art workshop in Beirut, I feel the anxieties that Western Europeans in Lebanon often suffer from: will I be on time? Will I find the location in difficult-to-navigate-Beirut? Will I find a parking spot? Will I have enough fuel for the trip?
When I finally enter Rana's design studio in Achrafieh, my stress is immediately relieved. I step into a world of objects, colors and shapes, and in the middle of it is Rana Salam, the literal embodiment of her world: energetic, colorful and open to welcome anything and anybody in her realm.
Rana Salam is Beirut's best known graphic designer. After having lived abroad for quite some time, studying at the Royal College of Art in London, she moved back to Lebanon in 2010.
Rana became famous for working with popular Arab icons and Islamic patterns. Her style is unique. She adds new colors, combines the objects with other elements and applies her designs to stools, makeup boxes, aprons and restaurants in need of a rebranding.
"In my workshop," Rana begins her program, "I will reveal all my secrets." "Designing is like cooking," she goes on, "you start with the ingredients."
Actually, Rana's secrets start with something each of us can do: looking. "You have to see the beauty in things," she declares. Rana is always on the lookout for beautiful things, and according to her definition, there are many. She discovers and buys objects almost by the hundreds, for instant use or to be used sometime later.
Rana's favorite word is funky. Everything is funky, anything has the ability to be funky. Rana wants to create funky objects. "How do you achieve this?" she is asked. "It's observation followed by application," Rana explains the designing process and then reveals another of her secrets: "don't think too much; play!"
And playing I truly try, as much as my natural competences allow. I browse through the numerous magazines lying around on the tables and on the floor to find one funky object that I can complement with another funky object from another magazine to develop my own style of pop art.
It sounds like an easy thing to do. But don't be deceived by the casual look that Rana's designs often have. It takes hard work and the eye of a master to make designs look as easy and funky as Rana does.
"Since nothing is non-political in the Middle East," I ask Rana when I have time to chat with her, "what is the political message behind your work?"
"I want to change the perception of the Middle East through the power of design," she replies, getting very serious. And indeed! The contrast between the bearded, dark guys of the Islamic State and the vivid Arab pop art of Rana Salam couldn't be starker.
Rana's workshop is aptly called 'cut and paste'. But instead of going back to my cutting and pasting, which seems to be something my workshop companions are much more skilled at, I keep interviewing Rana. She runs her workshop on a rather long leash.
"Do you see yourself as an artist or as a designer? Is there a difference?"
"I am a designer," Rana tells me, "but many people like to label me as an artist. I love design as it is a great form of visual communication in which I can apply my ideas on any surface. Art is very personal and sometimes it does not need to say anything."
POPULAR "Fighting for the right to party in Beirut": Fighting for the right to stop this about Beirut
"What is the relationship between design and business?" I keep asking. "Is the art of design appropriately used when it is simply helping to sell banal consumer goods like clothes from H&M and lipsticks from Bassam Fattouh?"
Rana's answer is well considered. "Design is great when it is being used well for a commercial purpose," she says. "If a designer is good at branding, when she or he knows how to manipulate or serve a specific market, they will surely make money for their clients."
And then Rana talks again about the difference between art and design. "Art is far more limiting when we speak of commercial use," she explains. "Design is a great form of art that becomes accessible to all."
With my last question, I am out to test Rana's quick-wittedness. "How do you react when people say that your designs are brilliant, but boy, $60 for a set of Um Kulthum coasters, that's pricey?"
Rana's answer comes with a laughter, as quick and witty as I had expected it: "I tell them to piss off!"
"Of course not," Rana rapidly softens her statement, "I'm just kidding." "You see," she says, "people will pay that $60 when a customer values what I do. A coaster is a coaster is a coaster. It's the idea that people buy. Not the coaster."
In the meantime, Rana's workshop has come to an end. Everybody is finishing their first attempts at Lebanese pop art, Rana Salam style. The workshop hasn't changed my view of the Middle East – I already knew that the region is much more diverse than what is reported in the news – but hopefully Rana's products and designs will do the trick for the general public in the years to come.
Just when I am about to leave Rana's studio, I spot "Funkytown," the Lipps, Inc. disco record from 1979, placed on a shelf left of the entrance door. I take a closer look. How fitting is this? Just how funky is this!
Rana Salam homepage: http://ranasalam.com
There are many Rana Salam pictures on Instagram: http://instagram.com/ranasalam