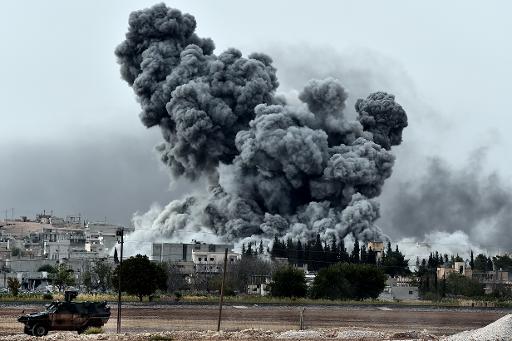 Last updated: 13 October, 2014
Turkey agrees to US base use for anti-Islamic State fight
Jihadists fought their way into central Kobane in heavy clashes with the Syrian border town's Kurdish defenders Monday, ahead of a Washington meeting of the US-led coalition against the Islamic State group.
The breakthrough saw IS claim half of Kobane, nearly a month after the Sunni extremists began their assault on the town on the Turkish frontier, despite more than three weeks of US-led air strikes in Syria aimed at stopping them.
That failure will be among the main points up for discussion at Tuesday's meeting in Washington of military chiefs from the 21 countries in the US-led coalition, as will Turkey's call for the establishment of a protective buffer zone.
In their latest air strikes, American and Saudi warplanes targeted seven sites around Kobane, the US military said, including IS staging posts used to try to cut the town off from the outside world.
A Kobane politician who is now a refugee said IS fighters had surrounded Kobane to the south, east and west, and warned of a "massacre" if they take the northern front bordering Turkey.
"If they manage to take control of that area, they will close all access to the town and will begin a massacre," Feyza Abdi said from Turkey.
"That is what they want, to completely enclose the town, cut off all contact with Turkey and engage in barbarism."
Fighting spread to less than a kilometre (half a mile) from the barbed wire frontier fence, with the jihadists carrying out three suicide car bomb attacks in the border zone, said the Syrian Observatory for Human Rights.
The Britain-based monitoring group later said IS had advanced into central Kobane, seizing a major building and squeezing the town's Kurdish defenders into its northern half bordering Turkey.
– Turkey denies airbase deal –
With the jihadists advancing on its doorstep, NATO member Turkey has come under intense pressure to take action as part of the coalition that has been carrying out air strikes in both Syria and Iraq.
Ankara, which has called for a buffer zone to guard its border and provide some protection to fleeing Kurds, denied allowing the United States to use its bases against IS.
Pentagon chief Chuck Hagel had said the agreement to use Incirlik air base in southern Turkey included hosting training for Syrian rebels.
But the Turkish government vehemently denied it was allowing US forces to carry out bombing raids from Incirlik.
"We are holding intense negotiations with our allies. But there are not any new developments about Incirlik," Deputy Prime Minister Bulent Arinc said, after an official told AFP the talks hinged on Turkey's previously laid out conditions.
Turkish Prime Minister Ahmet Davutoglu on Sunday called for military backing for Syria's "moderate opposition" to create a "third force" in the war-torn country to take on the Damascus regime as well as IS militants.
– Iraqis quit Anbar base –
Kobane has become a highly visible symbol of resistance to IS and its fall would give the jihadists control of a long stretch of the Turkey-Syria border.
But concern has also been growing over Iraq, where IS fighters have been threatening to seize more territory.
Iraqi forces are reported to be under intensifying pressure in Anbar province between Baghdad and the Syrian border, where a roadside bomb killed the police chief on Sunday.
On Monday, security sources said Iraqi government troops stationed on the edge of the city of Heet in Anbar had withdrawn to another base, leaving the city under full jihadist control.
Pro-government forces have also been in trouble south of IS-held Mosul around Baiji oil refinery, where US aircraft on Sunday for the first time dropped supplies including food, water and ammunition to Iraqi troops.
Washington has insisted it will not send ground troops back to Iraq, and Secretary of State John Kerry said in Cairo that the Iraqis themselves will have to succeed on the ground.
"Ultimately it is Iraqis who will have to take back Iraq. It is Iraqis in Anbar who will have to fight for Anbar," he said at the weekend.
In violence in the Iraqi capital on Monday, three bombings within an hour rocked Shiite neighbourhoods, leaving at least 22 dead.
– Fighters divide up 'slaves' –
IS is accused of committing widespread atrocities in areas under its control, including attacks on civilians, mass executions, beheadings and enslaving women.
In the latest issue of its propaganda magazine Dabiq, IS boasted of having revived slavery, giving Yazidi women and children captured in northern Iraq to its fighters as spoils of war.
"After capture, the Yazidi women and children were then divided according to the sharia amongst the fighters of the Islamic State," the article said.
The group has also murdered four Western hostages seized in Syria in on-camera beheadings.
More than 180,000 people have been killed in Syria since an uprising against President Bashar al-Assad's regime began in 2011, evolving into a several-sided civil war that has drawn thousands of jihadists from overseas.