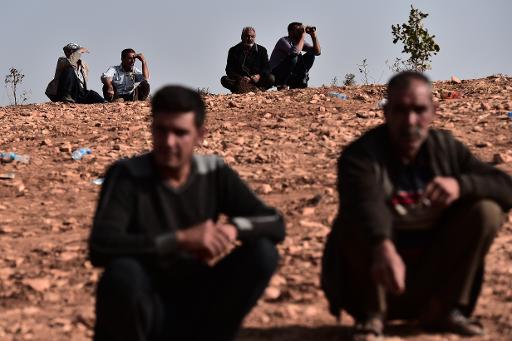 Last updated: 14 October, 2014
Jihadists seek to wipe out Kurdish project
Few people had ever heard of Kobane before recent weeks, but the once-sleepy Syrian border town has become a crucial symbolic battleground in the fight against Islamic State jihadists.
Desperate to preserve their hopes of autonomy in the face of the jihadists' expanding "caliphate", Kobane's rag-tag Kurdish defenders have been fighting for nearly a month to save the town.
The battle has riveted global media attention, partly because cameras across the border in Turkey can capture rare images of IS in action and the aftermath of air strikes by the US-led anti-jihadist coalition.
US officials have downplayed Kobane's importance despite the attention, insisting the most important threat from IS is elsewhere in Syria and Iraq.
But its fall, experts say, would have far-reaching consequences, first for the Kurds and not least by handing the publicity-savvy jihadists an important victory in the face of coalition air power.
"If the coalition, even with its superior technology, is unable to finish IS off it is because, according to them, it is God's will," said Syria specialist Fabrice Balanche.
The Kobane region is at the centre of three predominantly Kurdish enclaves in northern Syria, with Afrin to the west and Jazira in the northeast with its main cities of Qamishli and Hasakeh.
Kobane itself had a pre-war population of about 45,000 and was an Ottoman-era stop on the railway linking Turkey with Iraq.
FIGHT 'TO THE LAST'
Its name, pronounced "Kobaneh", is believed to be a corruption of "company", a nod to the railway firm that built the line.
Syria's about three million Kurds — some 15 percent of its population — declared an autonomous region in areas under their control since the uprising against President Bashar al-Assad erupted in 2011.
Kobane stands at its centre and its loss would split the Kurdish region in two.
"The Kurds in Syria have always lived concentrated in these three enclaves along the Turkish border, and to have one of them virtually wiped out is of course incredibly symbolic and threatening to them," said Aron Lund, the editor of the Carnegie Endowment for International Peace's "Syria in Crisis" website.
"They know that if Kobane falls, it won't end there," he said.
Seizing Kobane would give IS a base from which to move farther into Kurdish-controlled land, experts said, as it seeks to extend its territory in Syria and Iraq.
"Afrin will be the next target. Then they (the Kurds) will be confined to Hasakeh, where they also risk being attacked," Balanche said.
For the main Kurdish militia group, the People's Protection Units or YPG, defeat in Kobane is simply not an option, Lund said.
"The YPG… is also under pressure to show that it is not giving up on Syrian Kurds, it is prepared to fight hard to protect them, to the last man and woman," he said.
"That is the basis for their legitimacy in Kurdish eyes and they're not going to back away from this."
For the jihadists, who already control around one third of Syria's northern border with Turkey, capturing Kobane would cement their hold over a sweep of territory.
But it is a defeat of the Kurds that IS most craves, experts said.
"It would be a victory over the Kurds, who have always beaten them" in previous fighting in Syria, said Cyril Roussel, an Amman-based researcher with the IFPO Middle East institute.
Already, jihadist sympathisers on Twitter are replacing the town's Arabic name — Ain al-Arab or "Spring of the Arabs" — with the name Ain al-Islam.
DEMOCRATIC MODEL THREATENED
The Kurds are fellow Sunni Muslims to IS but the jihadists despise their secular outlook.
Their main political organisation, the Kurdish Democratic Union Party (PYD), is Socialist and accords an important role to women, including in its armed wing, with a female commander among those leading the Kobane battle.
Since seizing control of their territory the Kurds have established local governing committees, starting to build a functioning democracy in a country ruled autocratically for nearly 50 years.
This is diametrically opposed to the IS vision of imposing an extremist interpretation of Islam and trying to revive a centuries-old system of rule by a caliph.
Some analysts say others in the region, in particular Turkey, would be happy to see the Kurdish project for autonomy in Syria fail.
Turkey has long battled its own Kurdish population's self-rule aspirations, with some 40,000 people killed in the conflict there since 1984.
Syrian Kurds have accused Ankara of turning a blind eye to Kobane's fate and even of letting jihadists cross its border to fight in Syria.
"The fall of Kobane plays into the hands of the jihadists, but it looks very much like an attempt to wipe out the Kurdish project with the complicity of Ankara," Roussel said.