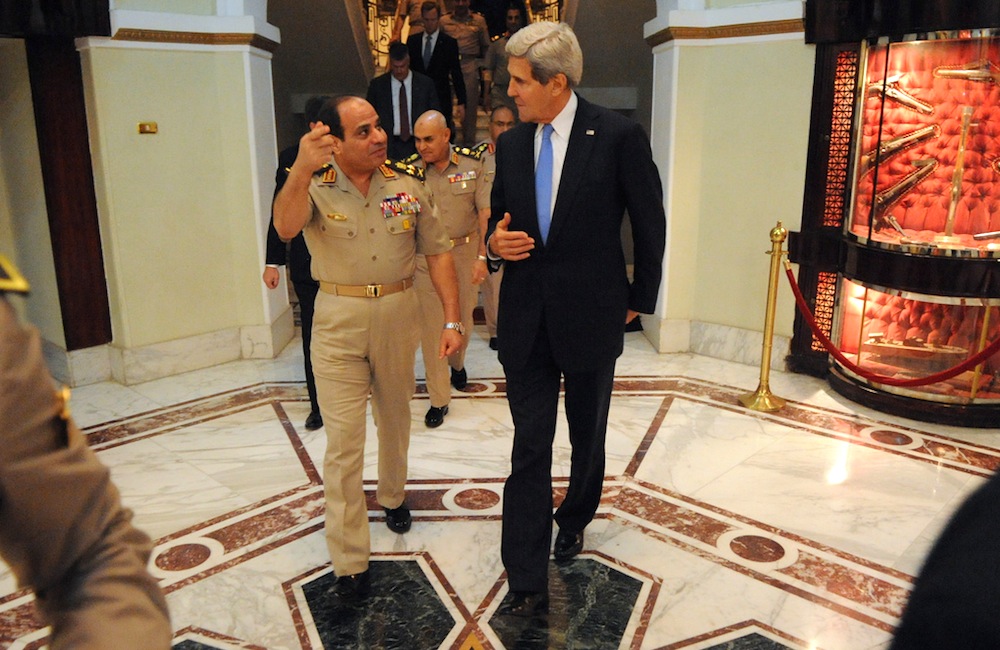 Last updated: 15 October, 2014
US-Egyptian brotherhood: Who's the boss?
In this comprehensive report, journalist Alina Abouelenin digs into the strained relationship between Washington and Cairo.
Egyptian President Abdel Fattah El-Sisi's first trip to the United States has been crucial in consolidating Egypt's international credibility, as well as serving as a telling indicator of the current US-Egyptian relationship.
Experts consider the meeting between the two presidents to be a half-hearted gesture by the US, one extended in light of the more pressing problems in the region. However, Egypt is also aware of its geopolitical advantage and is not going to cede to the US.
The message with which the Egyptian administration has left the US with is simple: El-Sisi is Egypt's new president, whether the US approves of him or not, and he is here to stay.
These developments come at a critical point given El-Sisi's controversial rise to power and his domestic policies, which are frequently criticized for being repressive.
"These developments come at a critical point given El-Sisi's controversial rise to power"
Although El-Sisi was almost immediately elevated to the status of a national hero by a large number of Egyptians following the ousting of former President Mohamed Morsi, the international community remained reluctant to embrace him.
Yet, with El-Sisi taking to the international stage during the UN General Assembly, this critical stance towards El-Sisi is perceived to have weakened according to Egyptians.
"We consider his visit to New York as a breakthrough because he was able to meet many leaders and heads of states, starting with President Obama," said Mostafa El-Feki, chairman of the Arab Affairs, Foreign Relations and National Security Committee at The Consultative Council of Egypt. The Consultative Council was formed following a presidential decree in September and includes scholars and experts in various fields.
"It shows that everyone knows that's how popular El-Sisi is and how strongly supported by his people he is. This is fundamental and important to us and the whole world," added El-Feki.
El-Sisi and the Egyptian government have carefully orchestrated a narrative of the events that unfolded over the past 15 months – what occurred was a popular uprising, not a military coup – and El-Sisi spent a large portion of his speech and interviews, which he gave during his visit, to promoting this narrative.
"It is very important for the people to see Egypt, and to hear Egypt, through the Egyptians or through me in one way or another," said El-Sisi in an interview with Charlie Rose.
"It is very critical for the whole world to know that this revolution took place as well at the hands of the Egyptians," said El-Sisi. "They are capable people, they can make change for a better future for the country."
Egyptians consider this to have been an important message, enabling Egypt to consolidate its international credibility.
"Criticism now is shrinking," said El-Feki. "Most of the countries now understand what happened in Egypt, and they are completely supportive to the policies of El-Sisi and they are convinced that what he has done was only a reaction to the demands of millions of Egyptians. That's why it was not a coup, but it was a genuine move for a different way of ruling Egypt. He even explained that in his speech."
In spite of Egyptian efforts and perceptions, foreign political analysts such as Doug Bandow, senior fellow at the CATO Institute, a public policy research organization, argues that skepticism remains.
"The international community is torn, because he clearly has no interest in genuine democracy. He wants to rule, and the military will be in control, whatever the kind of tropings that are created or whatever the rhetoric," said Bandow.
"But of course many countries, from the US to others in the region are concerned about stability. So that tension was there before and I think that tension remains," he continued.
At the center of this torn attitude stands the United States. The administration has always been very conflicted in their embrace of Egypt, argues Bandow. They refused to call a coup a coup but simultaneously froze Egypt's military funding, which has been partially restored now. At the same time Secretary of State John Kerry visited Cairo, to talk about democracy, in the midst of the Al-Jazeera journalists sentencing.
"The US has always tempered its criticism because it wanted a working relationship with Egypt," said Bandow.
MIXED MESSAGE FROM THE WHITE HOUSE
On the sidelines of the 69th session of the UN General Assembly, President Barack Obama and El-Sisi conducted their first-ever meeting. Their get-together came at a crucial time and becomes an important indicator as to where the strained US-Egyptian relationship stands.
While Kerry has been very embracing towards Egypt and El-Sisi, Obama has remained reluctant towards the new governing body.
Although Obama never called July 3rd a coup, he also didn't join the narrative that this was a popular uprising and remained critical of Morsi's overthrow, explained Amy Hawthorne, resident senior fellow at the Atlantic Council's Rafik Center for the Middle East.
"When you have the White House saying very little, you have Kerry gushing with praise, you have the defense secretary calling El-Sisi a huge number of times last year, and then you have Obama not engaging, it's really sending a mixed message," said Hawthorne.
"The White House has kind of been pursuing almost like a de facto, bit of a cold shoulder, approach," she added.
"John Kerry has been making visits (to Cairo), but in terms of the White House, which is the most important, there has been more of a distance. But now we see that that's changing, Obama held this meeting with him," she said.
"…you have the White House saying very little"
Although the meeting is considered significant, particularly because Obama only met with a total of three heads of state's while in New York, it is also noted that it remains a cautious move on Obama's end.
"He is meeting him in New York and not Washington, so he is still keeping El-Sisi at arms length. This is not a total embrace of El-Sisi," said David Ottaway, senior scholar at the Woodrow Wilson International Center for Scholars.
"He is trying to signal to El-Sisi that he accepts his government and wants to work with them but it is not a full embrace of El-Sisi. It is a difficult relationship now," added Ottaway.
The bilateral meeting between the two states comes at an important time. Not only have the two presidents never met before, but the last visit of an Egyptian president to Washington DC, to meet with the US administration, was in the fall of 2010, just a few months prior to the January 25th uprising.
"The reason why this meeting in particular had to take place is because the (US-Egyptian) relationship has now become a question mark. The delay in shipping weapon systems to Egypt and the cold tenure of the administration's statements on Egypt since last July's coup, all fed into sour relations with the most populous Arab country, and one with which we had very important strategic relations for about 40 years," said Eric Trager, the Wagner fellow at The Washington Institute.
"There was no up-side to our cold relations with Egypt. There was the verity that if we were less embracing of El-Sisi, if we withheld the weapons, this would encourage the government to act more democratically. But not only did the government not act more democratically, it actually hurt the US-Egyptian strategic relationship," said Trager. "So it was a lose-lose. Why should we pursue lose-lose policies and pretend as though we are standing on principle?"
HUMAN RIGHTS DILEMMA
The issue for the US now is whether to make human rights the most important issue of the relationship or work with Egypt and look the other way, explains Hawthorne from the Atlantic Council.
Although the United States remains reluctant, particularly with regards to Egypt's domestic politics, there is also an acceptance of the strategic necessity of the US-Egyptian relation, especially when considering it within the wider context of the Middle East region.
"People feel that (El-Sisi) is a very important security partner and that we have to deal with him regardless of his repressive policies and human rights abuses that are occurring in Egypt," said Hawthorne. "So I think it is more of an acceptance that he is here to stay and this is the Egyptian reality and not being convinced that what really is going on is a democratic transition."
Egypt is aware that it enjoys various advantages due to its geo-political location, argues Bandow from the CATO Institute. These advantages benefit El-Sisi and provide him with leverage: It is the most populous Arab nation, it straddles the Suez Canal and has positive relations with the US' ally, Israel. "I suspect the (US) administration will be saying less about human rights in the future because it values stability and cooperation more," said Bandow.
"The US administrations make those kinds of compromises all the time. It is embarrassing; it hurts America's reputation in terms of promoting human rights and democracy. But the US administration decides there are more important interests at stake and it makes that compromise," he continued. "It is hypocritical, yes. It is not unusual."
A CONFIDENT EGYPT
In spite of the cold demeanor that analysts have described Obama's stance towards Egypt, the approach seemed to do little in pressuring Egypt to change its governing rule.
Although Egypt continues to see its relation with the US as an important strategic one, El-Feki from the Consultative Council in Egypt, also describes there to be a change in attitude.
"In Mubarak's time, he was completely obedient to the Americans, to whatever they wanted. He accepted blindly. Now the situation is different. Egypt has a free leader, who is going to decide according to the needs and the hopes of his own country," he said.
"We see our relation with Washington as a strategic one. And we are not ready to make a change in our relation with a superpower. But in the meantime we are not kissing hands for someone to come and see us," he continued.
Nonetheless, Egyptian Minister of Foreign Affairs Sameh Shoukry emphasized that the US-Egyptian relation is a crucial friendship, reinforcing both countries' interests, and denies that El-Sisi not having visited Washington indicates anything significant about US-Egyptian relations.
"There is absolutely no need to consider the issue from a perspective of a lack of interest. I believe both countries are interested in enhancing the relationship and when it is an appropriate time, when they deem that their schedules permit the issues to be considered are fully prepared, there will be the possibility to have a bilateral visit," Shoukry said.
"We certainly have had in the past, and will have in the future, differences of opinion on many issues. Those differences are resolved through communication and dialogue and common understanding and if not resolved, then we can certainly bridge some of the gaps related to those differences. But in the final context they do not impact adversely the overall depth of the relationship," he added.
In spite of shared strategic interests, and a desire in a continued partnership, Shoukry also emphasized that Egypt will not kowtow towards US pressures, as Egyptian domestic policies remain an internal matter.
"We don't have to explain ourselves to anyone. What we are interested to continue is to have strong relations and mutual understanding with our partners," he said. "But in the final context, we do not need to defend the policies of this government except towards the Egyptian people. We are only responsible to them."