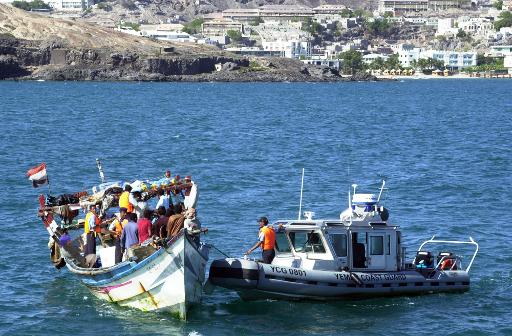 Last updated: 17 October, 2014
Red Sea drownings of Yemen-bound migrants hit new high
Scores have drowned in the Red Sea in recent weeks trying to cross to Yemen making this year's death toll the highest in years, the UN's refugee agency said Friday.
"There's been a sharp increase this year in the number of migrants and asylum seekers losing their lives in attempts to get to Yemen, mainly from the Horn of Africa, with more deaths in 2014 than in the last three years combined," UNHCR spokesman William Spindler told reporters.
Thousands of people fleeing lawless Somalia and the iron-fisted regime in Eritrea, among other troubled countries, try to reach Yemen in the hope of making their way on to Saudi Arabia and the Gulf.
In the latest incident, 64 migrants and three crew died on October 2 when their vessel sank in the Gulf of Aden after leaving Somalia, he said.
"With five additional deaths since, this brings the number of dead this year to 215, exceeding the combined total for 2011, 2012 and 2013," he said.
Spindler said smuggling rings using overloaded vessels were increasingly getting more ruthless, throwing passengers overboard to avoid detection or capsize.
The October 2 tragedy marked the deadliest sinking since June, when 62 people died. Forty-four people perished in March in another incident, while another in April claimed 12 lives.
Spindler said that the latest deaths came against the background of a dramatic increase in the number of new arrivals for September off Yemen's coast.
At 12,768, it was the single biggest month for arrivals since current record-keeping began in 2002.
– Abuse, rape and torture –
"There have been frequent reports of mistreatment, abuse, rape and torture and the increasingly cruel measures being adopted by smuggling rings seem to account for the increase in deaths at sea," said Spindler.
"Search-and-rescue officials say the practice has resulted in hundreds of undocumented casualties in recent years," he added.
Similar stories have emerged from the far more travelled Mediterranean route, where more than 3,000 migrants have died trying to reach Europe this year alone, according to the International Organization for Migration.
Among the migrants who cross the Red Sea and manage to reach Yemen, many get stuck at the Saudi border, unable to cross.
Yemen is the only country in the Arabian Peninsula that is signatory to two international accords dating back to 1951 and 1967 governing the protection of refugees.
It currently hosts 246,000 refugees, of whom over 230,000 are from Somalia and a smaller number from Ethiopia, Eritrea, Iraq and Syria, according to UNHCR figures.
In addition to the foreign refugees, more than 334,000 Yemenis have been displaced within their country by conflict.
UNHCR and its partners are working flat out with Yemeni authorities to help care for boat people who make it to the country,
"We also call on countries of origin, transit and destination in the region to step up their cooperation in managing the flows of migration," Spindler said.
"At the same time they must pay due attention to the protection needs of refugees, asylum seekers and other vulnerable groups such as women and minors," he added.