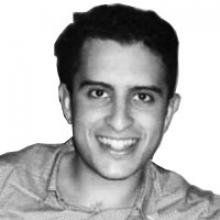 Last updated: 20 October, 2014
"Helping Gaza was the kind of thing that might improve the nation's public profile"
Egypt's foreign affairs minister, Sameh Shoukry, last week pushed for the re-opening of Palestinian-Israeli borders as a means of reviving Gaza's coastal community. The news was quickly followed by Egypt's delivery of 200 tons of food supplies to the devastated region.
Israel Army Radio also caused a stir with its (incorrect) claims that Egyptian President Abdel Fattah Al-Sisi had proposed to cede part of Egypt's territory in the Sinai to create an autonomous, demilitarized Palestinian state.
Egypt's relationship with Palestine reads like a tough marriage. Both parties need each other, but there have been intermittent separations. With the 1948 War of Independence, Arabs professed, quite loudly, their solidarity with the Palestinian people, and their outright rejection of Israel's claims to existence. However, Arab solidarity with Palestine has deteriorated with the fall of Pan Arabism, a movement founded by Nasser with aspirations of unity for North African Arab nations.
"Egypt's relationship with Palestine reads like a tough marriage"
For Egypt, the sentiment toward Palestine is a mixture of paternity and paternalism, ownership and rejection. To say that Egypt's relationship with Palestine is complicated would be an understatement.
With Nasserism came an inflated sense of Egyptian destiny. The rejection of American imperial aspirations in the region, especially of Israel's right to exist, was accompanied by Egypt's sense of leadership and dominance. This has since subsided a little for Egyptians, not helped, perhaps by the spectacular failure of the Arab states, firstly in the Palestinian exodus of 1948, called "Al-Naqba" or "the catastrophe" and the loss of the Gaza strip in 1967, called "Al-Naqsa" which translates, a little more delicately, as "the setback."
Though Pan-Arabism has been on its way out for some time, the relics of Egyptian 'Saviourism,' the sense of destiny, of standing alone, remains deeply engrained in the national psyche.
And this may account for some of Egypt's continued involvement with Palestine. Egypt's repossession of the Sinai Peninsula meant its 'oh so generous' designation of the Gaza strip to Palestinian control. This happened through the short-lived All Palestinian Government, an organisation which Nasser headed up until 1959.
Nasser's 'bequeathing' of Gaza to the Palestinians was often just empty showmanship. In 1962 for example, he founded a Palestinian Legislative Council elected by Palestinians, but then never actually conferred authority to the Palestinians. Not until Yasser Arafat and the 1964 founding of the Palestinian Liberation Organisation (PLO), a conglomerate of various resistance groups, would Palestinians ever officially possess Gaza.
It is noteworthy that even the PLO was founded with the help of a group of Cairo bureaucrats, however, by 1967 and the Palestinian defeat in the 1967 war, Palestinian resistance came into its own.
William L Cleveland, in his History of the Modern Middle East, explains that it was the Arab states ability to lose additional areas of Palestinian territory to Israel that helped ignite Arafat's pursuit of Palestinian self-defense.
Since Sadat signed the Camp David Accord's with Prime Minister Menachem (1978) Palestine has weathered some of the most brutal civilian losses in its history.
"Nasser's 'bequeathing' of Gaza to the Palestinians was often just empty showmanship"
Two Intifada's and thousands of deaths later, Egypt is being, once again touted as the indispensable intermediary of the Israeli-Gaza relationship. After Morsi's devotion of time and energy to Palestine, President Sisi has demonstrated a less palpable but still present concern for the area. The tunnels have been opened and a peace deal was brokered by Egypt earlier this year, which succeeded where American intervention so spectacularly failed.
The people of Egypt still maintain a sympathy and concern for Gaza, with 1000 Palestinians having been killed by Israel in the most recent sieges. However it's Egypt's political position, especially its reputation on the world stage, that has also benefited from Sisi's most recent intervention in Palestinian-Israeli relations.
Sisi's recent incarceration of journalists and his controversial crackdown on the Muslim Brotherhood have somewhat tainted Egypt's tourism industry and its international popularity. Helping Gaza was the kind of thing that might improve the nation's public profile.
So, it might be a marriage of convenience, but there is love there, deep down. Whatever the case, Egypt and Palestine will always be connected by more than just a tunnel.