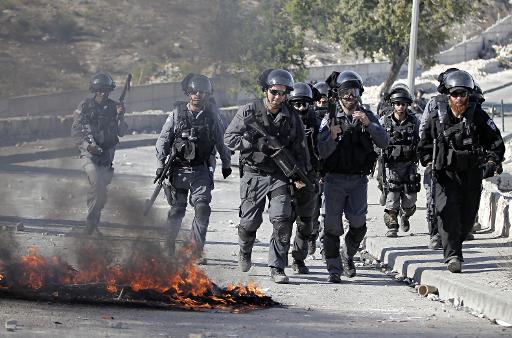 Last updated: 26 October, 2014
At least five arrested in fresh east Jerusalem clashes
Palestinians were laying to rest on Sunday a man who killed two people, including a baby, when he rammed his car into Jerusalem pedestrians, sparking days of violence.
Video footage from the funeral showed a group of youths carrying Abdelrahman Shaludi's casket to the cemetery near Jerusalem's Old City, chanting "God loves him because he is a shahid," or martyr.
The 21-year-old Palestinian was shot dead by police in what they called a "terror attack" after Wednesday's car attack.
A three-month-old girl was killed on the spot and on Sunday an Ecuadorian woman who was one of six people hurt died of her injuries, said Jerusalem's Hadassah hospital.
Ecuadoran President Rafael Correa condemned the attack that killed Karen Mosquera, saying on Twitter "We will reject violence from wherever it comes".
The Ecuadorian foreign ministry said the 22-year-old had been completing the process of converting to Judaism in Israel.
Her funeral was due to begin in Jerusalem at 2230 GMT, attended by her mother and sister.
Police had initially refused to return Shaludi's body to his family after a post mortem, saying the family had rejected an Israeli court's conditions for the funeral, which determined could be attended by only 20 people.
Jawad Siyyam, an activist from Silwan, where the Shaludis reside, alleged Israel had threatened the family they would bury him on their own if they did not accept the conditions.
His family rejected those terms, but eventually the two sides agreed 70 people could attend, according to Siyyam.
– 'Symbolic funeral' –
Earlier on Sunday the family held what it called a "symbolic funeral" in honour of the "martyr" Shaludi in Silwan, a sensitive Palestinian sector close to Jerusalem's Old City.
Hundreds of Palestinians attended the ceremony, bearing an empty casket and reciting prayers, before trying to ascend to the Al-Aqsa mosque compound, the epicentre of recent tensions.
Heavily armed police used tear gas to repel hundreds at the "symbolic funeral", arresting one person in Silwan. Elsewhere in east Jerusalem police arrested two youths in Issawiya for stone-throwing.
Shaludi was shot dead by police as he fled on foot from what Israeli authorities branded a "terror attack" that killed Haya Zissel Braun, the Israeli baby who was also a US national.
Israeli Prime Minister Benjamin Netanyahu said Jerusalem's security forces were reinforced with an extra 1,000 police and border police, including special forces.
"We will not allow the reality of Jerusalem to become one of throwing stones and firebombs, and disturbances," he said.
Netanyahu blamed "extremist Islamic elements" for being behind the attempts to "incite Israel's capital".
"We will use all the force necessary, resolutely and responsibly, to ensure they do not succeed," he vowed.
Clashes have been taking place since Wednesday throughout a tense east Jerusalem, which has been the scene of ongoing unrest since on a nightly basis since the murder of a Palestinian teenager by Jewish extremists in July.
Clashes intensified during the 50-day Gaza war over the summer.
– Presidential appeal –
Israel's President Reuven Rivlin appealed to the Israeli Arab leadership to help quell escalating violence.
"The Arab population in Israel, and the Arab leaders in Israel, must take a clear stand against violence and terrorism," Rivlin said at a ceremony marking the 1956 massacre of 47 residents of Israeli Arab town Kafr Qassem by Israeli border police.
Israel seized Arab east Jerusalem during the 1967 Six-Day War and later annexed it, in a move never recognised by the international community.
Some 200,000 Israelis live there alongside about 300,000 Palestinians.
Much of Palestinian anger is focused on Jewish settlements in east Jerusalem and in particular on Silwan — a densely-populated Arab neighbourhood on a steep hillside just south of the Old City.
Silwan hit the headlines in the past month when settlers acquired another 35 apartments there, triggering outrage from the Palestinians and US condemnation.
On Friday, Israeli media reported that hardline Housing Minister Uri Ariel was considering moving into Silwan, a move that would boost tensions.
Israel regards the entire city of Jerusalem as its "undivided capital" and does not see construction or the purchase of houses in the eastern sector as settlement activity.
The Palestinians want east Jerusalem as the capital of a future state.