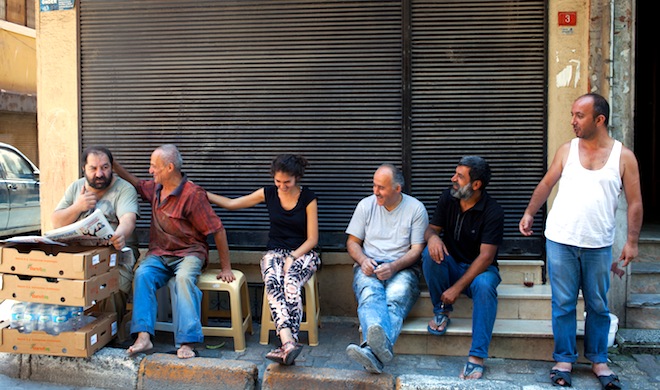 Last updated: 27 October, 2014
The gentrification offensive: repression and resistance in Istanbul (PHOTOS)
"Tarlabaşı is a place to hide." Soon, there won't be any place to hide…
Gentrification in Turkey has taken on an interesting and almost unique dimension. Not only is the AKP attempting (largely successfully) to inscribe it's myopic neo-liberal vision on society in the form of re-development or urban renewal, it is imposing architecturally a top-down restructuring of the social sphere, attempting to cleanse from Istanbul and other sites of power those who's socio-economic composition defies the hegemonic culture as designed by the state. The hybridity of the AKPs melding of both Islamic and capitalist values makes for a particularly aggressive version of gentrification which not only aims at homogenization of culture but also, at stratification of class through processes of gentrification and class-cleansing, enclosure of public space and the dystopian proliferation of gated-communities.
Tarlabaşı, a historic neighbourhood of multiculturalism and dissident politics, has been one of the main foci of the AKPs homogenizing agenda and yet is reflective of broader processes of control and contestation by the state and society respectively.
Tarlabaşı ve Ben (Tarlabaşı and Me) is an exciting new documentary film exploring precisely this, shedding light on the ongoing process of destruction, exploitation and expulsion of some of Turkey's oldest ethnic and religious communities.
Tarlabaşı, Çinçin and Sulukule all have one thing in common; they are home to dissidents, Kurds, Alevis, Roma, Armenians and all those who seek to evade the panoptical surveillance state. The AKP has been leading a predominantly one-sided war of attrition against these communities since its accession to power in 2002. Yet riding upon the back of its economic success, the detrimental effects of the AKP's redevelopment vision have only recently become the subject of popular contestation, largely as a result of Gezi Park and the attention this brought to issues of power, culture and class in modern Turkey.
Areas of historical and cultural significance for Turkey's "marginals" are vanishing fast. As with most issues, there are the "haves" and the "have-nots". There is a bubbling tension between those who benefit from an open economy, promoting investment, development and profit for some through the systematic enclosure of public space, and those who not only benefit from but rely upon an open culture, allowing for the maintenance of historic spaces of multiculturalism and diversity for all.
In Istanbul, this tension is palpable. Enclosing on the streets of discontent, vast hotels and luxury apartment buildings are pushing through like weeds, not only redefining Istanbul's famous skyline but also razing some of the country's more infamous areas; namely Tarlabaşı. But what does this mean for those who are left behind? We have seen widespread and positive movements against gentrification, starting from revolutionary socialist groups and migrant committees in the 1980s such as the Mayday Neighbourhood, which arose to combat the non-consensual re-development of gecekondu (shanty-town) districts in Istanbul. Furthermore, since Gezi, political squatting and peaceful demonstrations have proliferated. There are also less desirable responses such as that of violent resistance as used by the DHKP/C amongst others. However, an element of this change is often left out of the analysis; that of what it is like to live on the ground, to have your way of life being subjected to top-down social change. The voice of the subaltern is largely neglected, even by the left.
This is what makes Tarlabaşı ve Ben such an important project, humanizing and examining the everyday experience of those facing, or evading, the omniscient and omnipresent biopolitical state apparatus. This project finally sheds some light on processes of socio-cultural contestation in Turkey's most marginalized and excluded communities, providing a much needed glimpse into how individuals (for Tarlabaşı ve Ben this individual is Mustafa and his story is astonishing) and collectives are struggling to maintain their way of life, but in doing so, creating and transforming networks of solidarity and community action, joining a growing movement that defies the homogenizing effect of intrusive and de-regulated state and economic power.
In order to gain more insight into all of this, we had a chat with the team behind the Tarlabaşı ve Ben campaign:
We'll go on to discuss in detail the processes of destruction and development taking place in Tarlabaşı, but first, tell us about Mustafa, how you came to meet him and how did he come to call Tarlabaşı home?
We met Mustafa in 2012, while we were doing a photo documentary project on the inhabitants of Tarlabaşı. We were looking for a shoemaker and he helped us find it. They happened to spend a lot of time together and he told us a part of his incredible story en route. We decided to come back and listen to the rest of his story and tell it through the film Tarlabaşı ve Ben.
In the ten years since he was released from prison, Mustafa has wandered and worked doing all kind of informal jobs in several areas of Istanbul. He landed in Tarlabaşı four years ago and decided to become a kağıt toplayici (waste picker). He sought to forget his past and start a new life in this area, and it is where, thanks to the solidarity of families of the different ethnic communities, he found himself home again.
So what's happening in Tarlabaşı now? Last time I was there, Istanbul was rife with a propaganda campaign promoting this redevelopment project, what has been the impact of this so far?
The situation hasn't changed very much unfortunately and it's becoming worse. Not only is the urban renovation project "Tarlabaşı Yenileniyor" (Tarlabaşı is renewed) spreading rapidly; much of the area now stands empty and dilapidated. A lot of families have abandoned their homes, further to eviction orders, but a few people still hold out against those orders. Many don't have the choice to go anywhere else, as for the Kurds, for instance, they left everything they had in the East of Turkey and rebuilt a new home here. These families cannot afford to live anywhere else. The few Armenians in the area have lived in Tarlabaşı for generations and together with the Kurds, are life-long Tarlabaşı residents who are depressed and despairing at leaving their homes and seeing their neighbourhood and lives destroyed. For this reason they keep on going and continuing their life while new hotels are built around them. They are waiting for the day when they will have to leave.
The good news is that there has been a new order from the Council of State in July 2014 who cancelled the expropriation of many buildings (164) in the neighbourhood, as reported by the Turkish newspaper Cumhuriyet. Ahmet Gün, the president of the association of social support and development of the owners and tenants of Tarlabaşı, (Tarlabaşı mülk sapihleri ve kiracıları kalkındırma ve sosyal yardımlaşma derneği), is positive about the impact of this order. Let's be positive too!
Is there a movement against this emerging, as we've seen in places like Okmeydani? What is the involvement and objectives of the community?
As Mustafa says in the film, "I don't understand why people don't fight in Tarlabaşı, what would they do if a family would go on the top of a building? They couldn't continue the demolition". This is partly true, but the residents of the area are harmless, they don't have the means to fight. We think that the situation in the Okmeydani is quite different as there is the Revolutionary People's Liberation Party/Front, the DHKP/C, who fights for the neighbourhood. Additionally, and the main issue concerning Tarlabaşı residents, there are important investments in the area. This neighbourhood faces the most significant urban renovation project in Istanbul. Due to its location, as Tarlabaşı is situated in the very centre of Istanbul, a few minutes from Taksim and Gezi Park, in the heart of the cultural and commercial area of Pera, it represents the perfect site for gentrification.
Gentrification is an enduring and conflictual problem in most countries of the world, yet does not usually spark such dissent, nor is it usually such a rapid and widespread process. What do you think is making gentrification or urban renewal so different in Turkey?
As it is reported on the blog tarlabasiistanbul.com, "Beyoglu mayor Ahmet Misbah Demircan has repeatedly vowed to turn Tarlabaşı Boulevard into the Champs Elysées of Istanbul – and while one wonders if the irony of aspiring to turn the now gutted Boulevard for which over 360 historically listed – and mostly Greek – buildings had to be razed, into a street named after the mythological Elysian Fields escapes him, it certainly raises the question what exactly is to be 'renovated' and whose history to be 'preserved'? And so they get rid of Tarlabaşı, they get rid of Sulukule, and call this 'preservation', rebuilding something that only looks like the old thing." And as David Smith has said, the experience in Western countries has shown that the experiment to house poor people in tower blocks on the outskirts of cities has failed. Increasingly governments and municipalities are forcing poor people out of the city centre and to the very outskirts, where they have little to no access to the low-skilled jobs that are often their only choice, and that need to be performed in any city. This concerns Tarlabaşı and many other areas in Istanbul but this is not new and as you said, gentrification is a problem that many countries face.
What is new in Turkey is that the AKP is trying to do it all at once, whereas in Western countries this process has taken decades. As you said, the AKP is remaking Turkey in its own image inscribing it's neo-liberal vision on society, attempting to cleanse from Istanbul those who's socio-economic composition defies the hegemonic culture as designed by the state. People started to protest in Gezi Park for multiple and differential reasons, but what they shared was the discontent with the government for its neoliberal policies, but it seems that it keeps on being successful, as we saw during the recent elections and Erdoğan's "success".
Finally, what are you hoping the impact of this project and others like it will be? Obviously there have been many moments in history where international attention has halted environmental or social destruction; do you believe that communicating Mustafa's message, and the message of those like him, can have a democratizing effect on processes of urban change?
We believe yes, we believe in the power of images and words. We believe in the cinema. We think that in communicating Mustafa's message people will think over it. This was the same for us too.
As time went on, we felt that it was a necessity for us to tell this story, there was a kind of urgency. That is also why we don't have a production behind. We decided we had to film Tarlabaşı and Mustafa during the summer in 2013, as it was the perfect moment to do it, during the protests of Gezi Park , as we knew that Tarlabaşı was being destroyed day by day and there would soon be nothing left. We left Paris with a few thousand euros that we obtained for the project from the Mairie de Paris and went to Istanbul to shoot this feature-length documentary: Tarlabaşı ve Ben.
Finally, and as I mentioned, I believe this project, and those like it, are incredibly important, how can people like me get involved, help to spread this message?
We decided to make the crowdfunding campaign through Indiegogo not only because we need funds to finish the post-production (technical work like colour-correction, sound editing and mixing) of the film, but above all because we wish people get involved in the project. We feel that it is not only about our film. The issue is to show a historical area of Istanbul which is headed for extinction, raise consciousness in a country where freedom of expression is limited and give a voice to the people who don't have one.
You can find the campaign here: http://igg.me/at/Tarlabasiveben