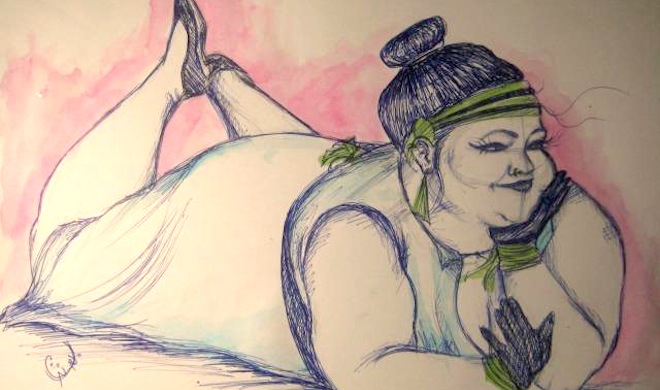 Last updated: 31 October, 2014
One young woman fights sexual harassment with sexy portraits of large women (PHOTOS)
"Love your body... You are beautiful" is an initiative by young Egyptian artist Bassant al-Qassem. She wants to counter public pressure on the female body and tackle the country's high sexual harassment rate. A UN study made in 2013 suggests that as many as 99.3% of Egyptian women had experienced sexual assault at some point.
The initiative was launched on Facebook in September and shares Qassem's revealing drawings of plus-size women. Since its launch the page has received more than 22,000 likes.
Women on the street are called names such as "elephants, pickle barrels and cows," Qassem told The Cairo Post. She experienced a similar episode once, when a man called her "fat". "I looked around, and then asked him if he meant me. He said yes, and walked away," Bassant explained. So now she wants to show women's beauty, regardless of size.
However, not everyone has been pleased with the 22-year-old's art, criticism the student brushes off with "art is not haram."
Qassem is also planning to take the project further and exhibit her art in Cairo-based cultural hub el-Sawy Cultural Wheel in November.