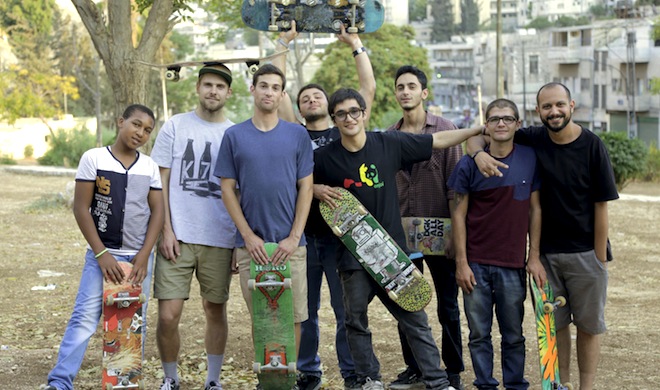 Last updated: 7 November, 2014
Skateboarders of Amman create community skatepark for Syrian refugee children (VIDEO)
A close-knit community of 30 skateboarders, and growing, has received permission from the municipality of Amman to build the country's first skatepark, to be called 7Hills.
7Hills' goal is to make skateboarding available to the whole community, particularly youth at risk and Syrian refugees, whose numbers in Jordan are estimated to be 619,000 (as of August 2014)—more than half of whom are children. 7Hills describes their objective as providing "under-served refugee youth in Jordan with an accessible outlet for socializing and physical activity." To forward these efforts, the skatepark will feature loaner skateboards, available free of charge, along with free lessons.
ARNE HILLERNS is a member of the core group and leader in the NGO Make Life Skate Life, which promotes skateboarding around the world. "A loaner system will be established with the possibility of 'earning' a board. That way we'll ensure that we'll also get those started who can't afford boards," he explains. "We plan to target and engage youth at risk (among) Syrian refugees," noting that in partnership with the nonprofit organization ACTED, which is active in Jordan's 80,000 person Zaatari refugee camp, they will bring a skateboarding program for Syrian children next week.
Mohammed Zakaria, one of the skate group's founders, is a Palestinian now living in Amman. He speaks from a personal perspective about the importance that the relief of skateboarding as a combined sport and art form can play in a refugee child's life. "It's not easy to be a young person in this part of the world," he says in an interview with Medium. "While warfare and revolts have upturned many neighboring cities, tensions over the flooding refugee population, high unemployment, and regional insecurity are rampant in Jordan. Many of our skaters, and the new kids we hope to bring to the park, come from broken homes and refugee families. We want to give them a healthy, free, accessible resource to enjoy life. It's going to be rad."
"It's not easy to be a young person in this part of the world"
THE GROUP IS currently fundraising through a crowdsourced campaign to reach $18,500 by mid-November. (At the time of writing, they were just over $15,000.) They will use those funds to construct their skatepark, located accessibly in the center of Amman. As is standard for the Indiegogo platform, donors receive a variety of perks in exchange for their gifts, ranging from a limited edition skateboard by Philadelphia Skateboard – an Amman-based company that calls itself the first skateboarding company in the Arab world: in ancient times, Amman was known as Philadelphia – valued at $100 to the prized first solo run in the park ("private inaugural skate sesh"), valued at $1,500. "Everyone will stare in envy as you shred the park alone for as long as you wish," the collective claims on the campaign page.
Hillerns, who has experience building skateboarding communities around the world, says he knows the positive outcomes that projects like 7Hills can bring. "Children from different countries and backgrounds all react in the same way to something as new and exciting as skateboarding. They embrace it and won't let go. To me, skateboarding is a great way of establishing a solid identity. As a skateboarder, I can feel at home anywhere, and I'd like to pass on this advantage to others as much as I can."
You can learn more about 7Hills and the skateboarders of Amman through their Facebook page and Twitter account.